What if I told you the day Kevin Durant signed with the Brooklyn Nets, the Warriors' dynasty was far from over. What if I told you that Golden State would have a top 5 pick with the worst record one year ago today? Well, you might've thought I was crazy, hell, I would've thought I was crazy, but all of those situations are and can be very true.
The Warriors ended up having the worst record in the NBA this past season at 15-50 and the team with the worst record in the NBA is guaranteed a top 5 pick. The lifespan of their dynasty will be determined by who the Warriors select in the 2020 NBA Draft. With this selection, the Warriors must NOT select a center or else the dynasty will face its demise sooner rather than later.
With their selection in the 2020 NBA Draft, most NBA fans believe that the they should draft a center like James Wiseman or Onyeka Okongwu because that is the one position in their starting lineup with the least amount of talent (Marquese Chriss/Kevon Looney are their current centers). While players like Wiseman or Okongwu would provide a premium over Chriss and Looney, how much of a premium would they actually provide considering the fact that the Warriors have only needed a big man to do two things in the past: rebound and defend.
These are the most basic expectations out of a big man, and they can find an easier alternative in free agency like Marc Gasol who could do both at a high level. Going the free agency route is a smarter solution because of the large financial investment that is tied into lottery selections in the draft. Instead, the Warriors should be targeting a two way wing or a combo guard.
A two way wing would be a player who has a complete offensive arsenal in terms of scoring, provides size and length, and has the potential to be a good defender both on the perimeter and in the post. These skills resemble what Kevin Durant did for them, so by drafting someone with these qualities would provide them with an off-brand and much watered down version of Kevin Durant.
A combo guard would provide additional playmaking, scoring, and shooting, which is kind of like the dynamic they expected would exist with D'Angelo Russell and Stephen Curry before Curry got injured.
Golden State shouldn't add a big man with star potential through the draft because we've seen that the Warriors play worse with a star big man who needs the ball a lot rather than a traditional rebounding/defending big man.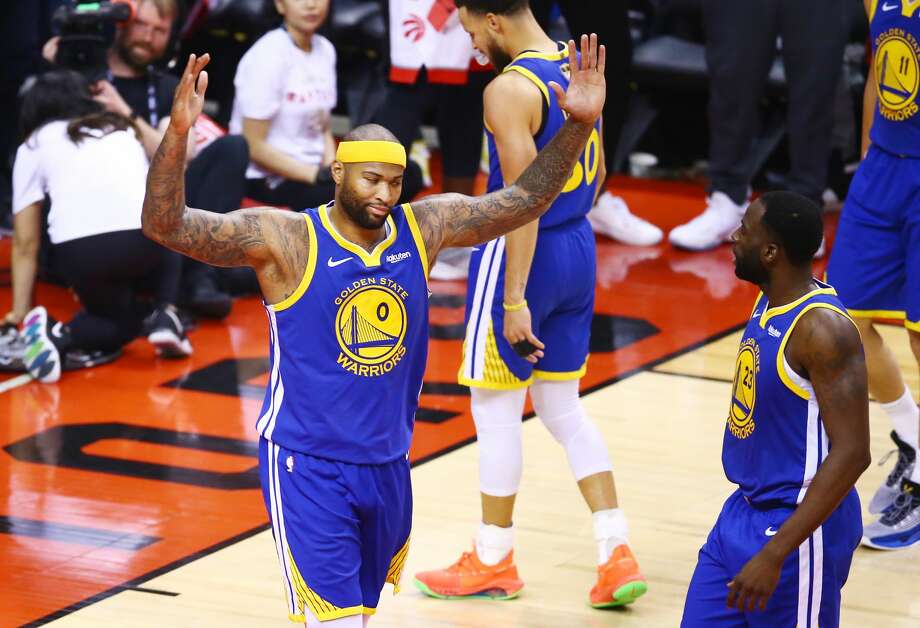 Last year when the Warriors had DeMarcus Cousins, the Warriors NET rating (On/Off NET rating is used to show an individual player's impact on their team) when Boogie was on the court was a +4.6. When Boogie was off the court, the Warriors NET improved to a +7.3.
That is one direct indication of how Boogie wasn't very impactful overall combined with the fact that he was a liability on defense coming off of a torn achilles. He also wasn't very efficient either despite having a very high usage (28.1%) and being on such a loaded team.
Looking at Cousins' playoff numbers doesn't help the case either, because the Warriors were simply a better team with him off the court. When Boogie was on the court, he was a NET negative with a rating of -11.2, but their NET was a +5.5 with Boogie off the court. Not to mention his usage stayed damn near the same, and he was even more inefficient.
The implementation of the star center only disrupted the flow of the Warriors, as it did absolutely nothing to help them despite making them look more frightening on paper. Hell, it made them worse.
However, let us talk about a center who played on the Warriors who wasn't as good individually as Boogie but fit the team much better and played his role perfectly. This player in 2014-15 only averaged about 6 points per game on 13.2% usage, but his impact was tremendous. He had a defensive rating of 97, averaged about 8 rebounds, and the Warriors NET rating with him on the court was a +16.6 and with him off the court was a +7.6.
Fast forward to 2015-16, and this player still averaged only 5 points per game on 11.4% usage, but yet again his impact was amazing. He had a defensive rating of 99, averaged about 7 rebounds, and the Warriors NET rating with him on the court was a +13.9 and with him off the court was a +9.5.
This player is Andrew Bogut, who isn't as good as DeMarcus Cousins, but is a much better fit for the Warriors's system and fits his role perfectly, as he isn't a high usage player who requires the ball a lot and does his job of rebounding and defending at a high level, which makes his impact greatly felt by the team.
We've seen both scenarios of the Warriors having an average center compared to a star center, and we have seen that they have been far more successful with the average center. Why fix something that isn't broken? Instead they should either look to use that pick on someone who can provide a greater impact to their team at a different position or look to trade it for additional assets.
One year ago everyone thought that the Golden Dynasty was near its end. Maybe it is, or it could be up for a renewal. It all comes down to whether or not the Warriors draft right, and in order to do that, they need to target a player that is not a center. If they end up drafting a center, we might as well start producing the documentary right now because there will be nothing else left to build on to that tremendous run.
---
Thank you for your support
We believe there is only one way to cover sports: The Wrightway. Please join us in bringing in the new era of sports coverage. Support The Wright Way Sports Network. ~Malik Wright-CEO