Back in 2010, the New York Mets were a franchise in disarray that were heading nowhere. They were coming off a fourth consecutive season without playoff baseball, still adjusting to a new ballpark, and a roster that could never find consistency. They had a team that was unable to win with some unnecessarily large contracts on the payroll and major turnover was crucial if this franchise wanted to find success in the future. 
In October of 2010, the Mets decided to hire Sandy Alderson to replace Omar Minaya as the general manager. Alderson had previously been an executive for both the San Diego Padres and Oakland Athletics. As soon as he took over the mantle of Mets general manager, he was faced with challenges.
The team was still recovering from the Bernie Madoff investment scandal that cost them millions, therefore they had limited money to work with, and Alderson needed to construct a plan for the future without the luxury of signing high price free agents. He decided to make the risky decision to go full rebuild instead of going all in with the pieces that they had.
One of the first steps in that process was hiring the right guy for the clubhouse and Alderson felt the best man to manage the team was Terry Collins. It had been over a decade since Collins had managed a Major League ball club, but after spending 2010 with the Mets minor league system, Alderson believed that he could help provide a winning culture to the team.
The next choice that had to be made was deciding which players on the current roster were part of the team's future. At the time, the Mets had some very quality players that had been instrumental to their past success such as David Wright, Carlos Beltrán, and José Reyes. Though with Alderson looking to change the direction of the franchise, some of these core players needed to go.
Before the 2011 season started, they decided to part ways with long time pitcher Oliver Perez and outfielder Jeff Francoeur to relieve salary. During the trading deadline, they dealt their All-Star outfielder Carlos Beltrán to the San Francisco Giants for top prospect Zack Wheeler. After the season, the team let their fan-favorite shortstop José Reyes, despite being the reigning NL batting champion, sign with the division rival Miami Marlins.
The Mets completely restructured their roster over the course of the next few years. The only mainstay for the Mets was their captain David Wright. The superstar third baseman received a seven-year $122 million extension in 2012, which was the largest contract in team history up to that point. Wright was the player the Mets planned to build their franchise around, but their main focus would be pitching.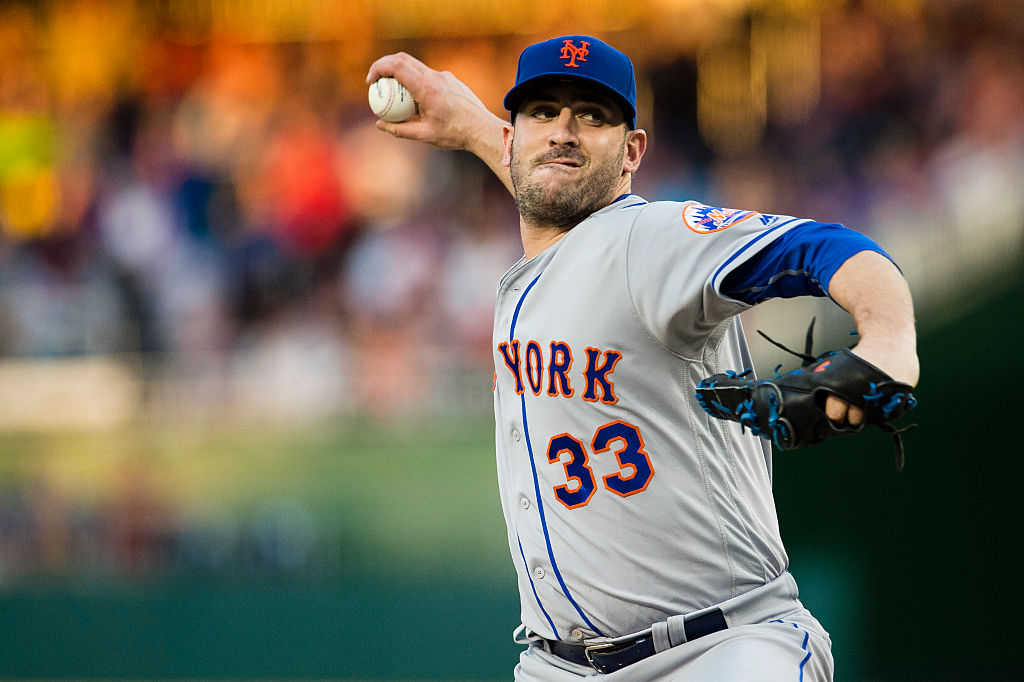 Some of the only positives to come out of the Mets mediocre seasons is that they were able to draft well and trade for prospects. The first of their prized prospects to reach the Major League Level was Matt Harvey. The hard throwing pitcher was the Mets first round pick in 2010 and one of their highest valued prospects.
Harvey flew through the minor leagues as he was able to debut just two years after being drafted in July of 2012. Harvey was able to prove his value as soon as he stepped on to a Major League mound, as his debut was not only memorable, but historic.
In 5.1 innings against the Arizona Diamondbacks, Harvey had an astonishing 11 strikeouts performance (Mets record for strikeouts in a pitching debut), along with giving up zero runs and earning the win. Harvey finished his rookie season with a 2.73 earned run average (ERA) in 10 starts. 
The next season he excelled expectations even more by becoming a Cy Young candidate and even earning himself a start in the MLB All-Star Game. This year Harvey really took his game to another level with a 2.27 ERA and a WHIP (walks plus hits per innings pitched) below one. The rising star quickly became a New York phenom, as he gained the nickname the Dark Knight because of the intimidation he brought opponents when he took the mound.
Harvey's spectacular season really started getting attention after his near perfect game in early May. He started that game with a noteworthy bloody nose and if not for an Alex Rios infield hit and some run support, Harvey would have achieved perfection. This season was unfortunately cut short for Harvey as he was forced to have Tommy John surgery in August from a partial tear in his right elbow and missed the entire 2014 season.
However, he bounced back in 2015 with a 2.71 ERA, even winning NL Comeback Player of the Year. Despite the setback of having Tommy John surgery, Harvey looked destined to be the ace of the Mets rotation for the foreseeable future.
After Harvey successfully debuted in 2012, the Mets began preparing to push their next high-profile prospect to the big-league level. That being Zack Wheeler, who was actually a higher ranked prospect then Harvey entering the 2012 season, but just progressed slightly slower. He was the sixth overall pick in the 2009 draft, therefore he had high expectations that possibly even exceeding that of Harvey's.
Despite everything, Wheeler did not disappoint in 2013, as he proved himself immediately by helping the team sweep the back half of a doubleheader in mid-June against Atlanta for his debut. He had a much tamer rookie season in comparison to Harvey; however, he still proved successful with a respectable 3.42 ERA in 17 starts.
The following season without Harvey, Wheeler needed to step up and become a front-line starter and that led to a promising 2014 campaign. He had a solid 3.54 ERA and really provided some much needed depth to the rotation.
Wheeler had his shining moment against the Marlins in June when he pitched an impressive 1-0 shutout in Miami. He was no ace in 2014, but he kept the team in games and still held lots of potential at only 24 years of age by the end of the season.
Unfortunately for Wheeler, he similarly tore a ligament in his elbow forcing him to have Tommy John surgery right before the 2015 season. Major surgery like Tommy John is always risky, but the Mets decided to hold on to Wheeler during his recovery by turning down multiple trade offers from opposing teams, and even backing out of trade with the Milwaukee Brewers that involved Wheeler in July of 2015.
He was still a valued part of the future, and the Mets were prepared for him to come back strong once fully recovered.
The next Mets pitcher to make it to the Majors was not even the pitcher the team expected to thrive. That of course being Jacob deGrom, who was a ninth-round pick in 2010 and given his opportunity more as an experiment.
The pitcher that the Mets were really high on in 2014 was Rafael Montero. He was supposed to be what Jacob deGrom ended up being. The initial plan for Montero and deGrom was that they would both debut on back to back days and Montero would stay a starter while deGrom would most likely slide into the bullpen.
Each of them got their chance during the Subway Series, and while Montero was alright, deGrom was sensational with seven innings of one run ball. It also only helped deGrom's popularity with fans with the fact that he could hit. He had a base hit in his first major league at bat, but more importantly, it broke the Mets pitchers hitless streak that was at 0 for 64 until deGrom's hit.
Aside from a thrilling debut, deGrom had one of the most accomplished rookie seasons. Nearing the end of the season, deGrom was able to make history by striking out the first eight batters he faced against the Marlins. This tied an MLB record with former Houston Astros pitcher Jim Deshaies and the performance really cemented his season.
He came away with the NL Rookie of the Year award with only greater things to come as his career has progressed.
The 2015 season was important for many Mets players and for good reason. Though for deGrom, this is the season that he really took off. He wanted to prove to the baseball world that he was no fluke and hedid that with an electrifying All-Star season.
DeGrom finished with the 4th best ERA in the NL at 2.54 and helped propel the team into the postseason for the first time since 2006. The next season was another strong showing for deGrom before being shut down because of an innings limit. After three stellar seasons to begin his career, the Mets once again saw this fantastic arm as being an integral part of their future.
That same 2015 season had the team's final two top tier prospects debut to fill out the rest of their potentially lethal rotation. The first pitcher to debut was flamethrower Noah Syndergaard, who reached triple digits on a regular basis. Syndergaard was the major prospect the Mets acquired in the R.A. Dickey trade in 2012.
Dickey was the reigning Cy Young award winner at the time and the Mets took full advantage of his high value by trading him to the Toronto Blue Jays for some of the best prospects in baseball including Syndergaard as well as catcher Travis d'Arnaud.
Syndergaard had a very solid rookie season finishing with a 3.24 ERA, but one of his most profound moments that season took place on the biggest stage. He started Game 3 of the World Series and the first pitch of the game was a 98 mph rocket that knocked leadoff hitter Alcides Escobar to the ground. Syndergaard's ability to set the tone of the game and get Citi Field roaring is what fans loved about the pitcher.
Syndergaard blossomed into more of a perfected pitcher in 2016, as he was able to limit the number of home runs he gave up and strike out more batters. He had an iconic game against the Dodger in early May where he hit two go ahead home runs that accounted for the only runs scored that game along with pitching eight outstanding innings.
His dominant pitching earned himself a spot on the All-Star team, as well as gaining the pivotal NL Wild Card game start. Despite losing this game, Syndergaard pitched seven scoreless innings and once again showed the Mets that he could handle the pressure of the big stage.
The final starter to debut for the Mets was left-handed pitcher Steven Matz. He was the first southpaw to become a regular in the rotation since Jon Niese. The second-round pick of the Mets in 2009 had the longest road to the Majors. He was forced to have Tommy John surgery very early in his career in 2010. This, along with numerous other injuries, delayed his progression as a pitcher and pushed his eventual big-league debut to late June of 2015.
There are many pitchers among this staff that have had memorable debuts, but Matz definitely had the most entertaining one. He pitched an extraordinary 7.2 innings, but even more staggering was the fact that he went 3 for 3 at the plate with four runs batted in. He set the record for the most runs batted in by a Mets player in his debut as well as setting the league record for the most runs batted in by a pitcher in a debut.
Though it was not only his bat that caught fire his rookie season, as he finished the year 4-0 with a 2.27 ERA in a brief six starts. This earned him a spot on the postseason roster as the fourth starter, where he was able to start in every series the Mets came across.
Matz gave the Mets a larger sample size of his capabilities in 2016 with a very quality 3.40 ERA in 22 starts that season. He did not do anything too amazing that year other than proving he belongs in the rotation. Entering the 2017 season, the Mets were expecting to have one of the best rotations in the big leagues. At least that is what they hoped.
Harvey was the face of the franchise after his 2013 campaign and despite missing all of the following season, he came back just as effective in 2015. However, 2016 is a different story, as he looked like a completely different pitcher.
He was coming off a deep playoff run the previous season and the aftermath of the surgery finally started to show itself. Harvey's velocity was down, and for the first time in his career, he was getting hit hard by opposing batters.
He had a 4.86 ERA and batters hit over .300 against him. His season was cut short when he was diagnosed with thoracic outlet syndrome, but the Mets were still hoping he could rebound the next season. That fruition never came to be as Harvey had an even more dismal 2017 with a dreadful 6.70 ERA. The Dark Knight was no more.
There were also other pitchers on the staff that were dealing with issues that season. Zack Wheeler was not having the smooth return to action that everyone expected after an entire two seasons on the shelf. His ERA jumped to 5.21 in a season where he could never quite find his footing. It did not help him that he had multiple stints on the disabled list that year and could never get into a proper groove.
Steven Matz is a pitcher who found himself in a very similar situation to Wheeler in 2017. He could not stay healthy with frequent trips to the disabled list because of his left elbow and the inconsistent playing time had him sporting an awful 6.08 ERA in just 13 starts in 2017.
Syndergaard was holding his own in 2017 until injury stuck him in the beginning of May. This caused him to miss nearly five months and only pitch in seven games all season. DeGrom was the only healthy and consistent pitcher that year, but even he had a down season for his standards.
DeGrom experienced one really rough stretch from the end of May to the beginning of June where he gave up FIFTEEN earned runs in just two starts. 2017 was a rough year for the Mets after two consecutive postseason appearances and maybe it was a sign that this dream staff may not work after all.
All these pitchers were high draft picks (except deGrom), threw upwards of 95 mph, and most importantly were young. They all saw substantial success very early on in their careers and it looked like the Mets had the potential to have one of the greatest starting pitching staffs for years to come.
There were three pitchers in Harvey, deGrom, and Syndergaard who could have all been considered aces at one point in their careers. Matz and Wheeler were both very solid number two or three starters that could have been front-line relievers on worse teams.
With all the capabilities of this staff, they were never able to all pitch together at their best. Injuries and under-performance held this group of pitchers back from reaching elite status. 
For all the time that these five pitchers were on the same roster, they only pitched consecutively for two whole rotations throughout the group's entire tenure on the Mets. That was from April 7th to April 25th of 2018. After this very limited stretch, the Mets dealt Matt Harvey to the Cincinnati Reds, as he held a 7.00 ERA for the Mets up to that point.
Matz and Wheeler would both rebound nicely in 2018, but Wheeler would leave the team following the conclusion of the 2019 season to join the division rival Philadelphia Phillies. Matz has been solid, but inconsistent since 2016 and is still a member of the Mets as of 2020.
Syndergaard had a strong, but injury shortened 2018 with a very good 3.03 ERA. However, the following season he struggled immensely with a career high 4.28 ERA as he seemed to struggle with his control throughout the season with career highs in WHIP, home runs allowed, and batting average against.
The only pitcher that has been able to reach his full potential is the one with the lowest initial expectations in Jacob deGrom. He has only gotten better with time, as he has had his best seasons in recent years. DeGrom had one of the greatest seasons ever by a pitcher in 2018 with an unbelievably low 1.70 ERA, which was the second lowest ERA ever for a single season in the modern era (1st being Zack Greinke in 2015).
This achievement helped deGrom win the Cy Young award in 2018. The following season, he was not as historic, but still the best pitcher in the National League and was able to repeat as Cy Young award winner in 2019. 
DeGrom's longevity and consistency have allowed him to become one of the best pitchers in baseball. If only the other pitchers on the staff could have had careers that were not so injury riddled and inconsistent, then who knows what could have been.
Matt Harvey's career already looks like it's nearing its end at the age of 31. Wheeler is gone and Syndergaard and Matz are two huge question marks for the Mets heading forward. Just imagine a staff with prime Harvey, Wheeler, deGrom, Syndergaard, and Matz. Batters would never get a break even in a four-game series.
This pitching staff could have been one of the best ever assembled. It could have mirrored that of the great Braves teams of the 90's consisting of Greg Maddux, Tom Glavine, and John Smoltz, or even that of the 1986 Mets, who had Dwight Gooden, Ron Darling, and Bob Ojeda.
However, this staff never panned out the way they were supposed to. They never got to pitch a full season together and see how far they could have gone. The Mets did to try and make this staff a reality, but instead it will go down in baseball history as one of the biggest what ifs. What if no one got hurt, what if they all pitched to their peak at the same time, what if they got a chance?