Just two seasons ago, DeMarcus Cousins was scheduled to start the All-Star game in a ridiculously talent filled Western Conference. As of February 23rd, 2020, Cousins fails to even hold an NBA roster spot. How does this four-time All-Star go from being one of the most promising young big-men in the NBA to becoming almost blacklisted by the league?
Cousins did not only show flashes of greatness, but was consistently able to dominate the game of basketball for over half a decade. Can this wrecking ball of a player that was once the face of the Sacramento Kings return to his prime form in the future?
To understand what Cousins is capable of accomplishing, it is important to look at his career in entirety rather than only focusing on the past few seasons. Many people forgot just how much of a force the center once was. As recently as the 2017/18 season, Cousins averaged a double-double for the New Orleans Pelicans with 25.2 points per game (PPG) and 12.9 (RPG).
Ever since Cousins entered the league in 2010, he had gradually improved aspects of his game with each proceeding season up to 2018/19. Whether that be improving bulk statistics like points, rebounds or assists or improving overall field goal percentage, Cousins has always found ways to expand his game.
He truly started to blossom into one of the league's stars in the 2012/13 season. This was his fourth season in the league and the year he finally started coming into his own. Cousins averaged over 20 PPG for the first time as well as shooting a career high 49.6% from the field that season. Though Cousins was snubbed from the All-Star team in 2014, it only pushed him to keep getting better with each season to come.
What made Cousins impressive was his ability to adapt to the league. He entered the NBA as a typical big-man who dominated the paint and occasionally shot mid-range shots. However, over the course of the 2010's, the whole makeup of the league changed completely. For the first time ever, the three-point ball was being utilized as a primary option for the majority of the league's teams.
In the past, great players such as Reggie Miller, Larry Bird, and Ray Allen have all been elite three-point shooters. However, their teams never made outside shooting the center point of their offenses. The major shift was the quantity of three-point field goals being shot and with this drastic change, many older and traditional style players were unable to keep up with the modern league.
On the other hand, players like Cousins decided not to fight the change, but rather embrace it. Remodeling the way an athlete plays a sport is an extremely difficult task, but Cousins knew that the only way he could progress in the NBA was to adjust to the times.
For the first five seasons of his career, Cousins shot 16% from three only making 11 total. In the 2015/16 season alone, he was able to skyrocket that number to 70 made three-point field goals at a 33% clip. Since then, he has shot over 33% in every season except his injury shortened 2018/19.
Not many players can change their entire style of play mid-career while also being able to stay strong at the other parts of their game. Cousins was arguably one the best center in the league for such a long duration because of the numerous abilities that he withheld. 
One of the largest obstacles that Cousins had to deal with early in his career were the horrendous rosters that he was put on. Early on with the Kings, he suffered the fate of having Sacramento acting as one of the worst front offices in the league with numerous draft picks that fell flat. The team never seemed to draft players to build around Cousins and it showed with their drafting approach.
The Kings drafted players such as Thomas Robinson, Ben McLemore, Nik Stauskas, and Willie Cauley-Stein who all turned out to be either busts or never fitting well with Cousins. They were all lottery picks within a four-year span and none of them were able to pan out.
Both Robinson and Cauley-Stein were centers and were not the kind of players who could play alongside Cousins well. The longest any of these precious lottery picks lasted was four seasons on the Kings with none of those years proving successful. 
The Kings also had the issue of dealing away talent too early. They drafted both Hassan Whiteside and Isaiah Thomas, yet never gave either of them enough of a chance to prove themselves. Thomas went on to be a multiple time All-Star and Whiteside has been one of the league's premier shot blockers for years.
Poor player development has stunted any potential Kings success. Cousins was never blessed with good teams in the past, which may have pushed him to the Golden State Warriors following the 2017/18 season.
Up until the 2019 playoffs, Cousins had never made the playoffs and for a great player like him, that is a major tarnish for his basketball legacy. He was one of best at his position and had yet to even make a first-round appearance. Therefore, after Cousins tore his achilles with the Pelicans in 2018, he felt the best decision for him was to join an already stacked roster that was guaranteed to go deep in the postseason.
Theoretically, it was perfect for him as it seemed like the only weak spot on the Warriors was the position he happened to play. However, Cousins' plans did not come to fruition as he struggled mightily to fit into the Warriors system. He was coming off an injury that has ended many NBA careers in the past and was placed right into a playoff race as soon as he entered his first game with the team.
He did not have any training camp to get in shape or time to adjust to the team's schemes as he was just thrusted into action. Cousins was given less shots, as he went from being the first or second option on the Kings and Pelicans to being the fourth or fifth option on the Warriors. And despite Cousins' improvement on his outside shot, his game still revolved inside the arc and that was in direct contrast to what the Warriors played.
During Golden State's championship runs, their centers were mainly used to get rebounds, catch alley-oops, and pass to the open shooter. Cousins went from being the focal point of the offense to barely getting enough minutes to be effective on the court. He averaged a measly 16.3 PPG in only 30 games for the Warriors with reduced statistics in nearly all other categories.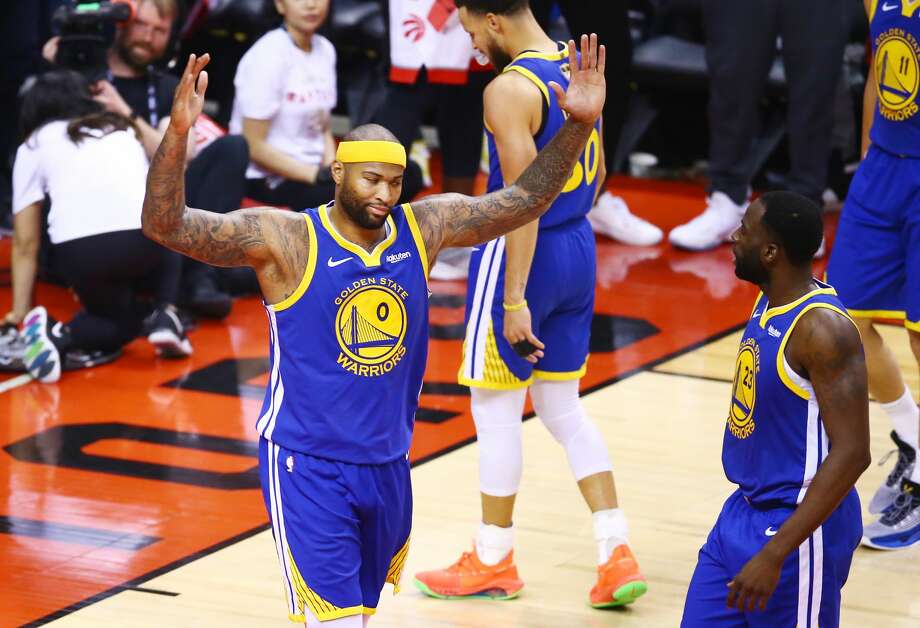 Chasing rings is a common practice in today's NBA; however, it is typically done by older and more washed up players. Cousins was coming off an injury, but he was anything but a declining player.
Decisions like going to the Warriors for a reduced role did not help Cousins career, but it is the injuries that have truly killed him especially of late. When he tore his achilles with the Pelicans, it was during one of his strongest and most successful seasons. For the first time in his career, Cousins was in line to make the playoffs alongside fellow superstar Anthony Davis.
The Pelicans were a fun and energetic team that were somehow able to manage having two big-men play so well together. The injury effectively ended his season and prompted him to sign with the Warriors. During the first round of the playoffs, Cousins tore his left quadricep that had him out until the NBA Finals. And after that rough season with the Warriors, Cousins decided to try and make a fresh start with the Los Angeles Lakers.
He joined LeBron James and reunited with former teammate Anthony Davis to help jump start the next chapter in his career. Unfortunately for him though, he tore his ACL in August and that became another lost season for him. And as of February, Cousins has been released from the organization and yet to sign with another team.
There is no denying that DeMarcus Cousins is a quality player that could still be effective in the NBA. He has shown his ability to adapt to change and has proven his superior basketball skills in the past. If only his body could hold up, then he could show the league what they have been missing over the past couple seasons.
He is not even 30 years old, but youth has not stopped some other notable centers from retiring early. What Cousins is hoping to avoid is following in the footsteps of people such as Andrew Bynum, Roy Hibbert, or even Hall of Famer Yao Ming, who all had their NBA careers cut short due to accumulations of injuries.
DeMarcus Cousins has the skill, and if he is put into the right situation, he can definitely be a force in the NBA once again. It is really dependent on his body's ability to cooperate and stay healthy that will decide if Cousins has a place in the future of the sport.