Four of TWSN's Journalists came together to make their first of many collaborative mock drafts, and in this edition, we have the Pre-NFL Combine Mock Draft.
With about two months left before draft day, we decided to hold off on potential trades because of the amount of turnover that will happen in the following months with the NFL Combine and free agency.
You will be surprised by plenty of the picks, but you must remember that it is a mock draft so bear with me… Here is our 2020 NFL Mock Draft.
1st Overall | Cincinnati Bengals | QB Joe Burrow | LSU |
Pick made by Alex Seghini
Despite all the smokescreen reports about Joe Burrow not wanting to play for the Bengals, this is the most obvious choice in the draft. Cincinnati gets their franchise QB and Burrow gets to create a legacy in his home state of Ohio.
2nd Overall | Washington Redskins | DE Chase Young | Ohio State |
Pick made by Steven Ammann
Chase Young gives the new head coach Ron Rivera a transcendent defensive star to help kickstart this rebuild. Young is a dangerous piece and can have a season very similar to the one that Nick Bosa had this past season.
3rd Overall | Detroit Lions | CB Jeff Okudah | Ohio State |
Pick made by Daniel Alameda
Don't be surprised if come draft day, this pick is dealt to a team that is high on Tua Tagovailoa such as the Dolphins or Panthers.
With the Lions' star cornerback Darius Slay rumored to be on the trade market, Jeffery Okudah is the pick here, as he's the best cornerback prospect to come out in quite some time. Okudah's film is awfully boring as teams rarely tested his side with only 54 total targets all season, and Okudah only allowed one TD.
4th Overall | New York Giants | LB Isaiah Simmons | Clemson |
Pick made by Shaun Chornobroff
The Giants get a dynamic linebacker here in Simmons who will be a building block for new head coach Joe Judge. Another possibility is drafting an OT, but Simmons' game-changing potential is too hard to pass up here. 
5th Overall | Miami Dolphins | QB Tua Tagovailoa | Alabama |
Pick made by Alex Seghini
The Dolphins are candidates to trade up to the third overall pick to secure Tua, but they stay put and select their franchise QB. They still have Fitzpatrick and Rosen on the roster, so Tua gets to rehab his hip injury while sitting out for a long period to learn the ropes.
There is no other pick for the Dolphins here UNLESS they are enamored with Justin Herbert throughout the pre-draft process and feel that he is their QB of the future. 
6th Overall | Los Angeles Chargers | QB Justin Herbert | Oregon |
Pick made by Steven Ammann
Things could get really spicy for the LA Chargers if the 3 QBs are off the board by their pick, which would force them to sign a QB in free agency (Bridgewater, Brady) or trade for Cam Newton, but here the Chargers get Phillip River's successor. 
7th Overall | Carolina Panthers | DT Derrick Brown | Auburn | 
Pick made by Daniel Alameda
Although the Panthers have been rumored to trade up for Tua, that would set this rebuild up for failure before it even gets started. The Panthers are undergoing massive changes this offseason with a new Head Coach, Offensive Coordinator, and Defensive Coordinator, and that's not to mention the loss of twp key players in Luke Kuechly and Greg Olsen.
The way to start a rebuild is from the trenches, and if Derrick Brown falls this far, he's the easy pick. Brown is a monster of a defensive lineman, and he will instantly shore up the 4th worst run defense in the league from last season. 
8th Overall | Arizona Cardinals | OT Jedrick Wills Jr. | Alabama |
Pick made by Shaun Chornobroff
The Cardinals need to focus on protecting QB Kyler Murray, so they get arguably the best tackle in this class. Arizona can go WR here to add an explosive piece, but the priority is to bolster an offensive line that allowed Murray to get sacked 48 times this past season.
9th Overall | Jacksonville Jaguars | DL Javon Kinlaw | South Carolina |
Pick made by Alex Seghini
After a monster Senior Bowl, Kinlaw is the pick as he gives the Jaguars talent on the D-Line. The Jaguars need help all around their defense, so they take the 6'6 monster defensive lineman who excels at rushing the passer. Rebuilding the defense will be key for the Jaguars
10th Overall | Cleveland Browns | OT Mekhi Becton | Louisville |
Pick made by Steven Ammann
The Cleveland Browns will be picking an offensive lineman with the 10th overall pick. Last season, the O-Line was their downfall, as they came into the season with the flashy addition of Odell Beckham Jr, but failed to shore up the line.
The Browns will try to not make the same mistake, as they select the Senior Bowl standout who will immediately step in and replace the recently arrested Greg Robinson at LT.
11th Overall | New York Jets | OT Tristan Wirfs | Iowa |
Pick made by Daniel Alameda
The New York Jets have two directions they can go here. One is to acquire an offensive playmaker such as Jerry Juedy to help give Sam Darnold an explosive weapon or to grab an offensive lineman to help the 28th ranked offensive line per PFF.
12th Overall | Oakland Raiders | WR Jerry Jeudy | Alabama |
Pick made by Shaun Chornobroff
The Oakland Raiders need an offensive weapon, and they have their pick between the top 3 receivers in this class. Jerry Juedy gives them the most dynamic receiver in this class. He is a fully polished route runner who can run every route possible. The only knock on him is potentially his deep speed, as in Alabama's offense, he wasn't asked to stretch the field, but the combine will give a better idea of what to expect.
13th Overall | Indianapolis Colts | WR CeeDee Lamb | Oklahoma |
Pick made by Alex Seghini
The Colts have been mocked by many analysts to take QB Jordan Love at this spot, but the smart pick is to add another weapon to complement T.Y. Hilton in the passing game.
This team has the talent to make a postseason run with a top 5 offensive line and a balanced roster, so instead of using this pick to develop for the future, they get a receiver who will create a dynamic duo at receiver to take the pressure off of Jacoby Brissett. 
14th Overall | Tampa Bay Buccaneers | EDGE K'Lavon Chaisson | LSU |
Pick made by Steven Ammann
The Buccaneers have a quietly scary team foundation with a top rushing defense from last year and a great passing attack, but NFL games are always won in the trenches.
The Bucs have 3 linebackers heading to free agency including the DPOY candidate Shaq Barrett. With Chaisson, the Bucs get an athletic edge rusher who has the potential to be a great piece, but he is still a very raw player.
15th Overall | Denver Broncos | WR Henry Ruggs III | Alabama |
Pick made by Daniel Alameda
Although the Broncos could use an offensive lineman, there's no way they pass up a chance to get a dynamic weapon in the pass game. Drew Lock has the chance to break out in a big way this season, but he needs a receiver to pair with the big bodied Courtland Sutton.
Henry Ruggs gives their passing game a threat in the deep game with the ability to turn small plays (screen and slants) into game changing plays. 
16th Overall | Atlanta Falcons | EDGE A.J. Epenesa | Iowa |
Pick made by Shaun Chornobroff
The Falcons have moved on from former first round pick Vic Beasley, which sparks the need for another edge rusher, and hopefully Epenesa pans out for Atlanta.
He is an absolute stud who will step in and contribute in the pass rush, but will mostly affect the run with his 6'6 frame and the sheer power he creates when stopping the run.
17th Overall | Dallas Cowboys | S Xavier McKinney | Alabama |
Pick made by Alex Seghini
With a glaring hole at the Safety position, the Cowboys pass on Grant Delpit for a more well rounded safety. The Cowboys can't afford to miss on this pick, and they get a fearless leader who is instinctual in coverage and has the football IQ needed to head the Cowboys defense.
The Cowboys have needed a consistent safety who can do it all, and that's exactly what McKinney brings to them. 
18th Overall | Miami Dolphins | WR Tee Higgins | Clemson 
Pick made by Steven Ammann
The Miami Dolphins get a big bodied receiver to pair with breakout star Davante Parker. The Dolphins receiving core will be in good hands as Tee Higgins will help to erase many mistakes that their young quarterback (or Ryan Fitzpatrick) will make. Higgins's large catch radius will be put to use as the Dolphins embark on a journey to find their franchise QB.
19th Overall | Oakland Raiders | LB Patrick Queen | LSU |
Pick made by Daniel Alameda
Queen was a fast riser this season due to his monster CFP run. He is a fluid linebacker who thrives in his sideline to sideline play and will be a perfect fit in the Raiders' dream defense. The main knock on Patrick is that he has only one season of solid production, but with the Raiders lack of linebacker talent, he will immediately have an impact.
20th Overall | Jacksonville Jaguars | LB Kenneth Murray | Oklahoma |
Pick made by Shaun Chornobroff
The Jaguars draft their second defensive stud to pair with Myles Jack and bolster their defense. Murray will immediately bring speed and athleticism to the defense, but has to become a more refined player in his rushing and coverage techniques. 
21st Overall | Philadelphia Eagles | CB Kristian Fulton | LSU |
Pick made by Alex Seghini
The Eagles get a very smooth CB here to step in right away as their CB 1. The Eagles' weakness for the past 2 years has been their secondary, as they've dealt with a multitude of injuries, but Fulton will step in and thrive in their primarily man coverage scheme. 
22nd Overall | Buffalo Bills | WR Laviska Shenault Jr. | Colorado |
Pick made by Steven Ammann
The Bills need to give Josh Allen more talent to work with, and that's exactly what Shenault is. He gives this Bills offense a Swiss Army knife to use in the passing game, run game, and all over the formation, as he can truly do it all. He's the perfect pick here because he doesn't limit his impact to the passing game, as he can immediately impact their offense in a big way.
23rd Overall | New England Patriots | S Antoine Winfield Jr.| Minnesota |
Pick made by Daniel Alameda
This will come as a surprise to all, but New England selects the future replacement for Devin McCourty. The Patriots need talent on offense, but they have a terrible track record with first round receivers, so the Patriots get an instinctual safety who packs a punch.
This pick allows for safety insurance (no pun intended) for the safety position while also giving them an impact player for this upcoming season.
24th Overall | New Orleans Saints | CB CJ Henderson | Florida |
Pick made by Shaun Chornobroff
The New Orleans Saints have two options here. One is to go wide receiver to help out Michael Thomas, who is the Saints only consistent receiver, or help the secondary improve where they've needed to for the past couple of seasons.
Henderson is an athletic freak who does struggle in run support, but he will provide the Saints with a corner with a huge ceiling and the opportunity to play more aggressive coverage based on his sheer athleticism. 
25th Overall | Minnesota Vikings | OT Andrew Thomas | Georgia |
Pick made by Alex Seghini
With Thomas normally projected to go Top-15, this is a perfect scenario for the Vikings as they are able to bolster their offensive line with a talented prospect who fell in the draft. The main reason for his fall is the sheer strength of the Lineman coming out this season, but Dalvin Cook and Kirk Cousins will not be complaining with the 320 pound do it all lineman.
26th Overall | Miami Dolphins | IDL Marlon Davidson | Auburn |
Pick made by Steven Ammann
Often overshadowed by his teammate Derrick Brown, Davidson is a great prospect in his own right. He has played all over the D-Line, which brings much needed versatility to a defense that needs talent everywhere. Like previously stated, this isn't the sexy pick, but developing a strong defensive line works wonders in the future. 
27th Overall | Seattle Seahawks | EDGE Zack Baun | Wisconsin |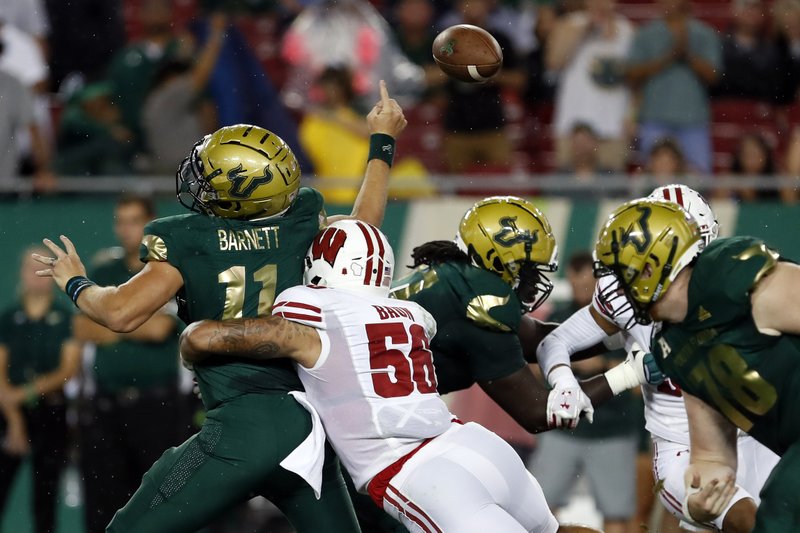 Pick made by Daniel Alameda
The Seahawks have a need at edge rusher with the potential departure of Jadeveon Clowney and lack of production from 1st rounder L.J. Collier. With Baun, the Seahawks get a productive college edge rusher who is a tremendous pass rusher and will be able to shore up his weaker rush defense with added strength in the offseason.
28th Overall | Baltimore Ravens | IOL Cesar Ruiz | Michigan |
Pick made by Shaun Chornobroff
Michigan's star center is versatile enough to play anywhere on the interior line, and with the potential retirement of Marshall Yanda in the coming years, what better way to build a dynasty with Lamar Jackson than to protect him? Cesar was a versatile blocker that will step in and develop into a player that the ravens will cherish in the future.
29th Overall | Tennessee Titans | EDGE Yetur Gross-Matos | Penn State |
Pick made by Alex Seghini
This past season, the Titans struggled to get consistent pressure on the quarterback, which is why they select Gross-Matos here. He is an ultra athletic edge rusher who will shoot up draft boards after his amazing testing at the combine. 
30th Overall | Green Bay Packers | WR Brandon Aiyuk | Arizona State |
Pick made by Steven Ammann
Arizona State's Brandon Aiyuk will fit perfectly in the Packers offense, as he gives them a dynamic playmaker in the passing game. Despite their 13-3 record, their offense in 2019 was stagnant without their best playmaker Davante Adams in the lineup. Aiyuk struggles with concentration catches, as he's not yet a refined receiver, but he has the playmaking skills that the Packers sorely need.
31st Overall | San Francisco 49ers | CB Trevon Diggs | Alabama |
Pick made by Daniel Alameda
Although the 49ers secondary was one of the best this past season, I still have my concerns about them. Richard Sherman is getting older, and the corner on the opposite side (Witherspoon and Moseley) struggled this season, so they could use an upgrade. Diggs is an exceptional cover 3 athlete that will step right in to help shore up their issues as a rookie. 
32nd Overall | Kansas City Chiefs | IDL Neville Gallimore | Oklahoma |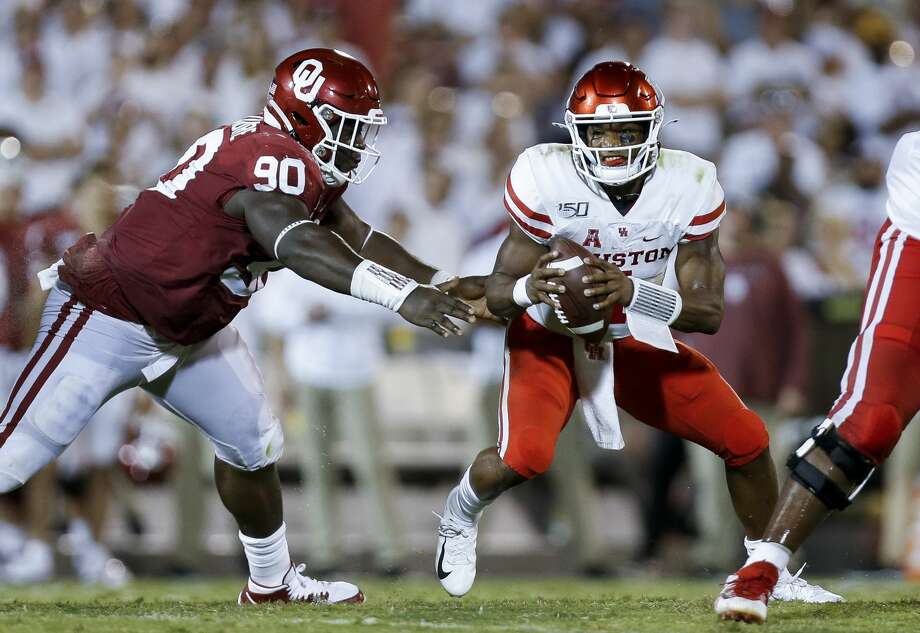 Pick made by Shaun Chornobroff
The Super Bowl Champs have some decisions to make in free agency especially with star DL Chris Jones. He has been the engine to their defense, as seen in Super Bowl 54, and what better way to replace him if he walks than with Gallimore.
Neville gives the Chiefs a three down starter that will replicate some of the production that Jones leaves behind, and he will fill the D-Line before it becomes an issue.
We hope you enjoyed our first mock draft! Plenty more to come with the next one after free agency in late March. Remember to reach out to us for any questions, concerns, thoughts, @twsnet and @twsn.media!!!!