1st Overall | Cincinnati Bengals | Joe Burrow | QB | LSU
Joe Burrow to the Bengals with the first overall selection is the consensus pick in the 2020 NFL Draft. With the Bengals ready to move on from 9-year veteran Andy Dalton, QB will be Cincinnati's biggest need. Adam Schefter reported that the Bengals have no intention of trading away the #1 overall pick, so Bengals fans can start ordering their Joe Burrow jerseys now.
2nd Overall | Washington Redskins | Chase Young | EDGE | Ohio State
Chase Young very well could be the best talent in the draft, so the Redskins will be happy to see him fall to them at the second pick. Just like Joe Burrow, Chase Young going to the Redskins is the consensus, and it is guaranteed to happen barring something unforeseen.
3rd Overall | Detroit Lions | Isaiah Simmons | LB/S | Clemson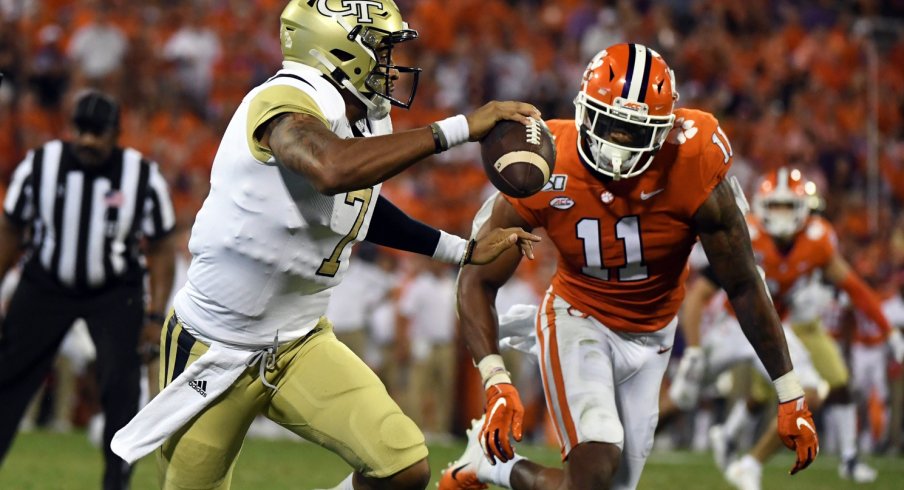 The Lions have a lot of options for this pick. They very well could trade it away to a team like the Carolina Panthers who would be looking to draft Tua Tagovailoa or Justin Herbert. If Detroit hangs onto this pick, it is likely they will go defense. Isaiah Simmons shot up draft boards with his impressive National Championship performance with 7 tackles, 1 sack, 2 TFLs, and 2 pass deflections. Simmons is a versatile defensive player who Matt Patricia would love to have.
4th Overall | New York Giants | Jerry Jeudy | WR | Alabama
The Giants have lots of holes on this team and could very well go offensive line or any position on defense with this pick, but new Giants head coach, and former WR coach for the New England Patriots, could go with a stud receiver to replace the role Odell Beckham Jr. Jerry Jeudy is an explosive player who would certainly make passing the ball easier for second year QB Daniel Jones.
5th Overall | Miami Dolphins | Tua Tagovailoa | QB | Alabama
Right now, Tua Tagovailoa is viewed as the second best QB in the draft, and the Dolphins are in major need of a franchise QB. Tua does have his injury concerns, but more will be revealed once he undergoes a physical at the NFL Combine. One thing to watch is Philip Rivers has permanently moved from San Diego to Florida. Miami may bring Rivers in to start the 2020 season with the intention of redshirting Tua in his rookie year.
6th Overall | Los Angeles Chargers | Justin Herbert | QB | Oregon
As I mentioned above, Philip Rivers has played his last game as a Charger meaning LAC will be in search of their next QB. While the Chargers could make a run at free agent QBs like Tom Brady, it is highly likely that they will draft a QB with this pick to either start or to sit behind a veteran QB like Brady with the plan of becoming the full time guy in a couple of seasons. Right now, Herbert is the third best QB prospect available, and he should be a great fit in LA.
7th Overall | Carolina Panthers | Derrick Brown | DL | Auburn
The Panthers were the fourth worst team last season in stopping the run allowing 143.5 rushing yards per game. Derrick Brown is easily a top 5 talent in this year's draft, so I do not see the Panthers passing up on this monster of an interior lineman. He will certainly strengthen Carolina's rush defense in 2020. The Panthers do not have a clear starting QB right now, but selecting Jake Fromm or any other QB would be a reach at 7. Carolina could trade up to the 3 spot with Detroit to solve this issue, however.
8th Overall | Arizona Cardinals | Andrew Thomas | OL | Georgia
Last year, the Cardinals selected Heisman winner Kyler Murray with the #1 pick. They've progressed with Murray at the helm, and will now look to get the second year QB some help. Andrew Thomas is the best OL prospect in this year's draft and could very well protect Murray's blindside for the next decade. There are some good wide receivers on the board, but with Larry Fitzgerald returning for his 17th season to go along with a decent receiving corps, the offensive line is the far more pressing issue.
9th Overall | Jacksonville Jaguars | Jeff Okudah | DB | Ohio State
After trading Jalen Ramsey to the Los Angeles Rams, the Jaguars will be looking to replace the All-Pro CB. Jeff Okudah is another premier talent in this draft, and he very well could fall to the Jaguars at 9. Jacksonville could use a LB and might even want a WR to transition to a shotgun heavy offense, but they will jump at the chance to select the Ohio State product.
10th Overall | Cleveland Browns | Jedrick Wills Jr | OL | Alabama
PFF ranked the Cleveland Browns offensive line for the 2019 season at 23rd. There is clearly room for improvement, so Jedrick Wills Jr would be a welcomed addition. He is a great pass blocker, but can also run block, which should improve Clevelands run blocking as it ranked bottom 10 in the league last season.
11th Overall | New York Jets | Tristan Wirfs | OL | Iowa
Next on the list are the New York Jets who had a worse offensive line than the Browns coming in ranked at 28th in the league. The Jets spent a lot of money on Le'Veon Bell in free agency, and it did not pay off in his first season as his offensive line provided him with atrocious blocking. Tristan Wirfs would also provide excellent pass blocking for Sam Darnold, which will also improve the passing game.
12th Overall | Las Vegas Raiders | CeeDee Lamb | WR | Oklahoma
CeeDee Lamb is the second WR off the board in this stacked receiver class. The Raiders could use help on defense, but they can sure up the defensive side with their second first round pick. It seemed like the Raiders wanted to have a pass heavy offense for 2019 as they initially traded for and signed Antonio Brown to a long-term extension. He refused to play in Oakland, and was later released seemingly derailing the Raiders' season. CeeDee Lamb would give the Raiders the ability to pass downfield with ease, and would also be a big ticket player in their Las Vegas inaugural season,
13th Overall | Indianapolis Colts | A.J. Epenesa | EDGE | Iowa
The Colts' offense is mostly set meaning they will likely go defense with this pick. Indianapolis is missing a solid pass rusher, and A.J. Epenesa would provide just that. The Colts were an average team in terms of sacking the QB with 41 sacks on the year. Epenesa would certainly help boost that number.
14th Overall | Tampa Bay Buccaneers | Grant Delpit | S | LSU
The Buccaneers need to address their QB situation either by sticking with Jameis or looking elsewhere in free agency. They could always look at finding a QB in the draft, but at this point Jake Fromm is the only QB available who could realistically start from day 1. One area Tampa Bay needs to improve on is the secondary, and Grant Delpit would provide much needed help.
15th Overall | Denver Broncos | Kristian Fulton | DB | LSU
Chris Harris Jr is entering free agency and could sign somewhere else during the off-season, which would leave the Broncos without a #1 corner. The 30-year old CB could re-sign with the Broncos, but Denver's secondary is already thin with Harris, so drafting a DB would go a long way in improving the defense.
16th Overall | Atlanta Falcons | K'Lavon Chaisson | EDGE | LSU
The Falcons have a fairly good offense with a QB, a TE, and two WRs in place. It may not be a bad idea to improve the offensive line, but Atlanta's defense needs to improve, and K'Lavon Chaisson would give the Falcons some pass rush ability at the OLB position. Chaisson had 6.5 sacks as well as 13.5 TFLs, so he would also provide a much needed boost in the rush defense.
17th Overall | Dallas Cowboys | Henry Ruggs III | WR | Alabama
Amari Cooper's future in Dallas is up in the air at this point. Cooper may test free agency, but the issue with the Cowboys is they might not have the cap space to bring him back considering they have already paid a significant amount of their roster. Dallas will be in search of a dynamic and cheaper WR, and Henry Ruggs III will be just that. It is highly likely Ruggs will shoot up the draft boards after showing off his 40-time for scouts at the NFL Combine.
18th Overall | Miami Dolphins (via PIT) | Xavier McKinney | DB | Alabama
The Dolphins received this pick after trading Pro-Bowler Minkah Fitzpatrick to the Steelers. Miami most likely did not think that the Steelers would have a borderline playoff season. They were obviously hoping for a top 10 pick out of this trade. Lucky for them, there will still be great players at this pick including Minkah Fitzpatrick's possible replacement in Xavier McKinney. The Alabama safety plays fairly similar to Fitzpatrick, so this pick is a fit for Miami.
19th Overall | Las Vegas Raiders (via CHI) | Kenneth Murray | LB | Oklahoma
Linebacker play was pretty poor for the Raiders last season, so it makes sense they would take the best LB on the board at this pick. Kenneth Murray is a fantastic athlete that would immediately improve the Raiders' defense.
20th Overall | Jacksonville Jaguars (via LAR) | Javon Kinlaw | DL | South Carolina
Jacksonville had the 5th worst run defense in the league last season allowing 139.3 yards per game. Javon KInlaw is 6'6″ and over 300lbs, so he will certainly improve Jacksonville's run defense. He also has the ability to rush the pass as evident by his 6 sacks in his Junior season. The Jaguars could lose Yannick Ngakoue in free agency, so Kinlaw would be a much needed addition.
21st Overall | Philadelphia Eagles | Tee Higgins | WR | Clemson
WR is the obvious pick for Philadelphia considering how thin they were at this position at the end of the season. Tee Higgins is the best guy available, so it is a no-brainer for the Eagles to go with him. Higgins is a great WR and could certainly be a #1 receiver in Philly.
22nd Overall | Buffalo Bills | Yetur Gross-Matos | EDGE | Penn State
The Bills are another team that could use a WR, but I think they will end up going with a pass rusher. They were a fairly average team in terms of rushing the passer, so Yetur Gross-Matos would be a significant addition considering he had 9.5 sacks in his Junior season at Penn State.
23rd Overall | New England Patriots | Laviska Shenault Jr. | WR | Colorado
This pick for New England all depends on whether or not Tom Brady stays or leaves. Jake Fromm is a possible pick if Brady leaves, but if he returns for another season, expect them to go with a receiver to build a stronger offense around Brady. Other possibilities include the offensive line depending on if Joe Thuney re-signs and if David Andrews is once again able to play. Laviska Shenault Jr is one of the best receivers available at this point, and he could be a deep threat type guy that would draw coverage off of Julian Edelman.
24th Overall | New Orleans Saints | CJ Henderson | DB | Florida
New Orleans took a chance on CBs Eli Apple and Janoris Jenkins, but it did not pay off all that well. They are in need of a second CB to pair up with Marshon Lattimore, and they have a great opportunity for that with the 24th pick. Henderson had 6 INTs and 20 PDs in his 3 years at Florida, so he could be a difference maker in New Orleans.
25th Overall | Minnesota Vikings | Trevon Diggs | DB | Alabama
The Vikings are another team who are in search of another DB. Xavier Rhodes had a pretty bad season in Minnesota, so it was a complete surprise when he was named as a replacement in the Pro Bowl. It is likely that the VIkings would like to move on from Rhodes, and Trevon Diggs would be an excellent replacement. Diggs had 3 INTs, 37 tackles, and 8 PDs in his Senior season at Alabama, so he certainly is a gamechanger.
26th Overall | Miami Dolphins (via HOU) | D'Andre Swift | RB | Georgia
The Dolphins are without a true starting running back after trading Kenyan Drake to the Arizona Cardinals. Miami averaged 75.6 rushing yards per game after the trade, and Ryan Fitzpatrick finished as the team leading rush with 243 yards. The offensive line could be to blame here, so going O-line would not be the worst idea, but Miami are in need of a starting RB.
27th Overall | Seattle Seahawks | Julian Okwara | DL | Notre Dame
Seattle had the second worst pass rush with only 28 sacks on the entire season. This is concerning considering they traded for Jadeveon Clowney who only contributed 3 sacks in 13 games. Adding to the defensive line should be Seattle's number one priority. Julian Okwara had 24 TFLs and 15.5 sacks in his 35 games at Notre Dame, so he will provide a pass rushing threat for Seattle.

28th Overall | Baltimore Ravens | Tyler Biadasz | OL | Wisconsin
There are not too many holes on this Baltimore Ravens team. They only need Lamar Jackson to gain more experience so he will step up to the occasion the next time the Ravens make the playoffs. There is a chance OG Marshal Yanda could retire, so Baltimore would need his replacement or at least more depth on the offensive line, and Tyler Biadasz will do just that.
29th Overall | Tennessee Titans | Bryce Hall | DB | Virginia
The biggest issue for the Titans in the AFC Championship game against the Chiefs was their inability to keep up with Kansas City's receivers. Hall had 21 PDs in 2018, so he would certainly help the Titans when going up against teams like the Chiefs. Tennessee are thin at CB after the Malcolm Butler signing not working out, so this is their biggest area of need.
30th Overall | Green Bay Packers | Neville Gallimore | DL | Oklahoma
Aaron Rodgers tried to bring the Packers back into the NFC Championship against the 49ers, but Green Bay's defense could not stop the run. It seems like the Packers need another big body upfront if they want to return to the Super Bowl. In his Senior season at Oklahoma, Neville Gallimore had 6.5 TFLs and 4 sacks, so he will help create a strong push for the Packers' D-line.
31st Overall | San Francisco 49ers | Jalen Reagor | WR | TCU
San Francisco are going to need another WR to pair with Deebo Samuel. They traded for Emmanuel Sanders at the trade deadline, but he is on an expiring deal, so they'll need to find his replacement. Jalen Reagor is a fairly similar receiver to Sanders, so he could fit in nicely to Kyle Shanahan's offense.
32nd Overall | Kansas City Chiefs | Curtis Weaver | EDGE | Boise State
Kansas City has the most explosive offense in the entire NFL, so it is not necessary to try and improve there. The defense is not much of a slouch either, but the one thing the Chiefs are missing is a defender that can set the edge. They tried to temporarily fix this issue by claiming Terrell Suggs off of waivers, but they will need a permanent fix, and Curtis Weaver will be the answer.