In the one year rebuild series, I will outline what some of the least successful football teams in the NFL need to do to take their team to the next level. Some teams can go from being on this list to the postseason, but the majority of the time it is more than a one year job.
To specify on what exactly I will be covering, I will give my ideal fits for a team's first three rounds of the NFL Draft as well as a couple free agent signings that would be beneficial for the franchise.
Background:
After a tumultuous season that started with their franchise left tackle refusing to play, the dismissal of head coach Jay Gruden, and ending with the firing of longtime President/General Manager Bruce Allen, the Redskins started their off-season by landing the biggest fish in the coaching market in former Panthers coach Ron Rivera.
Rivera is a two time NFL Coach of the Year, and with his defensive expertise and a developing Dwayne Haskins, this offseason could be a turning point for the Redskins.
NFL Draft First Round Chase Young DE Ohio State: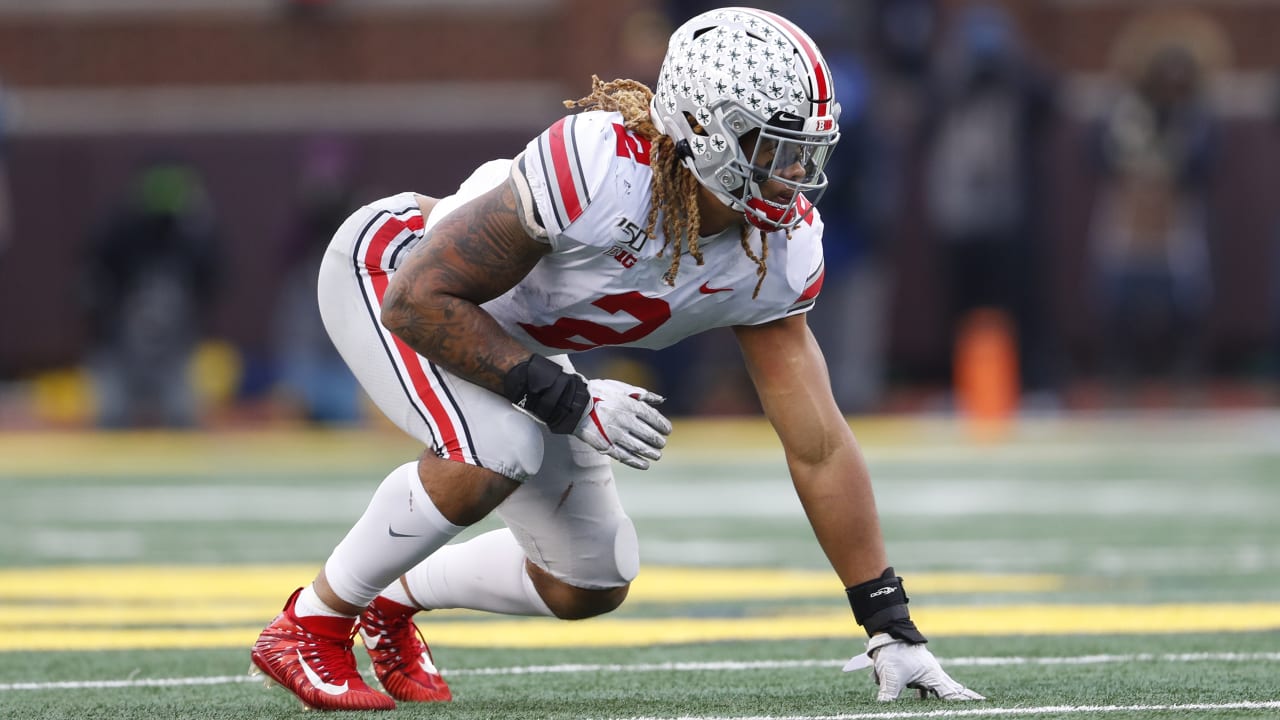 Chase Young is the best defensive prospect we have seen in years, and if the Bengals were not set to move on from Andy Dalton, he would be the obvious first overall pick. Young is a physical specimen standing at six-foot-five and 265 pounds and was the most dominant defensive player in college football this past season.
The Heisman finalist led the nation with 16.5 sacks despite missing two games. Young is the best defensive end to come out of Ohio State in the past ten years. Yes, he is a better prospect than both Joey and Nick Bosa, and he is the clear cut obvious pick for the Redskins.
Young combined with Montez Sweat and Matt Ioannidis should give the Redskins one of the most dangerous pass rushes in the NFL.
NFL Draft Round 2:
The Redskins traded their second round pick in 2019 and 2020 to the Colts as part of the deal for the 26th overall pick in last year's draft, which was eventually used on Montez Sweat.
Sweat was a potential top 15 pick in the draft, but experienced a draft day slide most likely due to concerns about a potential heart condition. Sweat had seven sacks in his rookie year and has the potential to be a double-digit sack player, which is not bad value for two second round picks.
NFL Draft Round 3 Get Haskins Another Receiver:
This may be one of the deepest receiver classes of all time. The top end talent rivals that of the 2014 draft, but the depth of this class may be unrivaled. There are players who can be found in the third round that would be first round picks in most drafts.
Receivers Terry McLaurin, Kelvin Harmon, and Steve Sims Jr. have also shown potential for Washington, but they have not proven to be legitimate threats. The likes of Collin Johnson from Texas, who is a big receiver with a great catch radius, would be attractive and a great third round pick in any draft, but in this draft, there may be better talent available.
The Senior Bowl showed the depth of this draft class at receiver, and the likes of K.J. Hill, Denzel Mims or Van Jefferson could be great additions to the Redskins. Any one of these players is just another high potential piece to build around Dwayne Haskins and new offensive coordinator Scott Turner.
Free Agency:
According to Spotrac, the Redskins have nearly $39 million dollars in salary cap space heading into the off-season. It's not a huge amount, but the team has ways of increasing their spending capabilities. The team can gain an extra $25 million in cap space if they release CB Josh Norman and LT Trent Williams.
The team could also save almost $12 million with the release of Ryan Kerrigan, but Kerrigan is the heart and soul of the Redskins defense and a valuable presence as they transition into a new era.
However, Washington should release Jordan Reed to free up cap space. Reed used to be one of the league's elite tight ends, but injuries have derailed his career. Reed missed the entire 2019 season with an injury and the Redskins would save $8.5 million with his release.
The Redskins have an elite pass rush, but need to beef up their secondary. New head coach Ron Rivera and defensive coordinator Jack Del Rio figure to coach one of the best defenses in football. The team already gave safety Landon Collins a big contract last off-season, but needs to surround him with help.
The obvious names are CBs Chris Harris Jr. and Byron Jones. Stealing Jones from the arch rival Dallas Cowboys would be a coup. Jones is coming off of a disappointing season, but his flexibility and natural athletic gifts are obvious when watching him play, and hopefully Jack Del Rio will turn him into the star we have been waiting for him to become.
But the name to focus on is Chris Harris Jr. Harris has been an elite corner in Denver for years. Harris experienced a slight down year, but many Broncos did in the first year under Vic Fangio.
The former First Team All-Pro would be a perfect fit when you consider that Del Rio was his defensive coordinator for three seasons before becoming head coach of the Raiders. Harris is only a year removed from being a Pro-Bowler and could find himself back in the Pro Bowl next year in Del Rio's system.
Offensively, the Redskins should be focused on retaining their offensive line. Brandon Scherff has been the teams starting right guard since entering the league, and he is one of the best there is.
Even in an injury shortened season, Scherff was a top 10 right guard according to Pro Football Focus, which was his second worst season in his five year career according to the site. Scherff has dealt with injury issues, but his obvious talent supersedes the risk, and the Redskins need to do whatever it takes to keep him around.
Ereck Flowers was a diamond in the rough for the Redskins. The first round pick was a flop with the Giants as a tackle, but the Redskins kicked Flowers inside and he was a decent left guard. Flowers started all 16 games for the Redskins and could improve at the position as he gains experience, so it would be wise of the Redskins to lock him up while they can.
The left tackle spot could go back to Trent Williams. Redskins running back Chris Thompson recently indicated that he thinks there is a good chance Williams returns, but if the team parts ways with Williams, retaining Donald Penn or signing Anthony Castonzo from Indianapolis to protect Haskins' blind side would be in the team's best interest.
I would not sign a receiver this offseason to allow the likes of McLaurin, Sims, and a potential draft pick to develop. With that said, the Redskins were completely handicapped at tight end with injuries to Vernon Davis and Jordan Reed.
With Davis announcing his retirement and Reed being both a salary and injury risk, it may be time to move on and invest in a shiny new safety valve in free agency.
The best tight ends on the market are Austin Hooper and Hunter Henry. Both have been very productive in their careers and are among the position's elite. The Redskins could not go wrong with either choice, and as this years Super Bowl shows, tight ends have not gone out of style.
Hooper is the better option in my opinion considering Hunter Henry has yet to play in a full 16 game season. Hooper is coming off a career year where he had nearly 800 yards and six touchdowns even though he missed three games.
Hooper has quietly developed into one of football's elite tight ends and deserves to be paid like it. With a young quarterback at the helm and an inexperienced offensive coordinator, Hooper could aide Haskins' development similarly to how Zach Ertz aided Carson Wentz's development.
The Redskins rebuild largely relies on their offense. Washington has two of the best defensive coaches in the game and a potentially elite front seven. The offense has a high potential and a young core to build around. If the likes of Dwayne Haskins, Terry McLaurin and running back Derrius Guice take a step forward, the Redskins could be one of the NFL's biggest surprises.