In the one year rebuild series, I will outline what some of the least successful football teams in the NFL need to do to take their team to the next level. Some teams can go from on this list to the postseason, but the majority of the time it is more than a one year job.
To specify on what exactly I will be covering, I will give my ideal fits for a team's first three rounds of the NFL Draft as well as a couple free agent signings that would be beneficial for the franchise.
Background:
The Giants have a clean break from the past for the most part. Franchise quarterback Eli Manning retired after 16 seasons and head coach Pat Shurmur was fired after a disappointing 4-12 campaign. The only hold over is general manager Dave Gettleman, who seems to be on a short leash himself.
Gettleman made the controversial hire of Patriots special teams coordinator/wide receivers coach Joe Judge as head coach who, along with Daniel Jones, Saquon Barkley, and Dexter Lawerence, will hope to rekindle the same magic that the 2007 and 2011 Giants had within the next few years.
NFL Draft First Round Isiah Simmons LB Clemson: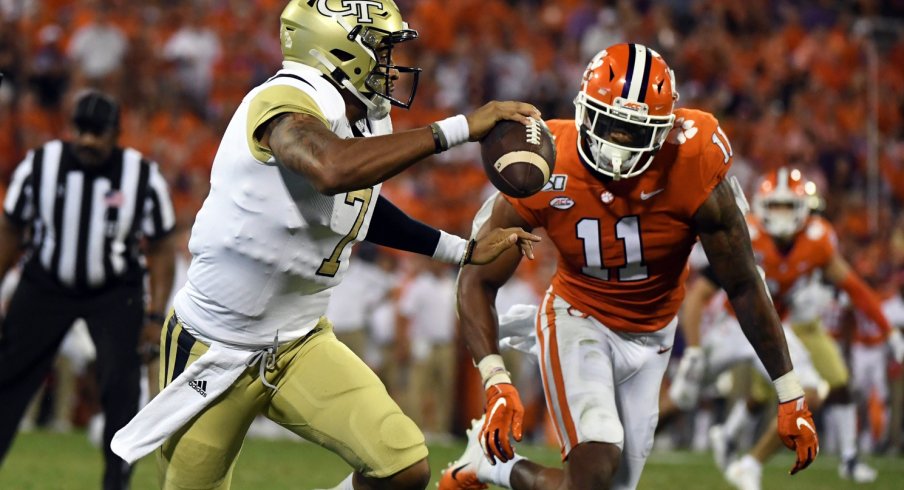 As I said in the last article, the third overall pick is where the NFL Draft will start to take shape, and the Giants will have to react to what happens with that pick. As long as he's available, Simmons is the easy pick.
The epitome of the modern day linebacker, he gets side to side quickly, is a good tackler, and could even be used against slot receivers at Clemson. Dave Gettleman knows how important a middle linebacker can be thanks to his time as the Panthers general manager. The Giants should get their Luke Kuechly with Simmons.
If the Giants don't select Simmons, they should have their eye on the offensive line, as there is a lot of debate over who the best tackle is. Whether it's Jedrick Wills from Alabama, Andrew Thomas from Georgia or Mekhi Becton from Louisville. Whoever Gettleman thinks is the best offensive tackle should be his pick if not Simmons.
NFL Draft Second Round Linebacker/Offensive Tackle:
This one's pretty simple, as what the Giants don't address in the first round, they should address in the second round. If the Giants select Simmons, the focus is offensive tackle.
The Giants will hope that someone like Josh Jones from Houston falls in their lap, but if he doesn't, there are other options. Someone like Austin Jackson from USC or Lucas Niang from TCU both project to be starters in the NFL and should be available at this spot.
If the Giants draft an offensive tackle in the first, then they must take a linebacker in the second round. I doubt Patrick Queen from LSU or Kenneth Murray from Oklahoma are available, so that leaves Malik Harrison from Ohio State or Troy Dye from Oregon.
Both are good options, but I prefer Harrison, as he projects to be more of a three down linebacker than Dye. Dye is great in coverage, but gets pushed off the ball in run defense and may be a liability there at the next level. Harrison is good in run defense, but isn't exceptional in coverage. He still isn't a complete liability in the area, though. Harrison is the selection for me.
An outside the box option here could be Antoine Winfield Jr. from Minnesota. Antoine Bethea was a liability at free safety last year and drafting Winfield Jr. would fix that.
I think Winfield Jr. is a future star, as he was fourth in the nation with seven interceptions last year, and his film shows he is a willing and physical tackler. Drafting Winfield to play free safety would allow Jabril Peppers to play a role similar to Landon Collins during his time with the organization.
NFL Draft Third Round:
The Giants traded their third round pick in a trade for Leonard Williams. The former Jets defensive tackle was unimpressive during his time with the Giants and is seeking a massive contract. It seems like the Giants wasted their third round pick in this draft.
Free Agency:
The Giants rebuild is not a one year job, therefore I think they should be looking at younger options. The team should be looking for players that can make immediate and long term contributions.
The team's top target should be Yannick Ngakoue. The former Jaguars pass rusher is a top free agent and after 37.5 sacks during his tenure in Jacksonville, Ngakoue should get a contract similar to what the Giants gave to Olivier Vernon in 2016.
An under the radar option would be Shaq Lawson who has quietly developed into a decent pass rusher posting 6.5 sacks with Buffalo last season.
A second option at defensive end would be Derek Wolfe who had a productive seven sacks in only 12 games last season. Both players would be much cheaper than Ngakoue, but there's a reason for that.
If the Giants draft Simmons, I would roll the dice with Oshane Ximines as the outside linebacker opposite Lorenzo Carter or sign a one year rental.
Instead, I think the Giants should focus on cornerback. As I've said previously in this series, the two top corners in this free agent class are Byron Jones and Chris Harris. Harris goes against my rule of younger players, but would be a good mentor for younger players like Deandre Baker and Sam Beal.
Byron Jones is the best fit for the Giants, and he is an experienced number one corner, and even in a season in which he faced criticism, Jones was rated the 14th best corner in the league. Jones would give the Giants a star in a secondary full of question marks.
If the Giants are committed to their young corners, they need an elite free safety, as I previously stated Antoine Bethea is a liability. Justin Simmons from the Denver Broncos would be well worth a big contract. Simmons was the second best safety in the league according to Pro Football Focus. Simmons is an elite safety and Dave Gettleman should be preparing to lure Simmons to New York
The Giant rebuild is not a one year job, as the team has too many holes to fix in a single offseason, but if Judge and his coaching staff live up to expectations, the Giants could be thought of as a team on the rise this time next year.