Joe Burrow was the story of the nation this past season. A college quarterback seemingly coming out of nowhere after being rejected and forgotten about had the greatest college football season in the sports' history. What's not to love?
The Joe Burrow story is a great story, but like any storyline the major media catches its eye on, it's been exaggerated into something the public can't ignore, so without further ado, here is the story of Joe Burrow.
Burrow grew up in Ohio in a family of athletes. His father is a former football player at Nebraska and was a long time coach at nearby Ohio University.
His brothers, Jamie and Dan Burrow, who grew up in Iowa, both played football for the Cornhuskers as well. Not to forget his grandmother who once scored 82 points in a high school basketball game. Joe was just next in line, but very few knew how great the next Burrow would be.
Joe Burrow was a two sport star in high school. In addition to being the starting quarterback of the Athens High School Bulldogs, Burrow was also the starting point guard of the basketball team.
Burrow was a star on the court as well averaging nearly 20 points per game his senior season, and he was a stellar rebounder who grabbed more than six rebounds a game in his three years at the Varsity level.
Burrow was stellar on the court as evident by his plethora of accolades. He had four All-Division honors, and as a Senior, he was an All-State selection. Most impressively he was TVC-Ohio Player of the Year.
In an article on Lsusports.net, Joe's father Jimmy was quoted as saying that if Joe had committed to basketball, he likely would have played at a Division 1 school. According to the same article, Creighton, a team that is barely outside the top 25 rankings, called and expressed interest in Joe during his sophomore year. 
Burrow is a special athlete, but his future was always on the football field. Jim's football knowledge was clearly passed down to his son from a young age. It was clear even in his middle school days that Burrow understood the game better than most his age.
Burrow's intelligence would eventually translate into high school success. Even before he developed physically, Burrow's high football IQ made him a prolific quarterback. In his first two high school starts, Joe combined for 553 yards and seven touchdowns.
Burrow developed and his teams at Athens got better and better. In his Senior season, the team was painstakingly close to winning the State Championship. Burrow had a ring in sight, but the opposing team scored in the last minute, and Burrow's high school career ended in heartbreak.
The team finished 14-1. Only a minute away from being undefeated. Burrow had a video game like stat line throwing for 68 touchdowns and two interceptions in addition to 4,445 yards; He also rushed for an additional 642 yards and five touchdowns according to MaxPreps.
Overall, Burrow had a 37-4 career record, while throwing 157 touchdowns and only 17 interceptions. He was also the Ohio Gatorade Player of the Year in 2013-14 and 2014-15 as well as Ohio Mr. Football in the 2014-15 season.
After his prolific high school career, Burrow would commit to Ohio State. While there is this narrative that Burrow was an under the radar two-star recruit, it was only because of the aforementioned major media exaggeration.
Burrow may have been a two-star recruit for a brief period, but it was not for long as he was far from under the radar by the time he got to Ohio State. When Burrow committed to Ohio State, Bleacher Report described him as "a consensus three star recruit." By the time he graduated, Burrow was given a fourth star by most outlets and was a top 300 recruit.
Most kids from Ohio would dream of growing up and playing for the Buckeyes, but not Joe. Joe wanted to continue the family legacy and go be a Nebraska Cornhusker. Burrow talked about his recruiting interest in an interview with Tom Rinaldi of College Gameday.
"I had one offer after my junior year of high school, and it was my dad's team [Ohio]," Burrow stated. "I wanted to go to Nebraska. They told me I wasn't good enough."
Burrow graduated in the 2015 class, which is a recruiting class where Nebraska did not sign a quarterback. Nebraska's head coach, at the time, Mike Riley explained the decision to not sign a quarterback to ESPNU in 2015(Via Bleacher Report).
"We opted not to because we didn't want to make a late decision without a lot of background," the first year head coach said. "We feel good about the guys here. We'll focus on that for next year."
In all fairness, it was Riley's first recruiting class, and he had taken over only three months prior to National Signing Day, which is a very small amount of time to gain a rapport with the future face of your program.
Considering that Burrow committed to Ohio State in May of 2014, it was very likely Riley's predecessor, Bo Pelini, who told Burrow he was not good enough to play at Nebraska. Pelini was fired in November 2014. He was recently hired to be the defensive coordinator at Burrow's alma mater LSU.
Burrow's time at Ohio State was far from what he dreamed it would be. He came into a team with one of the greatest quarterback rooms in college football history. Burrow was stuck behind Braxton Miller, J.T. Barrett, and Cardale Jones when he came to Ohio State.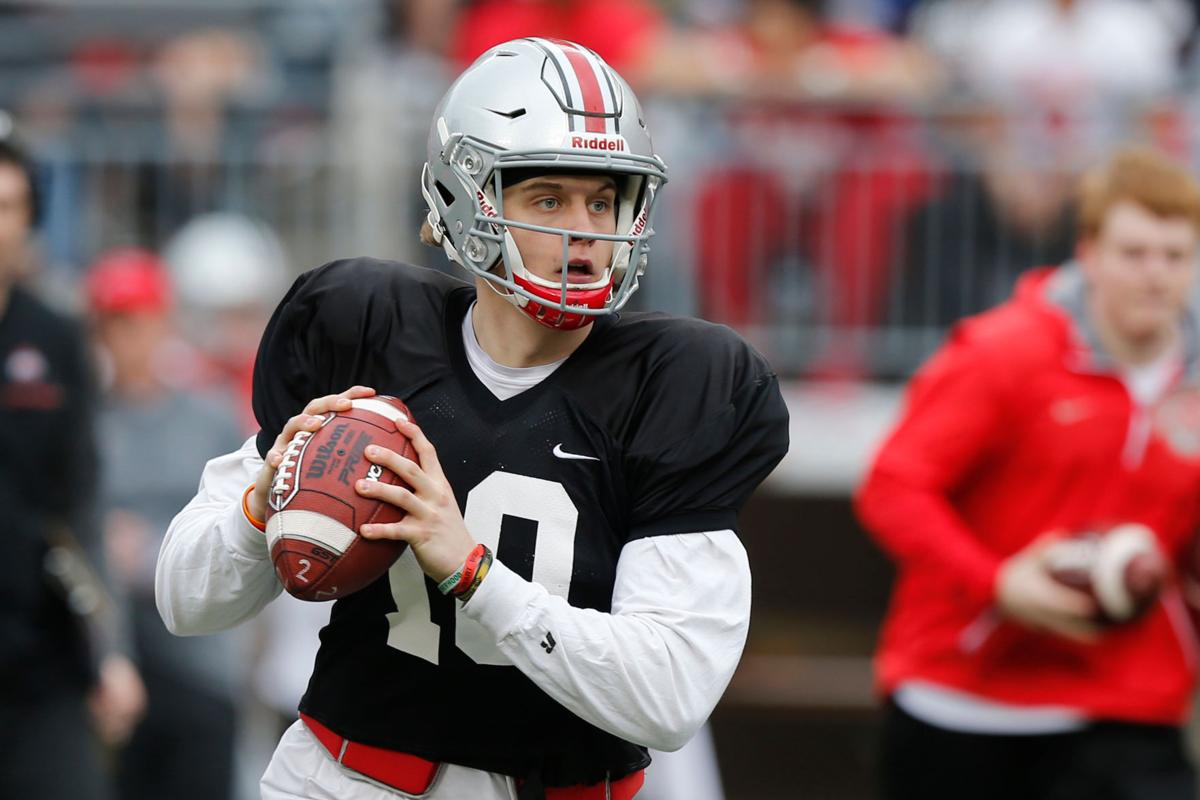 Burrow explained in the previously mentioned interview with College Gameday that he expected to sit two years, and when Barrett eventually left the team, Burrow expected to take over and have a great career there.
As most of you know, the story did not go as planned. In the 2017 season, Burrow seemed in line to become Barrett's backup, but a broken hand led to Dwayne Haskins earning the job. Haskins was the primary backup and was made a hero after he replaced Barrett with some second half heroics in a win against arch rival Michigan that season.
The following season, Ohio State head coach Urban Meyer treated the Haskins-Burrow competition as just that. In March of 2018, Meyer described the competition as "Neck and Neck," according to Bleacher Report (via 247 sports), but in May of 2018 Burrow, announced he was leaving the program.
Many assumed Burrow's departure was because Haskins had been named the starter, but Jimmy Burrow clarified the situation recently.
He explained in a radio interview with WLW 700 of Cincinnati that Haskins had not been named the starter, but that the coaching staff said he had an advantage. Burrow was still very much in the race, and if he had stayed, the whole college football landscape could be different.
Burrow was mostly linked with Florida after leaving Ohio State, but eventually committed to rival LSU. His first season was very average, but his leadership and ability to come up clutch was obvious from the start.
The Tigers finished 10-3 and 6th in the final AP poll. Burrow threw for 16 touchdowns and five interceptions, while completing only 57.8 percent of his passes.
Burrow's Senior season is now written in college football folklore. He led LSU to a perfect 15-0 record en route to a National Championship. Burrow won the Heisman trophy and was the star quarterback in arguably the greatest offense in NCAA history. He threw for 5,671 yards, was the first quarterback to throw for 60 touchdowns, and had 5,671 yards passing.
Burrow's season was one for the history books, but the story and stress he experienced has been overstated. The two-star to Heisman narrative is just false.
He was a four-star quarterback by the time he graduated and was considered a blue-chip prospect in Ohio State's recruiting class. When he became a grad transfer, he was highly sought after with multiple schools showing interest.
In the modern age of College Football, stories like Joe Burrow are becoming more and more common. He is expected to be the third straight transfer to be selected first overall in the NFL Draft come April joining Baker Mayfield and Kyler Murray.
Even in Burrow's own draft class, Jacob Eason and Jalen Hurts had to endure similar struggles in finding their path to the NFL. Burrow's story, while nice, is not the once in a lifetime story it is hyped up to be.
While I may not think his story is special, Joe Burrow the quarterback certainly is. Burrow is arguably the best quarterback prospect since Andrew Luck.
The former Athens native is a very accurate passer with great poise and pocket movement. He also has the leadership and poise that we have seen in truly great quarterbacks like Tom Brady and Peyton Manning.
His most attractive quality is his reliability in the most stressful times. If the Bengals select him first overall, it could be the start of an exciting era in Cincinnati.