Former Oregon quarterback Justin Herbert will face extreme expectations once he gets drafted to the NFL in April, but twenty-one years ago it was a different Oregon quarterback, Akili Smith, facing similar expectations. 
In an interview with The Wrightway Sports Network on Thursday, Smith opened up about the potential of the latest professional quarterback to come through Oregon. 
"That's a big time prospect right there," Smith said of Herbert. "When you turn on the tape and you see 6-foot-6 with an arm like that and the athleticism he showed at the Rose Bowl, that's going to be hard for any team to pass up on."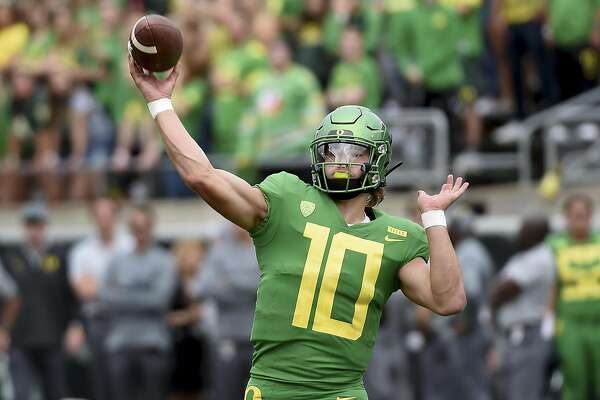 Smith, a former Pac-10 player of the year, shined a light on the situation surrounding Herbert.
"There's some things going on with the offensive coordinator [position] at the University of Oregon. And some of the stuff that I'm hearing, he might have been held down, but as far as his talent and his ability, Herbert is the real deal." 
Smith went on to praise Herbert even comparing him to current Buffalo Bills quarterback Josh Allen.
"The ball jumps off Herbert's hand the same way it jumps off Josh Allen's hand," the former third overall pick said. "In my opinion, Herbert's mechanics are better than Josh's [Allen] mechanics."
As a likely first round pick, there's a chance Herbert will be thrust into the starting role. 
"When you get to the league, they don't care if you throw a bang-eight underhand, as long as you can throw that underhand on time, they'll throw you out there," Smith explained. 
But the former third overall pick, who himself was thrown into the fire as a rookie, hopes Herbert isn't a day one starter.
"I believe that Herbert needs to sit for a year, possibly sit for two years and get acclimated to the league," Smith said. "Then he will be fine." 
Smith, who was born and raised in San Diego, California, hopes Herbert lands with his former hometown team. 
"The Chargers situation is a perfect situation. I hope we take him," Smith said. "We got Tyrod that can play this upcoming season, and he can sit and wait, you got a guy like Cam Newton, who you could possibly trade for, give Cam a two year deal and see how the first year works out and you got Tom Brady who's from California."
Justin Herbert has seen his stock rise after being named Senior Bowl MVP and could be an option for the Chargers with the sixth pick in the upcoming NFL Draft.