The trade deadline is always a crazy time in the NBA. Teams that are looking to rebuild are willing to trade away talent for future assets, and teams looking to make a playoff push are willing to overpay to get the "final" piece needed for a playoff run.
However, many assumed that this year's trade deadline would be relatively quiet considering the number of notable free-agents available this summer, but this couldn't be further from the truth.
In this article, I will provide my thoughts on the top trades, while also grading each individual trade.
Miami Heat, Minnesota Timberwolves, and Memphis Grizzlies Trade 
Memphis Received: Dion Waiters; player then waived, Justise Winslow, and Gorgui Dieng
Miami Received: Andre Iguodala, Jae Crowder, and Solomon Hill
Minnesota Received: James Johnson
Overall Thoughts:
I love this trade for both Memphis and Miami. For weeks the media had speculated that the Grizzlies would trade Iguodala to one of the LA teams. However, this did not make much sense as there would have been very few assets Memphis would have gained from this transaction.
In addition, trading Andre Iguodala to a LA team would improve the talents of a Western Conference rival. It turns out that the one team that no one was talking about (Miami) came into the picture at the last minute to get a piece they desperately needed to contend this year in the playoffs.
The addition of Andre and Crowder will not only boost their already impressive defense, but will also provide much needed veteran leadership in the playoffs. Prior to this move, the Heat, depending on seeding, were at best a tough second round exiting team. Now with these changes, they can actually move past the second round with a chance against Milwaukee (the operative word is chance).
Memphis on the other hand received a young stud in Winslow that will fit perfectly with the young core that they're building. Overall, this was a great trade for both teams.
Minnesota is also a part of this deal, but Minnesota just seems to be that one team that had a player they wanted to give away, but desired compensation for. While receiving James Johnson is solid, this particular trade did not move the needle for Minnesota being contenders.    

Grades: Miami: A, Memphis B+, Minnesota C+  
The Shifting of Stars: Minnesota Timberwolves and Golden State Warriors  
Minnesota Received: D'Angelo Russell, Jacob Evans, and Omari Spellman
Golden State Received: Andrew Wiggins, 2021 protected first-round pick, and 2021 second-round pick 
Overall Thoughts:
I thought this was an amazing deal for the Timberwolves. There is no doubt that the Wolves' franchise player Karl-Anthony Towns is sick of losing year after year and not receiving any support from his team. Chemistry wise, this will be a great fit since both players have expressed interest in playing together.
However, in terms of an offensive force, Minnesota now has two players that will complement each other well in both the pick'n roll game and in spacing the floor. Minnesota retaining their pick for this year is also an amazing win for the front office. Now they'll be able to add one more piece to the roster that could push this team towards playoff contention. 
On the other hand, I thought the Warriors could have gotten more for D'Lo. There is no doubt that many teams were interested in attaining one of the premier point guards in the game, and for them to only get Wiggins and a couple of picks for this star is very underwhelming.
I understand they wanted someone who is a better fit, and it is possible that Wiggins is able to play at a higher level once Steph and Klay become healthy, but the problem is that they have no other options when it comes to trading Andrew Wiggins.
I believe that many teams will refuse to trade for him based on his contract and his overall play in the past. To put it bluntly, Russell simply had more trade value than Wiggins. While I am not sold on this trade, player development has been a major strength for the Warriors, and if there is anyone that can turn Wiggins' career around, it is the Warriors.
Grades: Minnesota A+, Golden State C
The Big Blockbuster trade for Capela and Covington.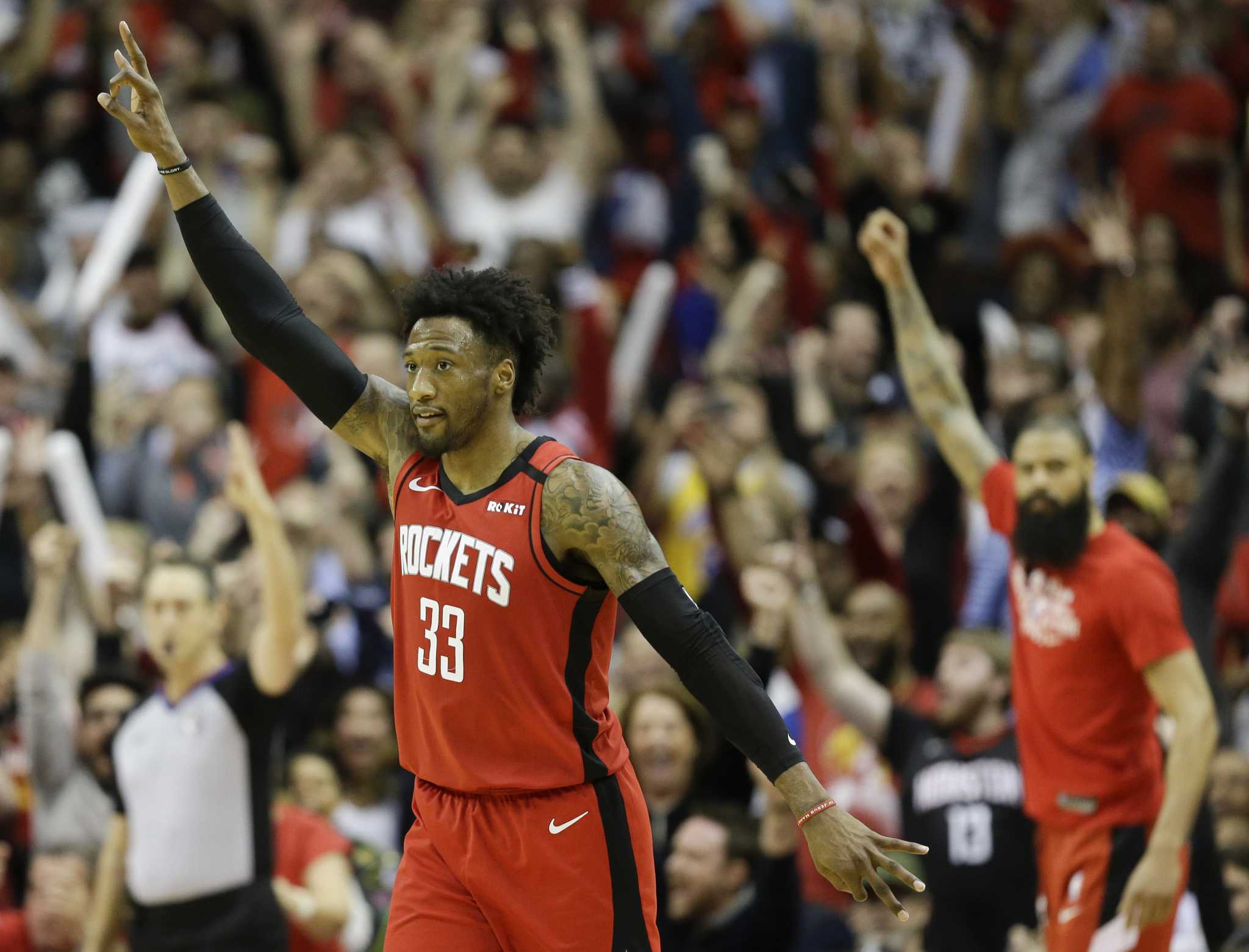 Hawks receive: Clint Capela (from Rockets) and Nene (from Rockets); player then waived
Nuggets receive: Shabazz Napier (from Wolves) Keita Bates-Diop (from Wolves) Gerald Green (from Rockets); player then waived, Noah Vonleh (from Wolves), and 2020 first-round pick (from Rockets)
Rockets receive: F Jordan Bell, Robert Covington, and 2024 second-round pick (from Hawks via Warriors)
Timberwolves receive: Malik Beasley, Evan Turner (from Hawks), Juancho Hernangomez, Jarred Vanderbilt, and 2020 first-round pick (from Hawks via Nets)
Overall Thoughts:
Similar to the first trade, I believe the Nuggets primarily had a few players that they believed didn't impact their team. The assets the Nuggets received for those pieces seem fair, but they wont impact their playoff chances one way or another.
For the Timberwolves, I liked the pieces they received, but again for the assets they traded, it seemed to be a move to improve their bench/build for their future.
The two big players that were received in this trade were Covington with the Rockets and Capela to the Hawks. I love this trade for the Hawks as this was a position that they were severely lacking in, and this should help them win more games.
Considering the fact that Capela is a great pick and roll player, there is no doubt this will be a great pairing for Trae Young. The Rockets on the other hand have now fully committed to playing small-ball.
Do I believe that a team can win a Championship with no one taller than 6"6? The answer is a resounding NO, but I do respect the Rockets for believing in an idea and going all the way with it.
Will they be able to space the floor effectively? No doubt, but the sacrifices they made on defense and rebounding will kill them in the playoffs. Overall, I respect that the Rockets embraced their brand of basketball, but I believe they are a few years too late to implement small ball in a league full of talented and explosive bigs.
Grades: Atlanta A-, Timberwolves C+, Nuggets C, Rockets C-