In the one year rebuild series, I will outline what some of the least successful football teams in the NFL need to do to take their team to the next level. Some teams can go from this list to the postseason, but the majority of the time, it is more than a one year job.
To specify on what exactly I will be covering, I will give my ideal fits for a teams first three rounds of the NFL Draft as well as a couple free agent signings that would be beneficial for the franchise.
Background
The Bengals own the number one pick in the NFL Draft the season after letting go of longtime head coach Marvin Lewis. Cincinnati's rebuild relies largely on the effectiveness of second year head coach Zac Taylor. Taylor is a student of Sean McVay who had  rough first year as head coach.
The team went 2-14 amidst a season filled with controversy with superstar wide receiver A.J. Green not suiting up for a single game, an injury controversy surrounding offensive tackle Cordy Glenn was an unwanted distraction for the Bengals, and the team decided to move on from quarterback Andy Dalton.
However, with the first pick in the draft, a decent amount of cap space, and a promising head coach, there is reason for Cincinnati to be excited.
NFL Draft First Round Joe Burrow QB LSU-
This may be one of the easiest excerpts I've ever written. While Chase Young is a fantastic prospect, the only choice for the Bengals is to get the face of the franchise with Joe Burrow. The Heisman trophy winner had a meteoric rise to the top of the NFL Draft that includes more than 60 touchdowns, over 6,000 yards of total offense and a national championship in his final season at LSU.
Burrow looks and acts the part of a franchise quarterback as he carries himself with extreme confidence and has obvious leadership qualities. He checks all the boxes you want of a quarterback.
Burrow has some of the best pocket movement you will see out of a college quarterback and is one of the most accurate quarterbacks we have seen in years. The LSU quarterback has a gunslinger mentality, but most importantly. he does it without turning the ball over. The Bengals can't go wrong with Burrow.
NFL Draft Round 2 Give Anarumo Help: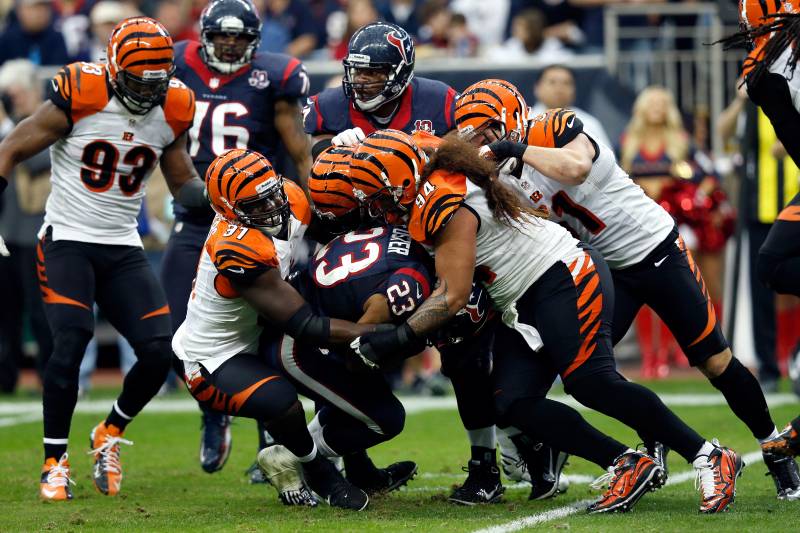 Defensive coordinator Lou Anarumo had a rough first season on the job, but it was not his fault. Anarumo had to work with a lot of underwhelming pieces that made him be creative throughout the season.
He had a constantly under-performing front seven that left his secondary out to dry, therefore, while most may say to get Burrow protection, I think they should address their porous defense.
A fit I potentially like is Xavier McKinney if he falls to the second round. The Alabama safety would likely be the best player available and was deployed in a number of different ways by the Crimson Tide, and he would be great value for the spot and a great fit for Anarumo's scheme.
Two other players I like for the Bengals are Ohio State Linebacker Malik Harrison or Oregon linebacker Troy Dye. Both players are refined linebackers who could come in and contribute for the Bengals right away. They have different skill sets in my opinion, but both could contribute from day one.
Dye looked to be more of a pass rusher that could make the occasional play in the running game, but is too light to be a three down linebacker. Meanwhile, Harrison's value is his ability to use his good instincts and power to make plays in the run game.
Many think Harrison doesn't have the athleticism to play in coverage, but I disagree. While I don't think he would stand out in coverage, I believe he can develop into a more than competent player in that regard. Dye and Harrison are used in different ways, but either would be useful on a Bengals defense filled with holes.
If the Bengals address this option elsewhere, the idea of selecting defensive tackle Neville Gallimore out of Oklahoma to put next to Geno Atkins would be a good move by the team, especially as Andrew Billings continues to underwhelm, while he enters free agency.
NFL Draft Round Three – Go Get Eifert A Replacement:
In the second round of last year's NFL Draft, the Bengals selected tight end Drew Sample, and he has not set the world on fire. Sample had a total of five receptions for thirty yards in his rookie season and is not the answer for the Bengals at tight end.
Some are clamoring for the team to sign Chargers tight end Hunter Henry, but C.J. Uzomah is a decent enough option, and even though many think this tight end class lacks a complete tight end, there are a couple you could draft who could develop into a Hunter Henry.
The ideal option for me is Hunter Bryant. The former Washington tight end has a modern style and reminds me of current Giant Evan Engram. Bryant, like Engram, could be a match-up problem against any linebacker because of his combination of speed and solid route running.
With a rookie quarterback and an injury prone group of receivers, Bryant could be a diamond in the rough for the Bengals.
If the Bengals can't draft Bryant, another option is Notre Dame tight end Cole Kmet. Kmet was one of quarterback Ian Book's most reliable targets, and he is a more traditional tight end who was capable of coming up clutch when his team needed it.
Another sleeper is Florida Atlantic TE Harrison Bryant. Bryant is a smart tight end who was ultra productive during his college career. A good week at the Senior Bowl could do wonders for the Mackey Award winner's draft stock. If you want a reason to get excited about Bryant, watch his film against Ohio State.
Free Agency:
According to Spotrac, the Bengals are estimated to have over $51 million in cap space when free agency starts. If the Bengals make the expected cuts of the previously mentioned Cordy Glenn and CB William Jackson, that number will be closer to $70 million. 
The key for the Bengals in free agency will be the offensive line. There is some underrated depth at offensive line this year, and the Bengals could capitalize.
One player I would love for them to get is Ereck Flowers. I know that name may make you scratch your head given his past, but Flowers had a resurgence with the Redskins as a left guard and could be a great pick up if Ron Rivera and company don't make the effort to re-sign him.
Sticking with Washington, Brandon Scherff is one of the best guards in football. The three time Pro-Bowler would come with a hefty price tag, but would be well worth it for the Bengals to keep Burrow up right.
Another guard option for the Bengals would be Graham Glasgow who has been among the most consistent offensive linemen in the NFL for a couple seasons now and would be a great pickup for the team.
The Bengals have a need at offensive tackle as well. Jonah Williams missed his entire rookie year, but was a highly regarded prospect out of Alabama and figures to start at one of the tackle spots.
The other tackle spot should be filled by Anthony Castonzo. Castonzo is reportedly considering retirement, but if he stays in the league, the Bengals could secure a Pro Bowl level LT that allows Jonah Williams the time to develop before potentially inheriting the blind side position.
Castonzo is the only standout LT in the free agent class; but if the Bengals feel confident in Williams abilities, they could sign a right tackle like Jack Conklin or Bryan Bulaga to fix their predicament. With an unknown commodity on one side and a rookie quarterback, the Bengals must focus on their offensive line come free agency.
Defensively, the Bengals have a lot of work to do. The Bengals are cursed by poor linebacker play, but they can fix that partly in the draft and then if Nick Vigil leaves, they could hopefully poach Kyle Van Noy from the Patriots to fix the other part.
Former Patriots seem to have this tendency to get overpaid in free agency, but if Van Noy's market stays reasonable, the Patriots linebacker is more than reliable and adds a nice pass rushing punch as he has recorded 16.5 sacks in his two and a half seasons with New England. Van Noy is nothing exceptional, but would be another step towards helping the front seven.
A second option would be former Seahawk and Eagle linebacker Mychal Kendricks. Kendricks has been a reliable linebacker for most of his career, and after recently facing criminal charges and an injury ending his season with Seattle, he could be a nice under the radar signing this off-season. 
The Bengals are going to need more than one season to rebuild, but the key to this franchise becoming a contender is Burrow's development. The Bengals have shown they have talent at the skill positions, but they just need them to be healthy along with a quarterback who has time to get the ball to them.
With a new franchise quarterback, a stout offensive line, and some help at linebacker, the Bengals could go from the laughing stock of the NFL to a team hanging around the 500 mark with a bright future a year from now.