Joe Burrow – LSU
Projection: 1st Overall – Cincinnati Bengals
NFL Comparison: Tony Romo
Joe Burrow entered the 2019 season as an unknown commodity. Entering the season, Burrow's odds to win the Heisman were set at +20,000. 4,715 passing yards and 48 TDs later, Burrow became the Heisman trophy winner. Burrow only threw 6 INTs and also had an impressive 77.9 completion percentage to add to his resume.
This phenomenal season led the Tigers to the CFB Playoffs as the #1 seed. Burrow continued his excellent level of play in the Peach Bowl sem-final match-up against Oklahoma where he threw for nearly 500 yards as well as totaling 8 TDs, while completing 74% of his passes.
The strengths of Joe Burrow includes precision accuracy and great pocket presence. He does a great job at sensing the pressure and moving around the pocket to keep the play alive. Burrow might be one of the most pro-ready QBs coming out of college since Andrew Luck. You could plug him in to almost any offense, and he will find success.
The Heisman winner is the consensus #1 overall pick in the 2020 NFL Draft considering the Cincinnati Bengals, who are in need of a QB, hold the first overall selection. Burrow is a franchise-changing QB who should have a very successful NFL career.
Tua Tagovailoa – Alabama
Projection: Top 5 Pick – Miami Dolphins
NFL Comparison: Andrew Luck
Tua Tagovailoa entered the 2019 college football season as a Heisman favorite as well as the consensus #1 pick in the 2020 NFL Draft. An injury riddled season as well as a breakout performance by the aforementioned Joe Burrow derailed those expectations, but Tua should still be a top pick in the 2020 NFL Draft,
We are still four months away from the NFL Combine, so that should be enough time for Tua to heal up from his hip injury and be a full participant in QB drills at the combine.
There are not any questions about the Alabama QB's abilities. The real doubt in taking Tua so early in the draft would be his ability to stay healthy. The combine physical may be more telling for Tua's future in the NFL than any drill he participates in.
The QB from Hawaii took over for Jalen Hurts in Alabama's 2018 National Championship game against Clemson in the second half leading the Crimson Tide to an OT victory and has not looked back since.
Tua Tagovailoa threw for 7,442 yards in his three years at Alabama, while also throwing 87 TDs to 11 INTs with a 69.3 completion percentage. He is an accurate QB with a strong arm, who has the ability to make the right read as well as the ability to keep the play alive. The only concern to NFL teams would be his injury history.
Justin Herbert – Oregon

Projection: Top 10 Pick – Los Angeles Chargers
NFL Comparison: Matt Ryan
Justin Herbert has been very successful in his four years at Oregon. He has thrown for 10,403 yards with 95 TDs to 22 INTs, while completing 63.9% of his passes. Herbert has a chance to expand on his stellar time at Oregon with a Rose Bowl appearance against Wisconsin on New Year's Day as well as a likely Senior Bowl invitation.
One of Herbert's biggest strengths is his ability to sell the play-action. He is also great at getting the ball out of his hands quickly on screen passes. Another one of his strengths is the ability to make a quick read, but he gets himself into trouble when he settles for the 50/50 pass.
The Oregon QB is going to benefit from being drafted to a team that is willing to cater an offense to his strengths, which is what the Baltimore Ravens did with Lamar Jackson.
Herbert could certainly run the RPO, and while he may not have the mobility to escape the pressure and scramble for big yardage, he can still move around in the pocket as well as roll out to keep the play alive.
The Chargers seem like an excellent fit for Herbert with Phillip Rivers at the end of his current deal and also on the edge of retirement. I could also see the Dolphins selecting Herbert in the top 5 of the draft if there is uncertainty in Tua Tagovailoa's health.
Jake Fromm – Georgia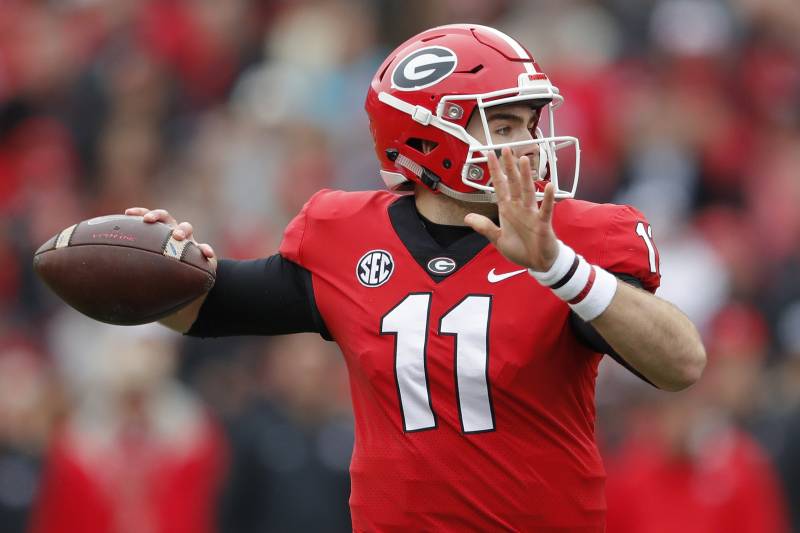 Projection: Late 1st Round Pick – New England Patriots
NFL Comparison: Kirk Cousins
Jake Fromm is the most traditional pocket passing QB coming out of college in the last few years. In his three years at Georgia, he amassed a total of 52 rushing yards, which is very uncommon in today's game. This is not necessarily a bad thing as if given the right offense, Fromm could be destined for big things in the NFL.
The Georgia QB could find himself as a late first round pick, but no later than a middle second round selection. The New England Patriots could be a potential landing spot for him as he is a pretty similar QB to Tom Brady.
Fromm has excelled with a good RB in the backfield by playing with the likes of Sony Michel, Nick Chubb, and D'Andre Swift. With that being said, the Carolina Panthers could also be another great landing spot for Fromm as he could lead a successful offense with Christian McCaffrey at his side.
In his three years at Georgia, Fromm has a total of 7,986 passing yards with 76 TDs to 18 INTs and a completion percentage of 63.2%. Fromm has never thrown more than 2,800 yards in a single season, so his stats do not light up the board, but that does not mean he is not an intriguing QB prospect.
The former five star recruit excels at standing in the pocket and evaluating all his reads. Playing back-up QB in his rookie NFL season could do wonders for Fromm as it did for Patrick Mahomes. If you give Fromm a couple of seasons, he should become proficient at reading an NFL defense.
Jordan Love – Utah State
Projection: 3rd-5th Round – Pittsburgh Steelers
NFL Comparison: Patrick Mahomes
The QBs mentioned above will clearly be the first four QBs taken off the board in the 2020 NFL Draft, but the 5th QB is a little more unclear. Jordan Love may get passed over by guys like Jacob Eason and Jamie Newman, but Love is one of the more intriguing prospects in the 2020 Draft.
The Utah State QB decided to forgo his Senior season by declaring for the 2020 Draft. As a three year starter, Love threw for 8,600 yards with 60 TDs to 29 INTs with a completion percentage of 61.2%.
Jordan Love has great arm strength as well as a lot of raw talent, but right now he is missing the intangibles of an NFL QB. He is someone that is going to be a project QB that you cannot start from day one, and maybe not even play at all in his rookie season.
The Steelers would be a great fit for him as they could potentially stash him on the practice squad for the year where he can run scout team drills as well as learn from veteran QB Ben Roethlisberger.
It does not seem like Pittsburgh has hit on QBs Mason Rudolph and Devlin Hodges, so they need to draft another young guy who could potentially take over the reigns from Big Ben. Love certainly has the arm of a professional QB. All he needs is the ability to read a defense as well as the decision making of an NFL QB.