NBA Friday was absolutely ridiculous, but behind all of the amazing dunks,
passes, and last second shots, there were a lot of talking points one can takeaway from these games.
Many of these games were incredibly competitive and provided some much-needed insight on how each team is going to do this year. In this article, I am going to go over the three best games and the biggest insights that we learned from these three games. 
3. Houston Rockets vs. Brooklyn Nets: Rockets Still Can't Play Defense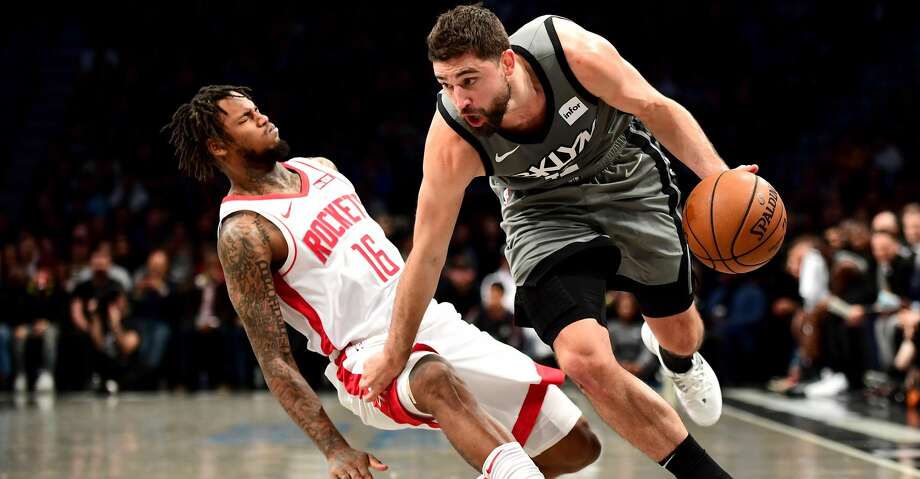 Friday was a perfect microcosm of how the Houston Rockets have played this year. This is a team that is not lacking any offensive power with James Harden and Russell Westbrook combining for 63 points.
Another great sign is that Westbrook appears to understand his role with the Rockets. There was a lot of skepticism over whether or not Westbrook would fit in with Mike D'Antoni's system. Considering how ball dominant Westbrook is, it was a major concern going into the season whether or not he could co-exist with Harden.
However, Westbrook appears to understand his role on the team, and more importantly, he adds a new form of pace to the Rockets' arsenal. Last year, Houston was incredibly one-dimensional and were last in the league in terms of pace. With Westbrook on the floor, the Rockets are a major threat against opposing defenses in transition.
In spite of this, the biggest fear I have for the Rockets is their anemic defense. To put it bluntly, they cannot stop anyone on defense and in a league with many explosive offenses, defensive efficiency is going to be a major factor in winning games.
In this game, they allowed the Brooklyn Nets to have a team field goal percentage of 49% and a 3-point field goal percentage of 59.4%.
Yes, Houston's offense has not slowed down, and it will lead to an eventual playoff berth, but if the rockets want to be serious Championship contenders, they will have to improve their defense. If not, there is no way they will be able to compete in the playoffs.

2. New York Knicks VS Boston Celtics: New Look Celtics
The Boston Celtics were one of the most confusing teams coming into the season. First, it was unsure whether or not the team would be able to bounce back after losing both Al Horford and Kyrie Irving.
On the other hand, the Celtics did retain a lot of talent with Gordon Hayward, Jaylen Brown, Marcus Smart, and Jayson Tatum returning to go along with the newly acquired Kemba Walker. However, there was uncertainty in how all of these pieces would fit together, which could lead to another disastrous season.
While the team certainly isn't perfect, it already looks and feels completely better than the Celtics squad from last year. To begin with, everyone understands their role on the team and more importantly, Brad Stevens has demonstrated a new found trust with many of his best players like Tatum and Kemba by having both of them carry the majority of the offensive load on this team.
With the game on the line, Stevens cleared out an iso for Tatum against the rookie RJ Barrett. Tatum hit a shot right over the third overall pick for the game winner. Yet, more than anything else, there appears to be a real camaraderie with this team that appeared to be missing last year.
Last season, the Celtics were just an ensemble of talent. If they continue this style of play, they can no doubt challenge anyone in the league this season.
1. Los Angeles Lakers vs Dallas Mavericks: The King Has Returned
Before I praise LeBron James, lets take a second to appreciate Luka Doncic. The man played a great game and nearly led the Mavs to an impressive win in regulation. He not only had a career high with 15 assists, but he also had a triple-double grabbing 13 rebounds and scoring 31 points.
There is no doubt that this man is special, and his ability to control the game and to consistently make the correct basketball play is insane. To be fair, the Mavericks should have won in regulation with the way he played. Alas, Dwight Powell converted only one of his two free throws extending the lead to just three points with six seconds left.
Then in the final play of regulation, the Mavs played their worst defensive set, as Maxi Kleber came down on a LeBron layup, when he should have stayed on the weakside to help contest Danny Green's three-pointer.
Dwight Howard should have gotten a foul for holding Seth Curry, but there is no doubt that the defense played by the Mavs in their final defensive possession cost them the game.

Yet, the story of the night is going to be the King himself Lebron James. This man played what I consider his best game in a Laker jersey. He was scoring from everywhere while not being afraid of the moment, and showing everyone that has doubted his athleticism that he can still keep up with anyone in the league.
When Lebron is in transition, there is still no one that can stop him from taking it all the way to the rim, but the best part of his game is his intellect and his awareness of everything going on around him. He had 16 assists, but more importantly had competent teammates like Anthony Davis and Danny Green that punished Dallas for switching or doubling LeBron.
If LeBron and AD can continue to play like this, there is no doubt that they will be able to contend for a Championship this season. As a final note, this game in my eyes demonstrated a dichotomy of two players in Luka and LeBron.
Yes it was an epic battle, but it was also a reminder of LeBron's impact on the game. Growing up in Slovenia, the man that Luka idolized and modeled his game after was LeBron.
There is no doubt that Luka will be contending for Championships soon, but for now, he along with the entire NBA are going to have to watch as LeBron continues his reign as the best player in the league.