Due to an on-court physical altercation with fellow star center, Karl-Anthony Towns, Joel Embiid was dealt a 2 game suspension. During this period, the 76ers played the Portland Trail Blazers and the Phoenix Suns.
The 76ers finished this two-game bout going 1-1 beating the Trail Blazers 129-128 and losing to the Suns 109-114. Although the 76ers' win against the Trail Blazers was impressive without Embiid, the Sixers also experienced their first loss of the year against the Suns.
While the addition of Joel Embiid in either of these games would have made these games more decisive for the 76ers, these games help to show how the other starters and depth for the 76ers are able to step up when their star player is not there.

Game 1: 76ers vs. Trail Blazers
One of the most underrated difference makers for the 76ers in 2019 has been rookie Matisse Thybulle. Thybulle has had a great defensive impact this year and dropped 2 steals and 1 block in only 16:45 minutes.
Unlike most other rookies, Thybulle's game is much more underappreciated because his role isn't as much of a scorer but more as a lockdown defender. Despite this, Thybulle has still been posting up some insane defensive stats with 4 steals and 2 blocks in both of his prior two games.
Due to this, Thybulle was able to step up as the defensive anchor of the 76ers while Embiid was suspended.
Another thing that Joel Embiid's suspension has shown us is the development that Furkan Korkmaz has made. After spending this past offseason in China on the Turkish National team, Korkmaz showed off some new confidence by taking the game winning turnaround corner jumper against the Blazers with 2.2 seconds left on the clock.
Not only was this a great play from Korkmaz, but this was also great coaching by Brett Brown as Ben Simmons was put in to inbound the ball to Korkmaz. This shows that Brett Brown is willing to great crafty and find ways to utilize his young star in Ben Simmons in clutch moments this year.
This is much different from last year when Ben Simmons' usage rating in clutch moments was only 21.5%. Brett Brown is trying to get as many of his best players to step up in clutch moments, however, for Ben Simmons, his use in the clutch will improve directly with his jump shot.
Game 2: 76ers vs. Suns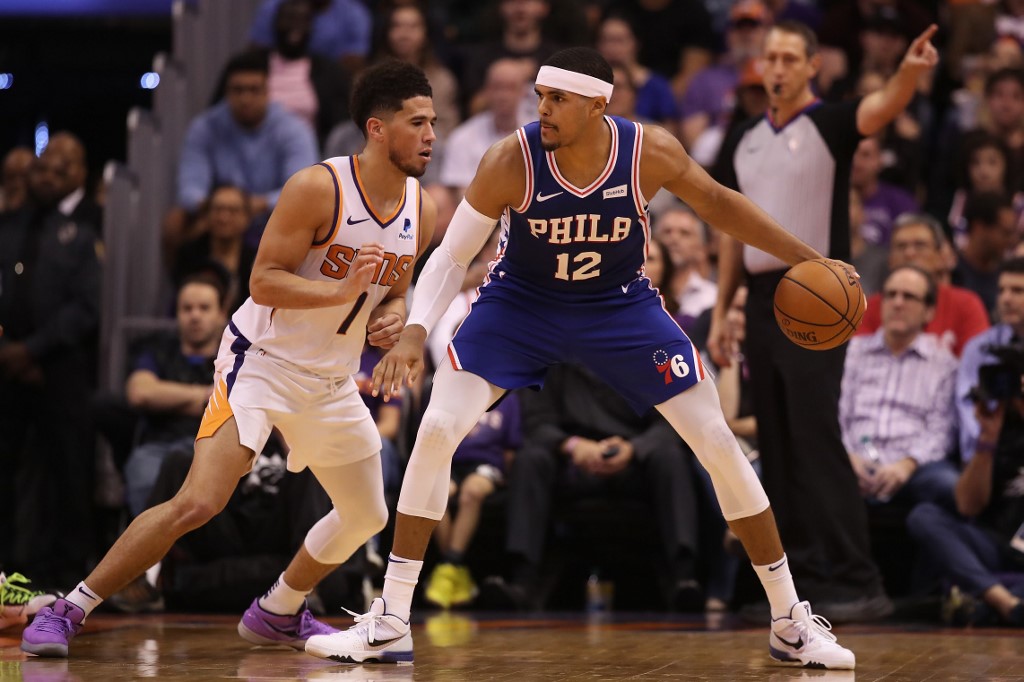 One of the biggest surprises from this game was that Ben Simmons broke out for 7 steals. While Simmons has always been an under-the-radar defender, this is the highest number of steals that he has ever recorded in a game.
These steals are part of what kept the 76ers in this game for the majority of it. This was not much of an offensive game for Simmons, be he found other ways to get involved as he also had 5 rebounds and 6 assists.
Horford (32 pts), Harris (24 pts), and Korkmaz (20 pts) all carried the offensive load for the 76ers and were the main scorers against the Suns. This was the highest scoring game for Korkmaz and Horford was 5 for 8 from 3-point range.
However, this scoring was not enough for the 76ers as nobody was stopping Devin Booker. Due to Thybulle's limited minute share against the Suns (4:50 minutes), Booker, who Thybulle had been guarding, was able to put on an offensive show, scoring 40 pts and shooting 78.9% from the field.
For a game where Embiid wasn't there, Thybulle had limited minutes, and Booker went off, the Sixers were able to hold their own and hit some clutch jumpers, but they most definitely weren't at 100% .
This two game period has shown a lot about the 76ers and their reliance on their best player in Joel Embiid. The Sixers are able to play and beat difficult competition without Embiid due to their oversized defensive lineup.
Because of this, whenever Embiid is out or injured (which is often for him), the 76ers are able to remain competitive. Guys like Thybulle and Korkmaz are able to step up; Thybulle more for defense and Korkmaz more for offense. The 76ers are able to use this versatility at the Small Forward position accordingly and improve their offense or defense when needed.
When Embiid returns to the 76ers and rejoins the lineup, the 76ers will continue to be at the top of the League as the team has shown its ability to continue to win games without him. While the 76ers did lose to the Suns without Embiid, the 76ers also didn't play Thybulle the majority of the game and it was a tough away matchup against Booker.
The Sixers can survive and win big games without Embiid, but there is a certain point where the 76ers need their star.