The Boston Red Sox had the best team that money could buy in 2019 as indicated by their $225 million league leading Opening Day payroll, but they still missed out on the playoffs for the first time in four years.
Ownership is now looking to change course by cutting payroll beneath the $208m luxury tax threshold. With the way the roster is currently constructed, it is almost impossible for the Red Sox to cut payroll without making significant changes.
It will be challenging for the Red Sox to get under the $208m luxury tax considering all of the big contracts they have on the books for next season. David Price will cost Boston $32m next year, while Chris Sale's and Xander Bogaerts extensions escalate to $30m and $20m in 2020.
Nathan Eovaldi rounds up the expensive contracts with $17m for next year. The last contract the Red Sox have on the books for 2020 is Christian Vazquez's $4.2m deal, which brings the total guaranteed salary for 2020 to $103m.
The difficult part right now is predicting the salaries for arbitration eligible players. The biggest one of these players is Mookie Betts, who made $20m in 2019. It is very likely that Betts will make $25-30m in arbitration in 2020 if he does not reach a settlement or extension with the Sox before then.
Another player who will make a significant uptick in salary is Eduardo Rodriguez. After a strong 2019 season where he earned $4.3m, it is likely that E-Rod's salary will jump to at least $10m in 2020.
Jackie Bradley Jr. is in his last year of arbitration next year, and he will most likely jump from his 2019 salary of $8.55m to somewhere between $10-12m. Sticking in the outfield, Andrew Benintendi is finally up for arbitration, and though he did not have a great year, he could still command $4-5m in arbitration..
Rounding up the arbitration eligible players are Sandy Leon, Matt Barnes, Steven Wright, Heath Hembree, Brandon Workman, and Marco Hernandez. All together, these players will most likely settle for a combined $12-15m. When adding together the arbitration estimates, the Red Sox will have 15 players on the books for roughly $175 million.
Staying under the $208 million luxury tax is possible with $175 million tied up in 15 players, but it is all going to depend on the decisions of two players. One of the biggest decisions revolves around longtime Red Sox Dustin Pedroia. He has two years left on his current deal with his price for 2020 being $13 million.
Boston has to be hoping for Pedroia to retire as freeing themselves of that $13 million will be a big relief for luxury tax purposes. Pedroia has played in 9 games the last two years, so he might decide to retire just so he can be done with the endless surgeries and rehabs similar to what Andrew Luck did.
Over his 14 year career, Pedroia won a ROY and an MVP award in 2008, while also playing a pivotal role in two World Series victories. Pedroia most likely still loves the game of baseball, but it might be time to hang it up and transition into a coaching role similar to what Jason Varitek is doing right now.
If Pedroia decides to play in 2020, it will bring the payroll to $188 million, which will make it impossible for the Red Sox to bring back their second question mark, J.D. Martinez.
Martinez has a player option for 2020 valued at $23.75 million, which he will most likely opt out of to test free agency. This is going to be a mistake on Martinez's part as he will only get offers to be a DH, and there are plenty of teams who already have a DH or who cannot afford the $25m a year price tag it will cost to sign him.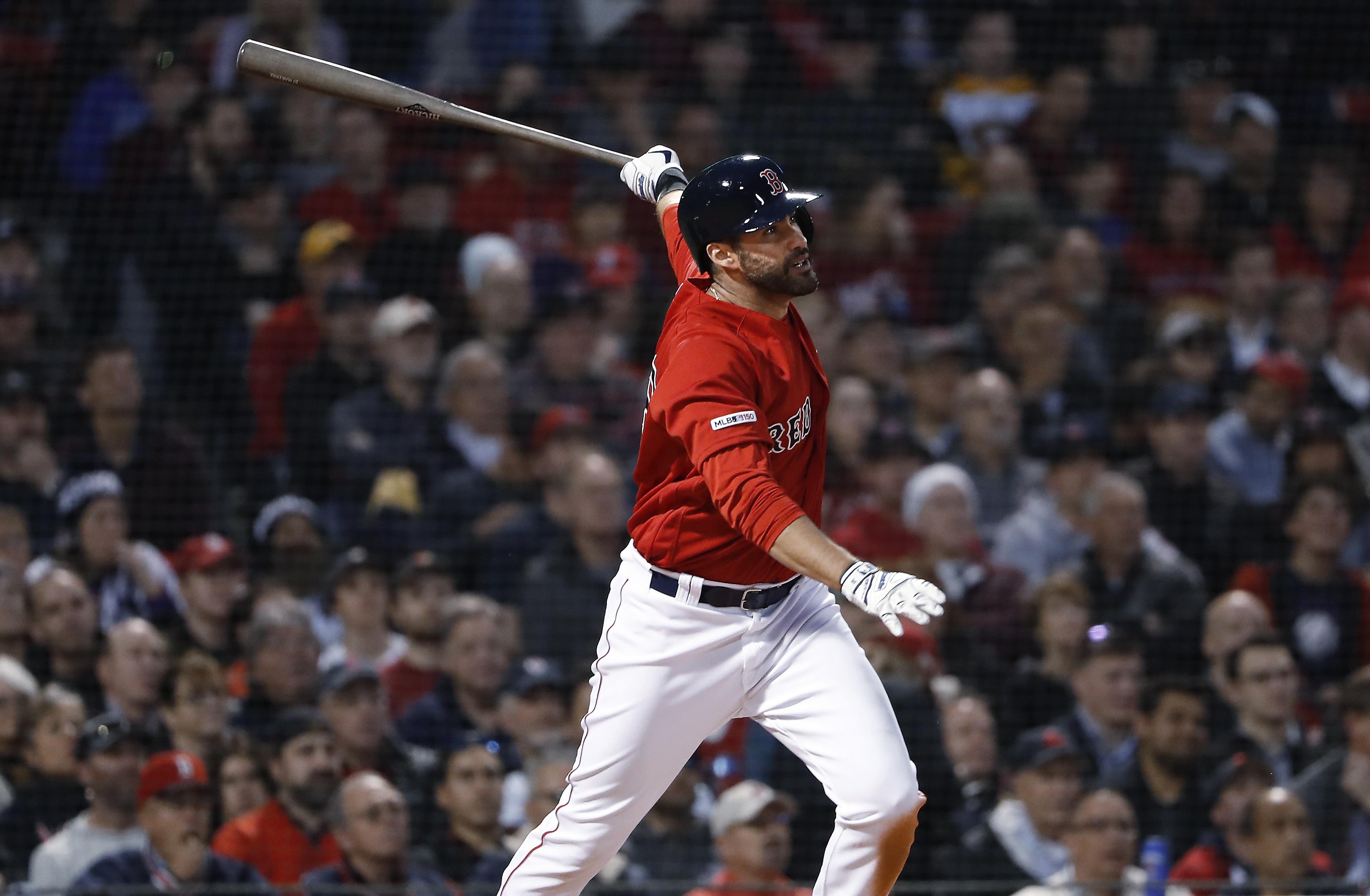 I would be surprised if Martinez signs a deal before Spring Training as his market is not going to be any better than a year and a half ago when he waited until February 26th to sign a deal with the Sox. If Pedroia returns next year and Martinez opts in or returns to Boston on a similar deal, the Red Sox will be over the luxury tax.
The only way the Red Sox can maintain a competitive team next year is for Dustin Pedroia to retire, and for the front office to trade away one piece from the team. The guy the Red Sox should look into trading is Jackie Bradley Jr. JBJ has great defense, but he is a huge liability at the plate, so he will not be worth the $10-$12 million he makes in arbitration.
There is speculation that the Red Sox might have to trade Mookie Betts in order to stay under the luxury tax or just so they do not lose him in free agency the following year for nothing. At this point, it seems Boston might have to choose between keeping Mookie or J.D. Martinez, but with a few moves, the Red Sox can keep both men in Boston.
It will take Dustin Pedroia retiring and trading away Jackie Bradley Jr to keep both Betts and Martinez. With the subtraction of Pedroia's and JBJ's deals as well as Martinez coming back at his opt-in value of $23.75m, the Red Sox payroll will be roughly $187m.
After that, it should cost less than $10m to fill up the rest of the roster with pre-Arb players like Rafael Devers. With roughly $11m to spare, the Red Sox could bring back Brock Holt, or they could go out and acquire a reliever.
It is possible for the Red Sox to avoid a bridge year in 2020 while staying under the luxury tax, but it will take a couple moves from the front office, so the number one priority for the Red Sox this off-season should be to find an experienced General Manager. That man or woman will most likely be hired by the end of the month.