These rankings are based on how each QB will perform this year. Throughout my research, I found that there are systems that set their quarterbacks up for success by playing to their strengths and minimizing their weaknesses.
These rankings ARE NOT based on talent. For example, Russell Wilson is more talented than Carson Wentz, but due to all factors, I'm confident Wentz will have a better season. With that being said let's get it started.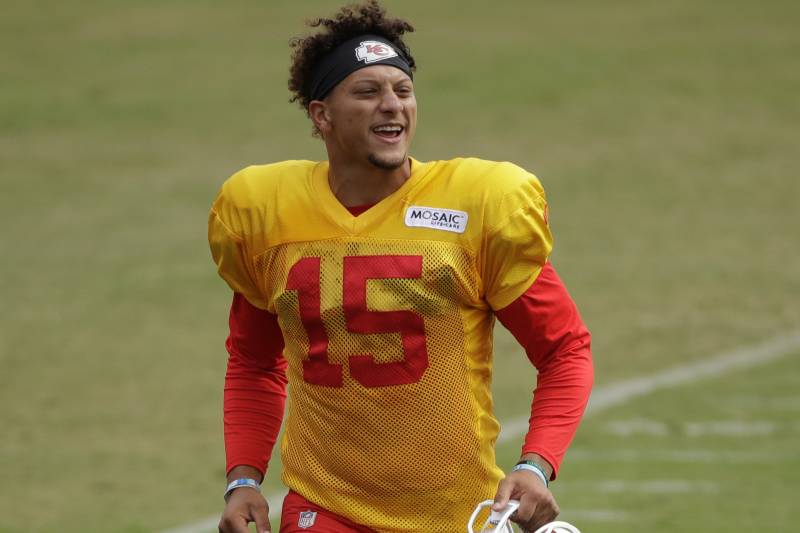 1. Patrick Mahomes– The reigning MVP is coming back fully healthy with a coaching staff that is fully bought into the 23-year old QB. He still has Kelce at TE and speed at wide receiver, which allows me to confidently say he'll be in the running for MVP and leading his team deep in the postseason once again.
2. Matt Ryan– This is a huge risk putting him at second, but I don't question it at all. He has a top three receiving core and coming off a tough season going 7-9 primed for a bounce back year. His team is healthy on the defensive side, but they'll be involved in a ton of shootouts this season, all of which screams an MVP season.
3. Andrew Luck– Last season, the Colts were predicted to have less than five wins, but wound up with ten thanks to Luck being fully healthy. Luck has weapons all around him including a top five offensive line ready to keep him healthy. With his early career injuries in the rear view, Luck is looking for a career year.
4. Carson Wentz– This is a bold pick, but Wentz has the weapons at receiver, loaded at running back, and a top five offensive line as well as what will end up being a top five offense in the league. With that said, how could I not put Wentz this high? The injury concern is definitely there, but I'll bet that he stays healthy this year and leads this high powered offense back to the playoffs with a chance to prove he's as good of a playoff performer as Nick Foles.
5. Aaron Rodgers– Coming off a "down year" in which he only threw two interceptions, while also playing through an injury. He's fully healthy this year and is ready for his first season under new head coach Matt LeFluer. With Rodgers only getting older, this will be his highest ranking for the rest of his career as he hopes to carry this packers team to a final playoff run.
6. Drew Brees– Although he was the MVP runner up last season,
he only threw a measly seven touchdowns in his last six games after starting the season scorching hot. He still had the highest single season completion percentage but age will only keep catching up with him forcing the Saints offense to rely on the shorter pass game and Kamara's legs to do the heavy lifting.
7. Phillip Rivers– This looks to be Rivers' best chance at a Super Bowl ring with a team that's arguably the most talented in the league. Last season, Rivers was ultra productive and the front office has set him up for a Super Bowl run, so it's up to him to perform up to the bar that was raised mightily high.
8. Russell Wilson– Russell Wilson is single handedly keeping the Seahawks heads afloat, but this season will be his toughest to date. He lost Doug Baldwin leaving him with a ravaged receiving core, but Russell Wilson will keep doing magical things, and although it's a run first offense, Wilson is the engine that keeps the train moving.
9. Tom Brady– Yes, Tom Brady is the GOAT, and no he should not be ranked higher.  I'm a huge Brady fan, but I know he won't have the season or put up numbers like the guys above him.  He will have his fair share of bad games this season, and won't be as consistent of a quarterback with his lack of weapons, but Brady will keep chugging along.
10. Ben Roethlisberger– I'm expecting a drop off this season for Big Ben. He will still be slinging the ball around, and he'll likely be the league leader in pass attempts, but along with that comes his interceptions. Ben will feel the loss of Bell and Brown and won't have a season like he had in the past.
11. Deshaun Watson– Watson has performed exceptionally well in his early career, but his one downfall has been his atrocious offensive line. He'll keep improving as an individual, but his success will suffer without a sufficient offensive line.
12. Cam Newton– Cam Newton had his most accurate season last year, while being injured the whole second half of the season. He enters this season healthy as ever while perfecting his throwing motion, and he enters the season being heavily underrated. With a healthy season, he'll silence the doubters and push himself to a borderline top ten QB.
13. Baker Mayfield– Most people think he will be a top ten QB, but they have to slow their roll.  He has all the weapons and talent around him, but this will be a learning season for him as he'll experience the ups and downs. I'm not confident in him having a top 10 season just yet. He has to prove himself first.
14. Jared Goff– Jared Goff had a great season last year, but a lot of that success can be attributed to the system around him.  He's coming back into the same system, but with the Rams being the Super Bowl runner ups, teams will force Goff into tougher situations, and he, along with his team, will experience a Super Bowl hang over.
15. Jameis Winston– Winston is going to be a top 15 quarterback, take it to the bank.  He has a top 10 receiving core around him and an offensive mastermind inside of his helmet in Bruce Arians. This is a make or break season for him, and the only thing that has been holding him back his whole career is decision making. If he can limit the turnovers, he will lead this team to a top five passing offense in back to back seasons.
16. Kirk Cousins– Kirk Cousins put up big time numbers last season, but the numbers did not translate to a division title. Kirk has struggled to win in clutch & primetime situations time and time again, but with an improved offensive line, run game, and weapons at receiver, Kirk is set up to put up great numbers once again and lead the Vikings into the playoffs.
17. Dak Prescott– Once again, this isn't a list based on talent. It is based on how their season will go, and Dak will have another solid and productive season. He should be able to lead the cowboys to around a 10 win season, and with the talent on the roster, Dak can work his way up the ranks leading them deep in the postseason, but the only thing holding him back on this list is how important Zeke is to this team.
18. Matthew Stafford– Stafford can EASILY climb up the rankings, but he needs to win games first.  Under second year head coach Matt Patricia, Stafford is looking to get more comfortable and have a career year with solid weapons, but in the tough NFC North, he'll be tough tested and won't have a career season.
19. Jimmy Garoppolo– I'm giving Garoppolo the benefit of the doubt because the facts are he's only started seven NFL games. This could be Garoppolo's first career 16 game season, and he is playing on a team that is still developing.  Coming off his knee injury, he'll look to get right back into it and thrive under Kyle Shanahan's offense.
20. Mitch Trubuisky– Trubisky's flaws were heavily masked last season due to the extremely talented defense they rolled out which allowed him to go 4-1 in primetime games. This season, the defense will take a step back and force Trubisky to win more games, and I'm not confident he'll be able to carry them to more than an 8 win season, hence his low ranking.
21. Sam Darnold– Sam Darnold has solid talent around him, which should lead to a successful season.  His receiving core is workable and he has Le'Veon Bell in the backfield, and with them, Sam will have a breakout season.  It'll be interesting to see how he'll do with new head coach Adam Gase. With a new head coach, Darnold could light the league on fire and get the jets above 8 wins.
22. Derek Carr– Derek Carr is primed for a solid season. Last year, he put up decent numbers with a terrible supporting cast, but this summer he got some guys named Antonio Brown, Michael Crabtree, and Josh Jacobs. He has a chance to improve but he needs to build a solid rapport with them first.
23. Andy Dalton– It seems like it's Dalton's make or break season every year, but this year under new head coach Zac Taylor, he'll have the chance to improve himself. Joe Mixon will be the head of this offense, but in a competitive division like the AFC North, the Bengals need the red rocket to win them games through the air.
24. Josh Allen– Josh Allen definitely has a lot to work on with his passing, but there are a lot of huge potential bright spots with him like his run game and arm strength.  He has the intangibles to be a great NFL QB, but with Buffalo surrounding him with only decent talent, this season won't be his breakout year.
25. Lamar Jackson– The whole league had a summer to study the Ravens offense and Lamar which puts him at a disadvantage, and he's heading into a season where he has to take a massive step in his passing game. If he takes that next step as a passer, he could easily move into the top 20, but that's a huge if.
26. Nick Foles– Nick Foles is a legend in Philly. That's not a question, but what is a question is how will he play outside of Philly with his new team in Jacksonville. Their top five defense will definitely take the load off of him, but his massive downgrade in offensive talent around him combined with a new situation in Jacksonville might force him down the ladder.
27. Marcus Mariota– He's in a similar boat with the other quarterbacks in a make or break situation except that I don't have the confidence that he will succeed.  The Titans have weapons, but if they have a .500 season it won't be because of Mariota as he's never played a full season and has not been an consistent player either.
28. Kyler Murray– Here is a controversial player. Kyler doesn't have the frame of an NFL QB, but the Cardinals have been impressed by him so far in camp. Under new head coach Kliff Kingsbury, he looks to thrive in the system, but it remains to be seen how the practice success will translate to in game success behind the leagues worst offensive line.
29. Joe Flacco– You know what you'll get with Joe Flacco. A consistent quarterback that won't win games by himself, but won't harm the team's success.  He'll be a decent player, but by the end of the season expect Drew Lock to replace him.
30. Case Keenum– The redskins QB of the future is Dwayne Haskins, but Keenum will start due to his experience in the league.  The Redskins will have a solid run game, but if Keenum can't play any better than mediocre, he'll be out of starting job while leading the redskins to a terrible record.
31. Ryan Fitzpatrick– Fitzpatrick will have his couple games of Fitzmagic, then he'll cool down and Josh Rosen will be the starter by the end of the year. No matter who the QB is, the Dolphins will have a tough time having any sort of sustained success.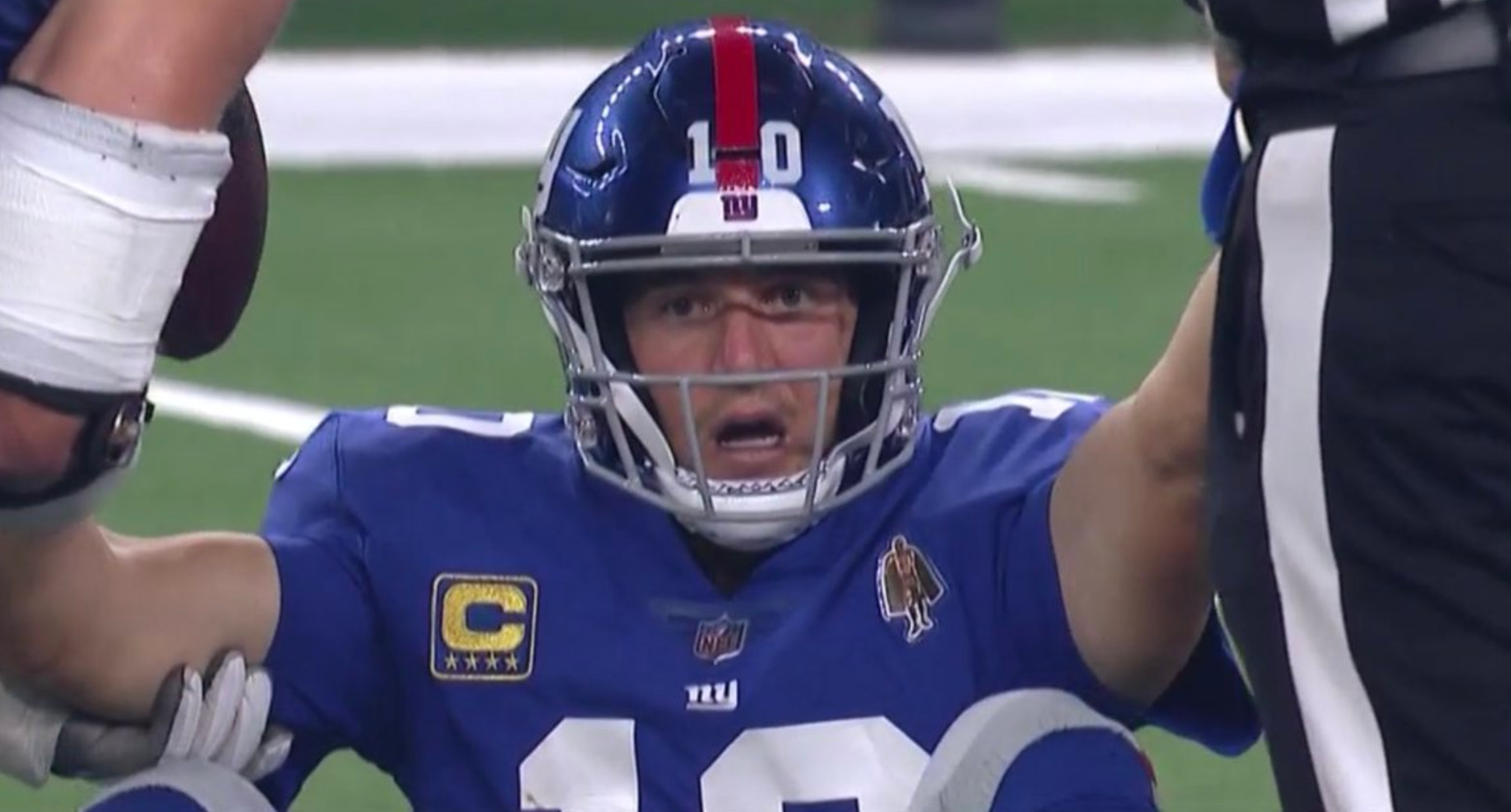 32. Eli Manning– He's losing his weapons left and right and looks to be on the downfall of his career. All he can do is hope that Saquon Barkley carries him on his back all season long, but at some point, Daniel Jones will get his chance to prove to the league that he's the "new face" of the New York Football Giants.