This NBA off-season has been very eventful for the City of Brotherly Love. The Philadelphia 76ers lost one of their most clutch players in Jimmy Butler and one of their most reliable and consistent 3-point scorers in JJ Reddick. To try to compensate for this, the 76ers signed 5x NBA All-Star Al Horford and Josh Richardson to fill in.
While neither of these players are quite the same scorers as Reddick and Butler, the 76ers have made an effort to improve their defense as Horford is an elite defender and Richardson is a promising "3 and D" player. Additionally, the 76ers' starting five is stacked with other defensive talent in Joel Embiid, who has been on the NBA All-Defensive Team for the past two years, and Ben Simmons, who is a top 5 defensive point guard in the League.
While the 76ers are set to have a stacked defense in 2019, there are still many concerns with their offensive efficiency due to their lack of strong 3-point scorers in the starting lineup. People have criticized the 76ers for overpaying Tobias Harris and Ben Simmons claiming that Tobias has never been an All-Star and that Ben Simmons hurts the spacing of the floor due to his lack of a jumpshot.
However, Harris and Simmons show potential as Harris could have been an All-Star last year in the Eastern Conference if he was traded to the 76ers earlier. Also, the Tobias Harris signing is great for the team as Harris can do it all on offense and last year was a breakout year for him.
In the 55 games Harris played for the Clippers in 2018, Harris averaged career highs with 20.9 PPG and a 43.4 3PT%. At 27, Tobias is bound to have tremendous impact in the coming years and can help take over the missing clutchness that leaves with Jimmy Butler.
Ben Simmons may not be able to make a three pointer, but he has greatly developed his game in other areas. Simmons is a 6'10" freak of nature with great vision and driving ability who is able to get to the rim and create opportunities for his teammates.
He creates offensive mismatches against any normal point guard that would be defending him and forces teams to alter their defensive formation in order to guard him. Because of this, other players on the Sixers have smaller players guarding them which increases their chances of scoring.
In addition to Simmons being oversized for his position, the signing of Al Horford pushes Tobias Harris to SF, while Josh Richardson fills in at SG. This means that the shortest man in the 76ers' starting lineup is Josh Richardson who is 6'6". This added height to the 76ers starting roster will help the 76ers greatly on both sides of the court as not only will they be bigger than their opponents, but the majority of them are great defenders.
While the 76ers have acquired and secured strong all-around players this off-season, there is still a concern with chemistry and spacing for the 76ers. With the loss of JJ Reddick and Butler, the 76ers may find trouble with their spacing as they were two of their main 3-point scorers last year. However, Josh Richardson and Horford are both able to shoot 3s and space out the floor and Ben Simmons has reportedly been working on his jumpshot.
During the off-season, a photo was released of Tobias Harris guarding Ben Simmons on the 3-point line in a 1v1 drill. After this photo came out, Harris was asked why he was guarding Simmons at the line. Harris responded and said that he dared Simmons to shoot 3s and he made two in a row.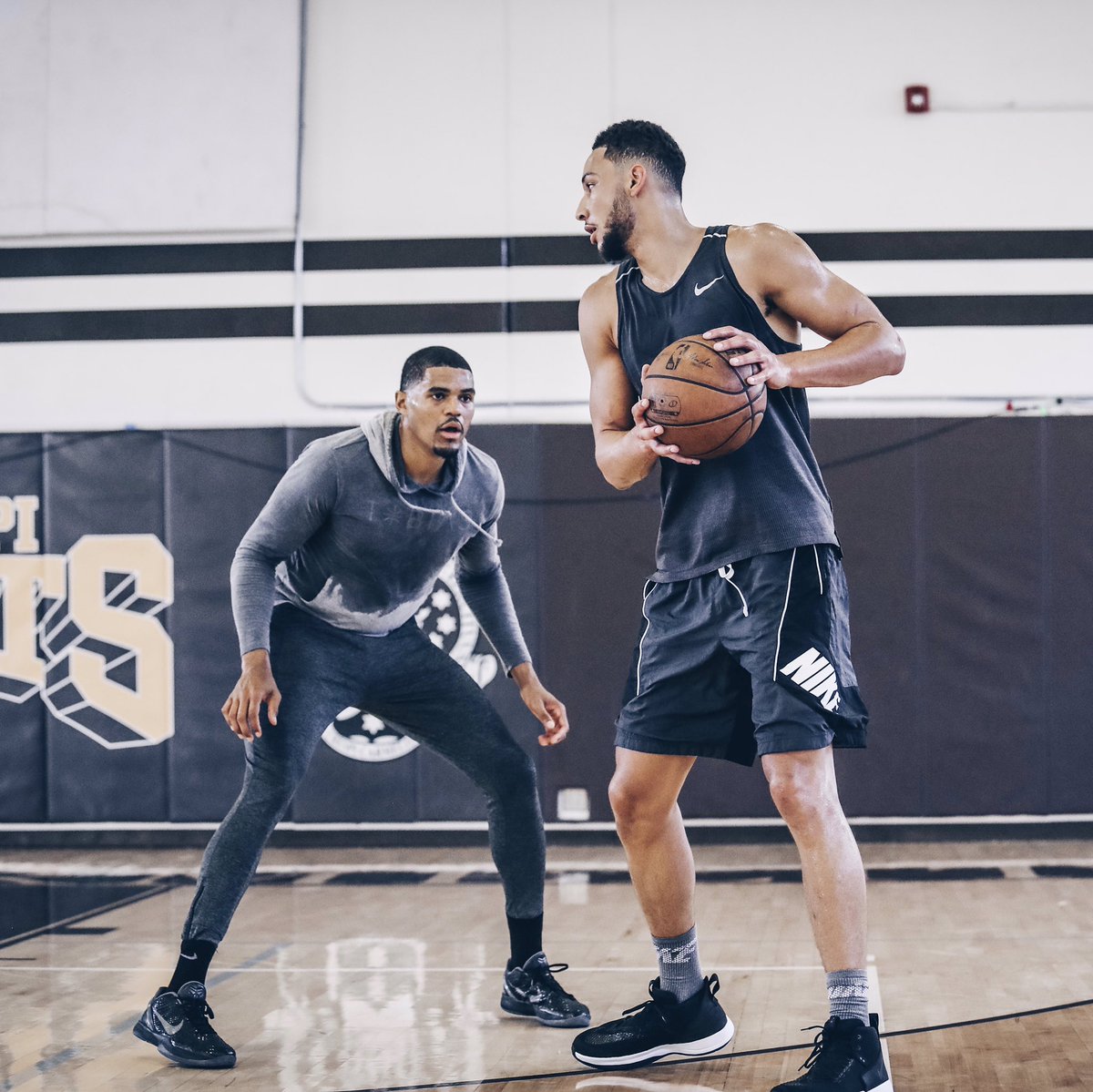 While this report doesn't exactly mean that Simmons will be shooting lights-out in the coming years, it does show that he has been working on his shot this off-season and that we may actually see him make his first 3-pointer in 2019.
The chemistry of the team may be better than it was last year. Due to the midseason trades that sent both Butler and Harris to Philly and injuries that occurred throughout the season, the 76ers final starting lineup only played 10 games together during the regular season.
However, with the 76ers 2019 starting roster pretty much locked in, the team will have the full offseason to practice together and learn how to win together. The Sixers will be able to develop and gain chemistry throughout the full season so that by the time playoffs come, they will have it all figured out.
Despite the loss of two fundamental pieces, the Sixers will come out of the Eastern Conference as one of the strongest and best defensive teams in the League in 2019. Although the team may struggle in 3-point scoring and closing out games, the 76ers still have enough of a 3-point threat to space out the floor and Simmons, Harris, or Embiid may take over Butler's role of closing out games.