*1st OVERALL PICK* Arizona Cardinals: Nick Bosa EDGE Ohio St.
The first overall pick is up in the air right now. Nick Bosa is the best talent in the draft and has been viewed as the #1 choice for quite some time. Kyler Murray has now entered the fray as a possibility for the Cardinals. The right choice for the Cardinals is Nick Bosa. They need a lot more help on the defensive line than they do at QB. Kliff Kingsbury will bring a new system with him that could properly utilize Josh Rosen who the Cardinals drafted in the first round a year ago.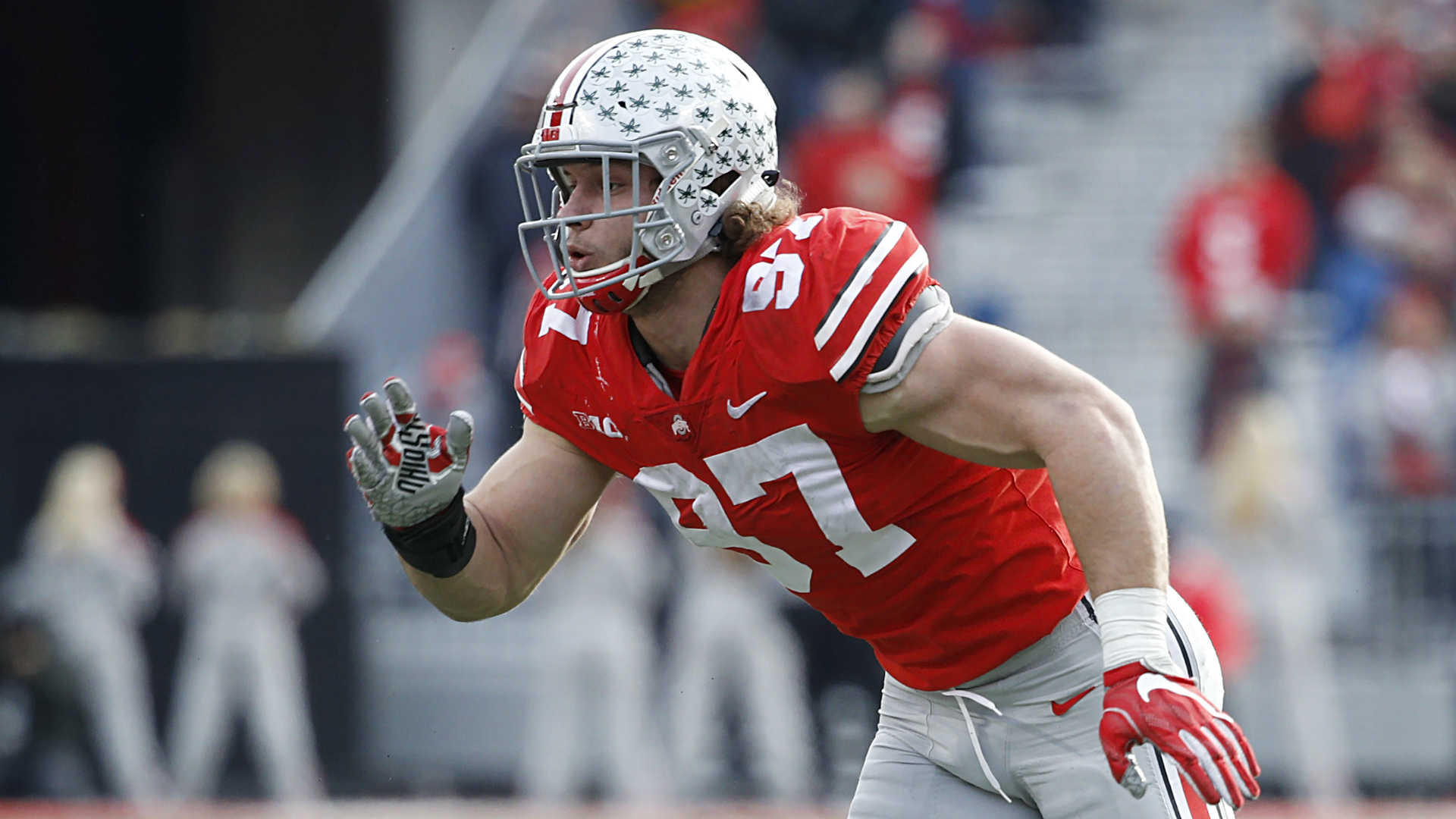 2. San Francisco 49ers: Josh Allen EDGE Kentucky
The 2019 NFL Draft is filled with defensive linemen at the top of the board. The 49ers are another team that could use some help up front. They already have a good interior guy in DeForest Buckner and could now use an outside guy to add some pressure. Adding to their offensive line would not be a bad idea either so they could better protect their franchise QB Jimmy Garoppolo, but they would be reaching if they drafted an OL at #2.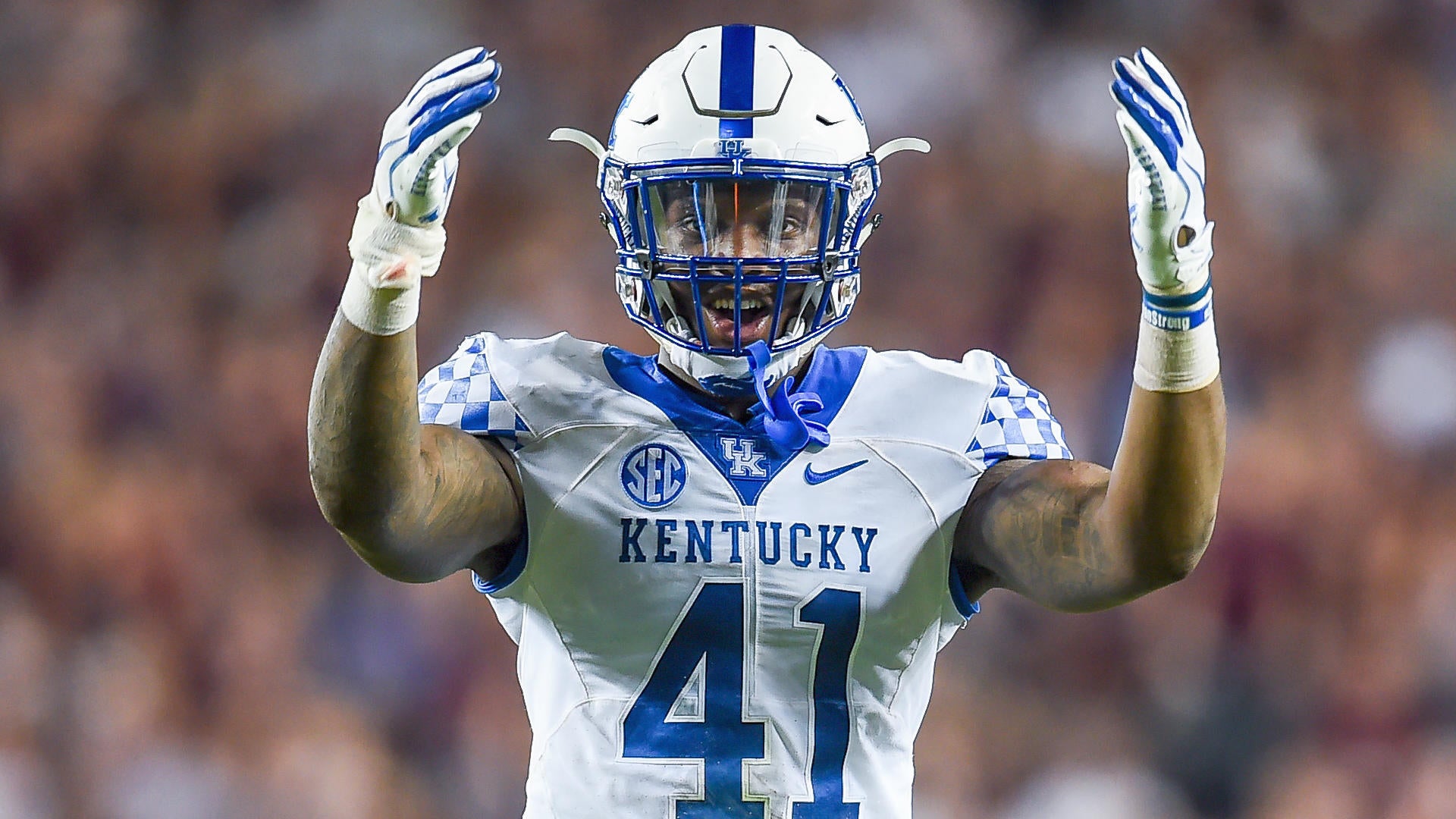 3. New York Jets: Quinnen Williams DL Alabama
The Jets enter the offseason with a lot of cap space as well as the third pick in the draft. The best move for them in the draft is to go with Quinnen Williams. He can be their interior guy to support Leonard Williams on the edge. Adding another member to the secondary would be a good move too, but that hole can be filled in the second round.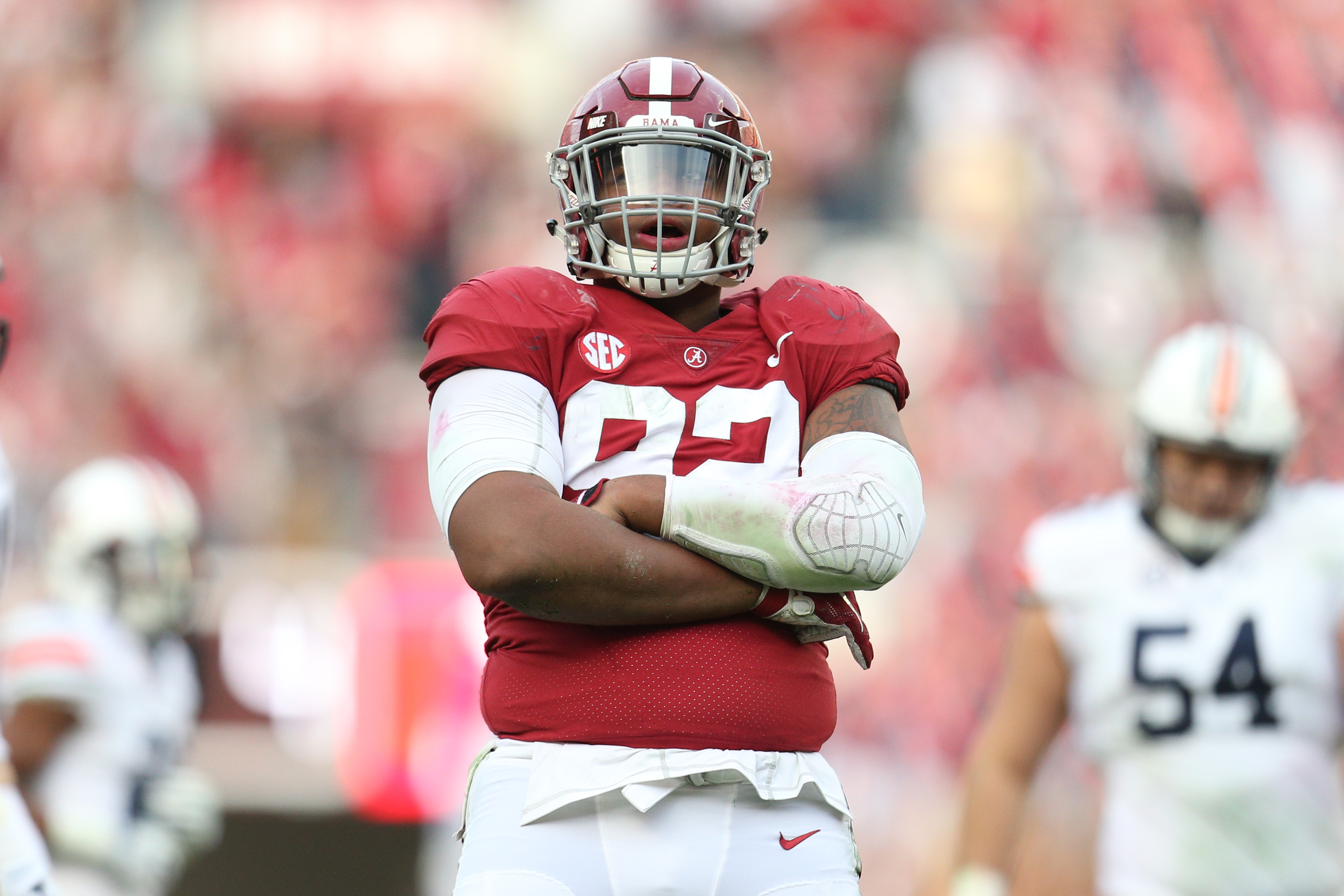 4. Oakland Raiders: Montez Sweat EDGE Mississippi State
Oakland has three picks in the first round of the 2019 Draft and they have a lot of holes to fill. The Raiders need to find someone to replace Khalil Mack. Montez Sweat impressed at the combine and might be the best guy available to fill Mack's spot. There will be more opportunities for the Raiders to improve their team later.
5. Tampa Bay Buccaneers: Jonah Williams OL Alabama
The Buccaneers have a couple of needs that need to be addressed, but one of their most pressing needs is solidifying the offensive line. They signed OT Donovan Smith to a 3 year/$41.25 million deal just a couple days ago, but they can still improve. Williams will be able to start week one and will also have a pretty cheap price attached to him. The Buccaneers should be focused on developing a run game as well as creating a clean pocket for QB Jameis Winston, and drafting Jonah Williams will help achieve that.
6. New York Giants: Dwayne Haskins QB Ohio State
It is pretty clear that the Giants will go QB here and Dwayne Haskins is the best choice. The Giants have already said that they want to follow the Kansas City approach by drafting a QB and having him play his rookie season under a veteran QB. Patrick Mahomes stood on the sideline for the Chiefs in the 2017 season, while Alex Smith led the Chiefs to the playoffs. That would be the plan with Dwayne Haskins. He would learn the offense by playing under Eli Manning and then take over the starting job in 2020.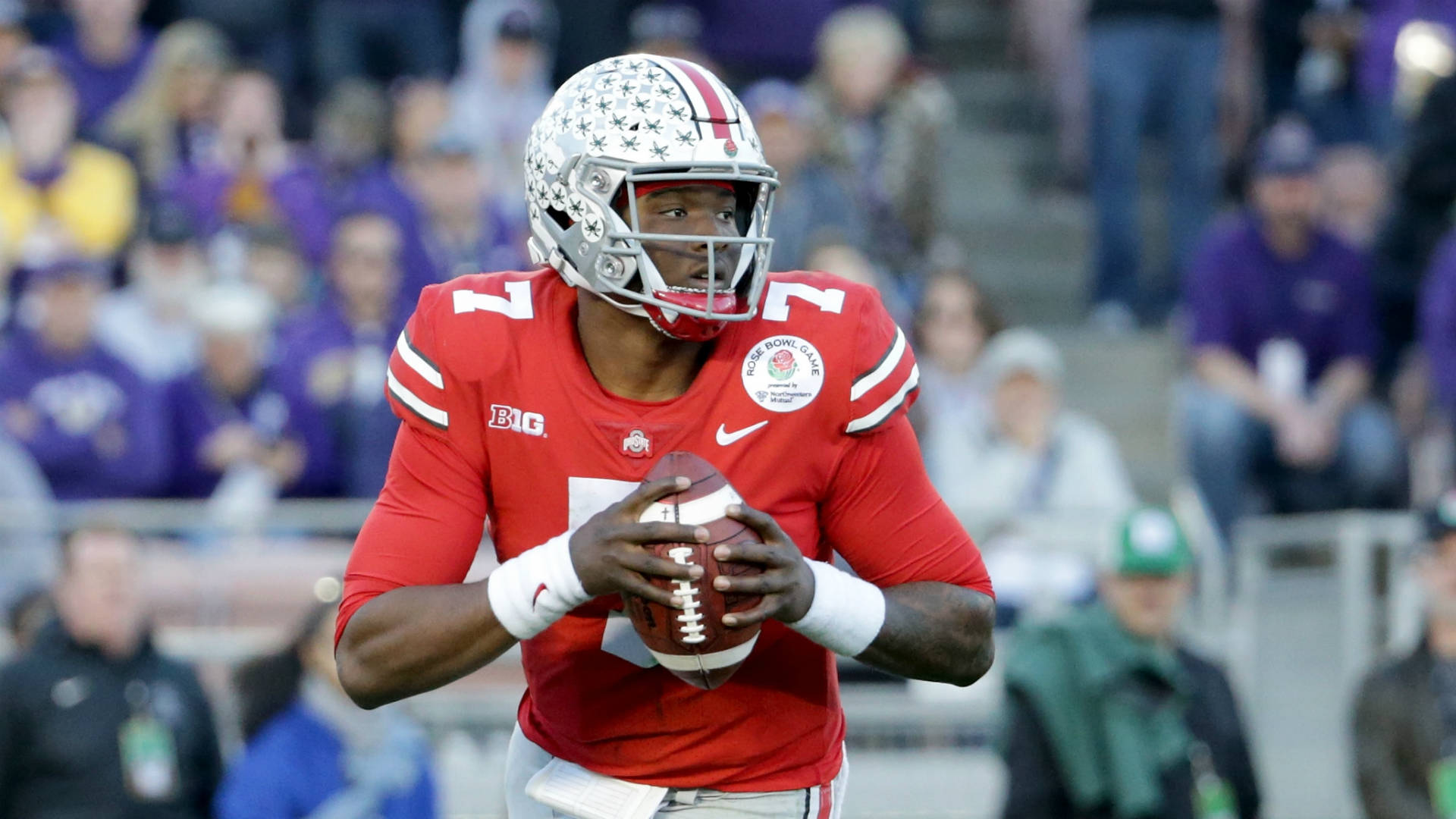 7. Jacksonville Jaguars: Ed Oliver DL Houston
The Jaguars are a team that are also in need of a QB, but it seems they will fix that issue by signing former Eagles QB and Super Bowl 52 MVP Nick Foles to a multi-year deal. Foles will be expected to lead the team to the playoffs for the next 3-4 years, so there is no need to draft a QB this high. Oliver is a great pick for the Jags at #7. He will be an interior force that teams will have to deal with. The Jaguars are releasing DT Malik Jackson, so they will need a second DT to play alongside Marcel Dareus.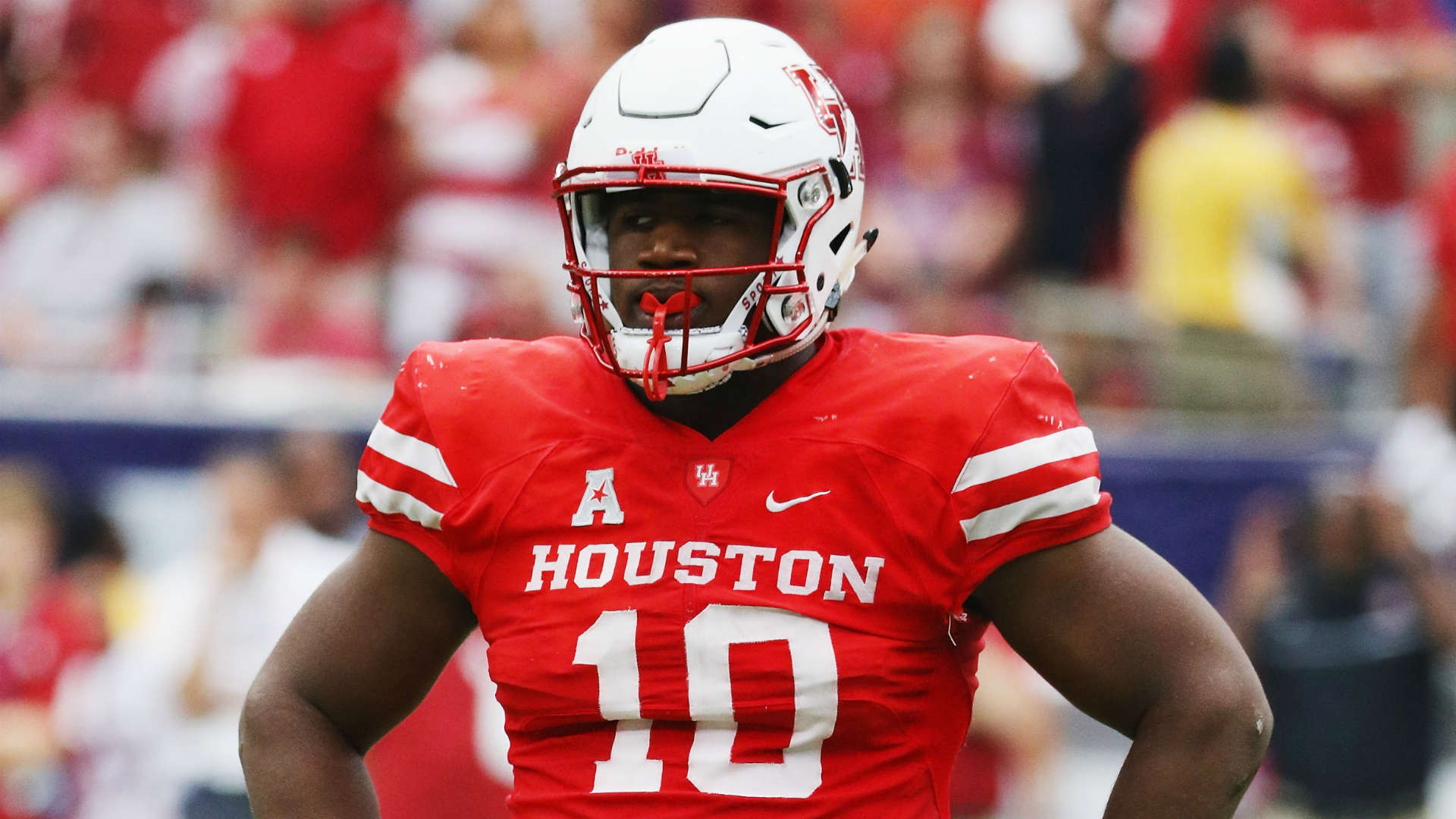 8. Detroit Lions: Clelin Ferrell EDGE Clemson
Detroit decided not to franchise tag Ziggy Ansah and could lose him in free agency. Ferrell would be a great replacement if Ansah does leave in free agency but would also be a great duo with Ansah if he does re-sign with the Lions. Ferrell and Ansah on opposite sides of the line with Damon Harrison in the middle would pose a major problem to opposing offensive lines.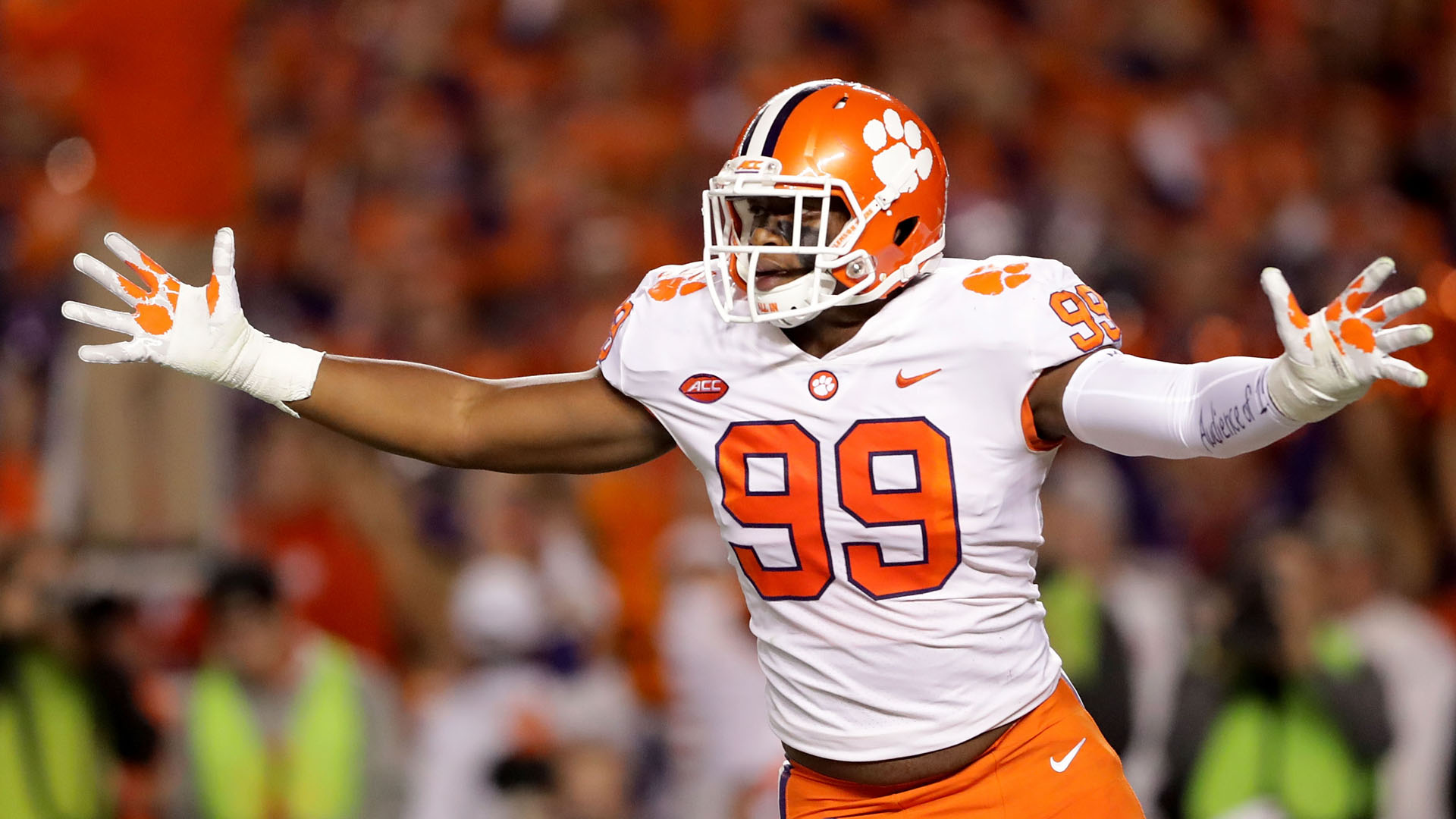 9. Buffalo Bills: Rashan Gary DL Michigan
With Kyle Williams retiring, the Buffalo Bills are now looking for a new franchise defensive tackle. Williams spent his entire 13 season career with the Bills, and Gary could do the same thing. There are other holes on this Bills team but finding a new franchise DT would be a great use of the 9th overall pick. This pick would help them in the 2019 season as well as many more years to come.
10. Denver Broncos: Greedy Williams CB LSU
It makes sense that the best defensive back in the 2019 Draft would come out of DBU. Greedy Williams looks like he will be a great player. The Broncos are now without Aqib Talib and may lose Bradley Roby to free agency. It also does not help that Chris Harris Jr. will be turning 30 this June. The Broncos are in desperate need of talent and youth, and Greedy Williams provides both of those things for Denver. Williams would fill the void in the Denver secondary and also be a key piece to the Denver defense for years to come.
11. Cincinnati Bengals: Jawann Taylor OL Florida
One area where the Bengals could use some help is the offensive line. Taylor could take over the RT position and be a starter week one. Solidifying the offensive line should help Joe Mixon play even better as well as give Andy Dalton more time to make the right read.
12. Green Bay Packers: Devin White LB LSU
Devin White is one of the best prospects in the 2019 draft class, but will fall because no team at the top is in desperate need of a LB. This will be a great selection for Green Bay. They are an aging team, so White will add some youth and will have a low cap hit, which is great for the Packers considering Aaron Rodger's massive contract. White has the strength, athleticism, and IQ to be a great linebacker in the NFL. A good comparison for him would be Myles Jack.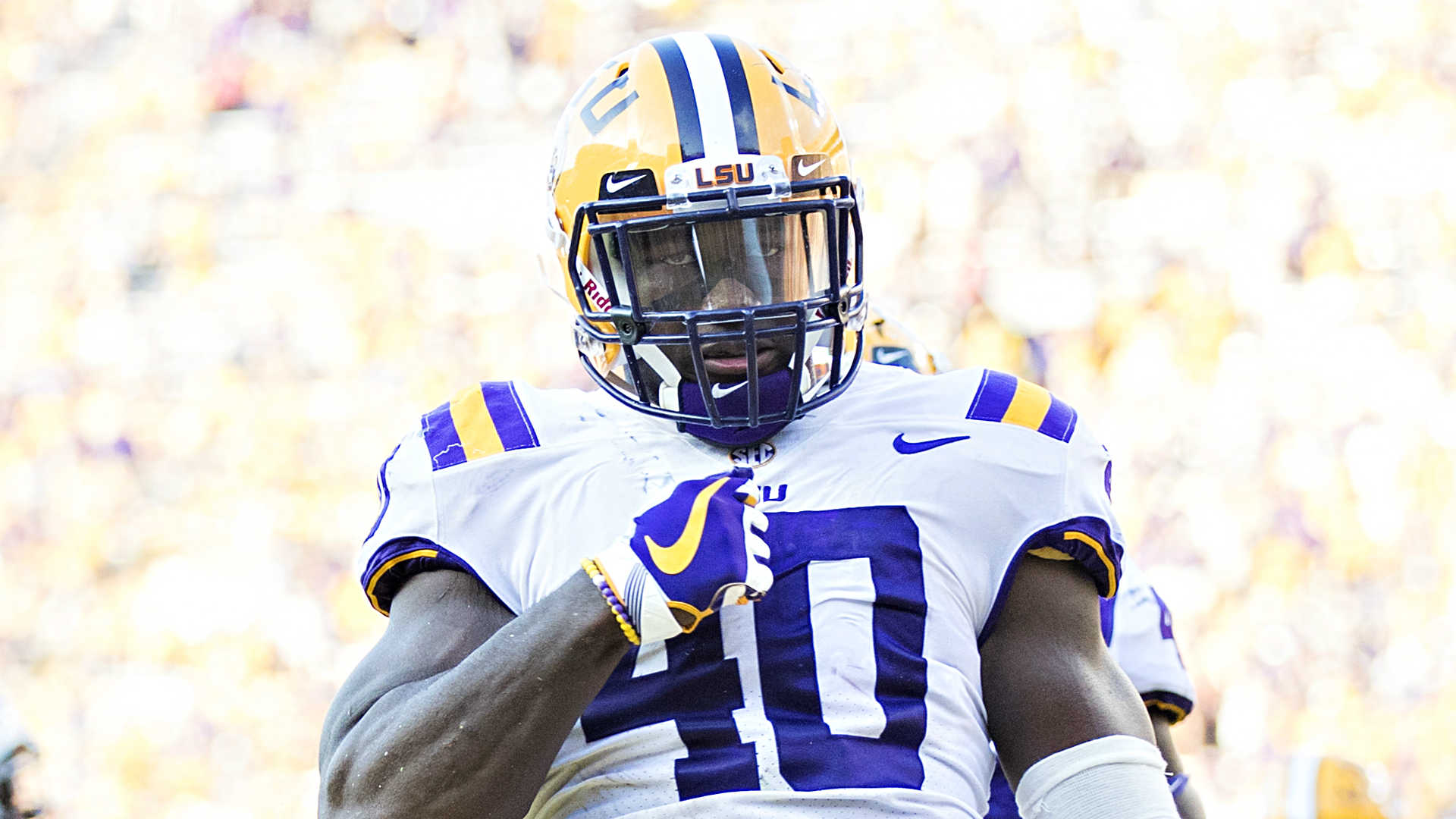 13. Miami Dolphins: Kyler Murray QB Oklahoma
The Dolphins are likely to move on from Ryan Tannehill or will at least bring in someone to compete for the starting job. Kyler Murray is a polarizing figure in this year's draft and could go #1 overall and shake up the entire draft. I do believe he will fall to Miami at 13, unless someone trades up for him. He will be a change of pace for the Dolphins and will bring with him the athleticism that won him the Heisman in 2018.
14. Atlanta Falcons: DeAndre Baker CB Georgia
The Falcons are thin in the secondary now with the impending departure of CB Brian Poole and DeAndre Baker could come in and be a great player for them. He could be the second cornerback behind Desmond Trufant and help bolster the Atlanta secondary with S Keanu Neal returning from injury. The Atlanta offense did not struggle much in 2018, so an improvement on the defense could certainly help them reach the playoffs again.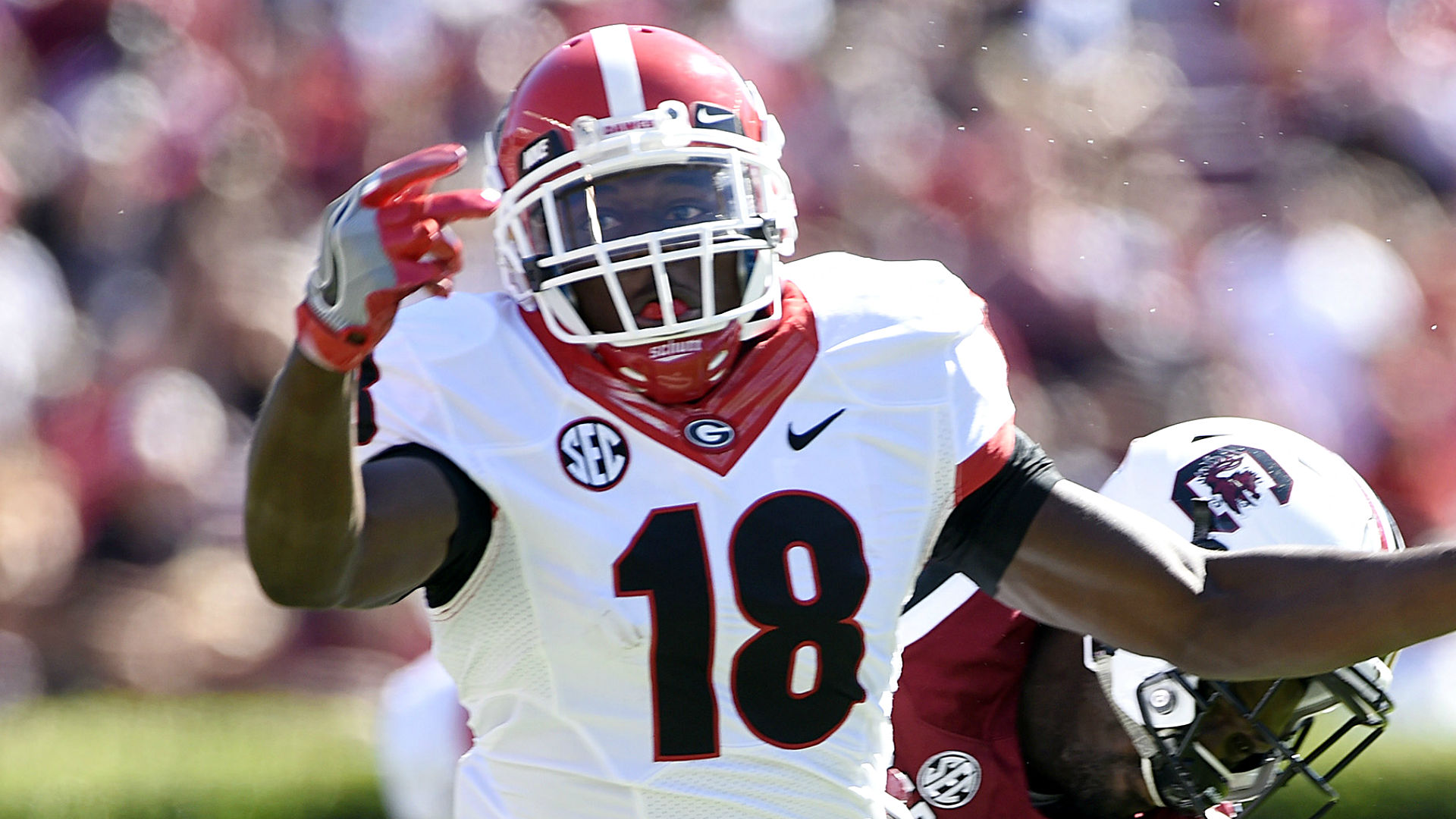 15. Washington Redskins: Drew Lock QB Missouri
With Alex Smith's future in doubt following his gruesome leg injury, the Redskins would be best suited to draft a QB. Drew Lock is the best guy available on the board and could be the Redskins' next franchise QB. The Redskins traded for Case Keenum, but this should not stop them from drafting a QB. Keenum is the short-term option for Washington as they prepare a young QB like Drew Lock for the future.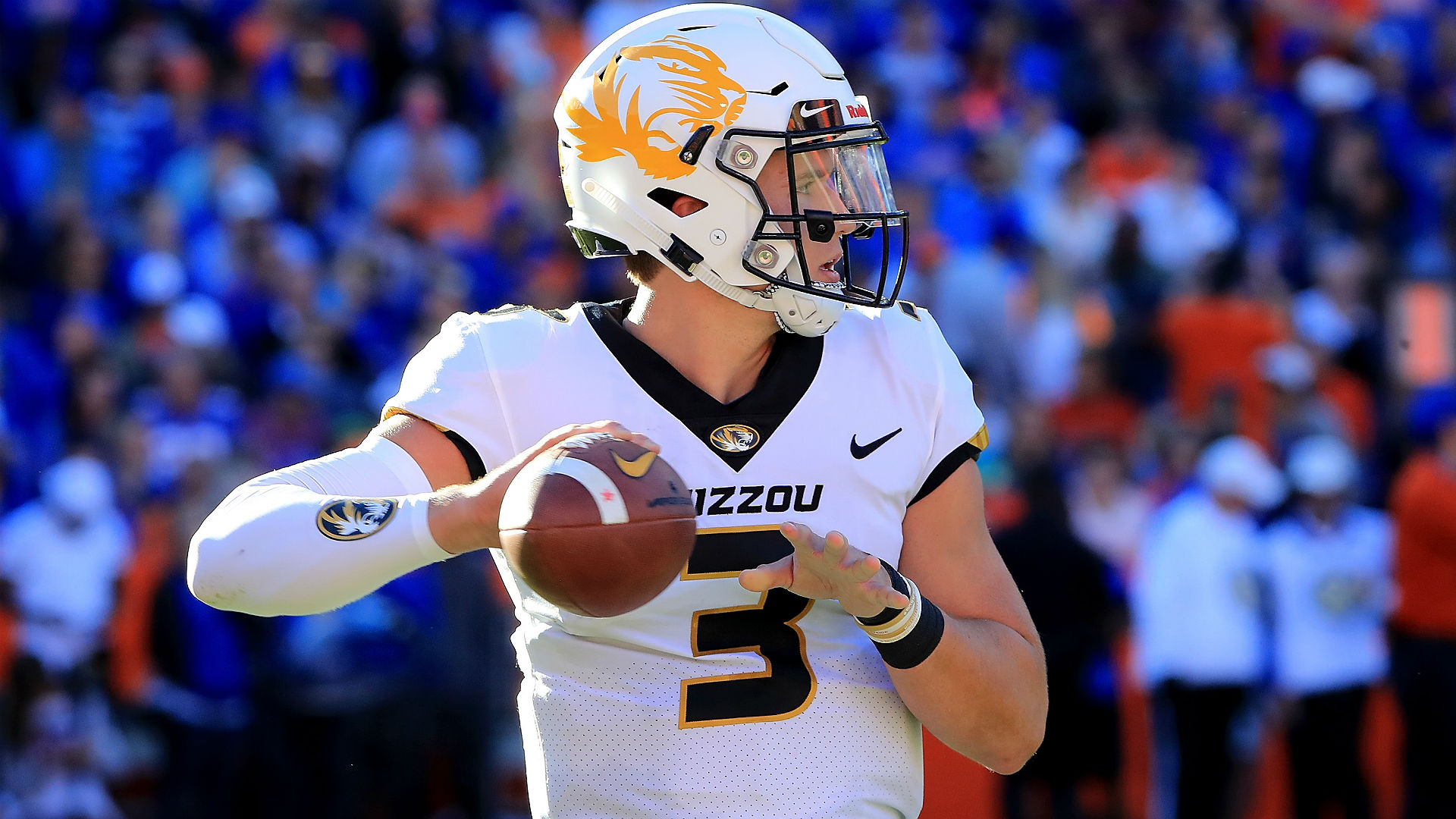 16. Carolina Panthers: T.J. Hockenson TE Iowa
The Panthers have a couple of needs to fill with one of their most pressing being a defensive end. Their problem is there are not any edge guys available at 16. They would either have to trade up or severely reach at 16 to draft a defensive end. They very well could trade up or back in the draft but if they stand pat, T.J. Hockenson is their best pick. Their superstar TE Greg Olsen is turning 34 in March and has dealt with injuries over the past couple of seasons. Olsen has the skills to be a TV broadcaster in the future, so he could be lured away by a network in the next couple of seasons. Hockenson would be a great replacement and would also allow the Panthers to employ two tight end sets while Olsen is still with the team.
17. Cleveland Browns: Christian Wilkins DL Clemson
The Browns are a team that are slowly on the rise and could make the playoffs in the next couple of seasons. Last offseason, they traded away DT Danny Shelton to the New England Patriots and could be looking for a replacement. Christian Wilkins would do a great job at plugging the middle and could play great with DE Myles Garrett. The Browns just traded for Olivier Vernon, so Wilkins will be the final piece to the defensive line.
18. Minnesota Vikings: Cody Ford OL Oklahoma
One of the main problems with the Minnesota Vikings last offseason is they could not get a running game going. That could be a result of the play calling, but the offensive line could have also played a part. Adding a high-caliber talent like Cody Ford to the offensive line could do wonders for RB Dalvin Cook. The Vikings are also giving QB Kirk Cousins $90 million guaranteed, so adding another guy who could prevent him from getting hurt would also be a smart idea.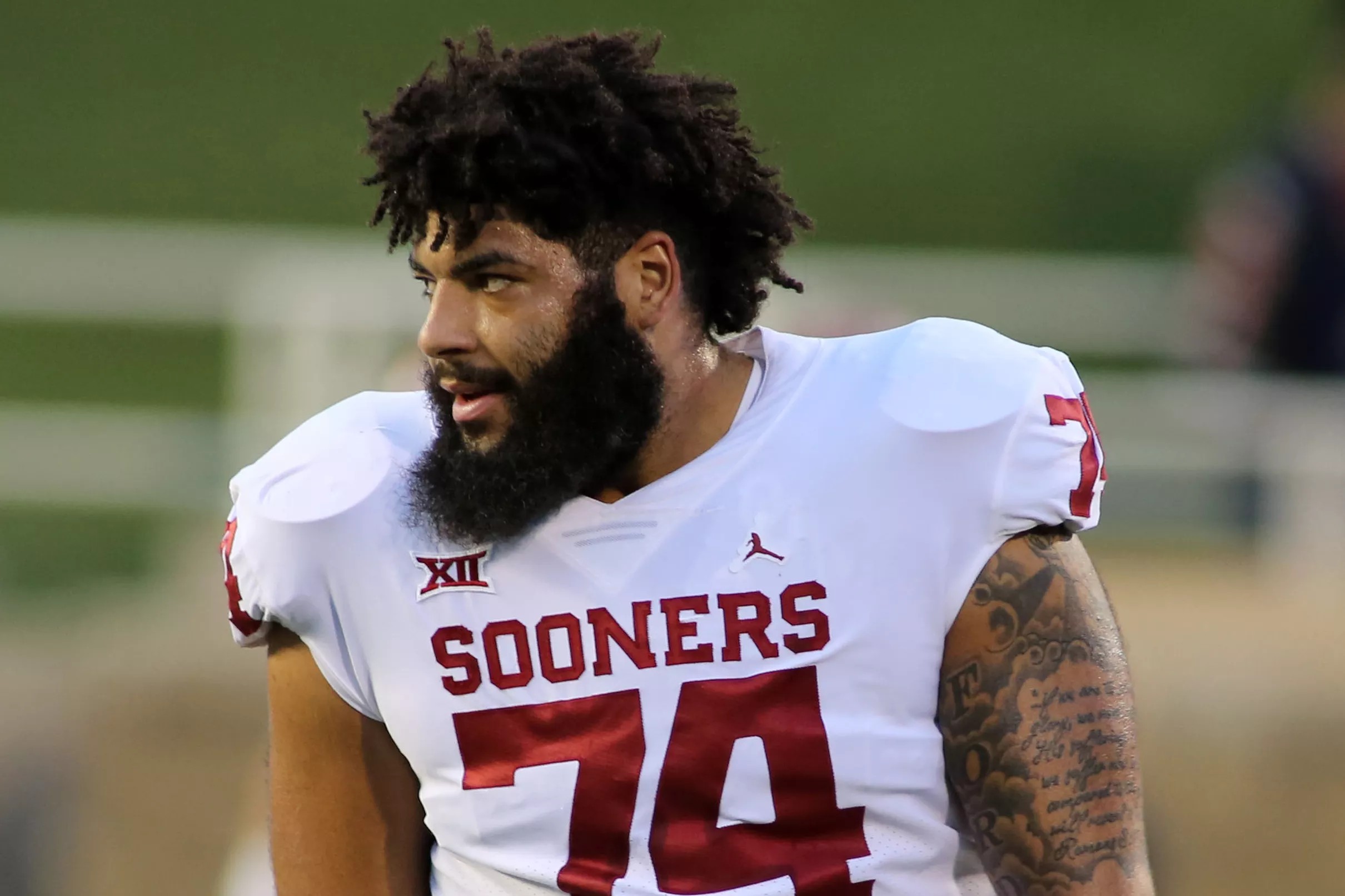 19. Tennessee Titans: Marquise Brown WR Oklahoma
This could be a risky pick for the Titans considering Brown sat out the combine and will sit out Oklahoma's pro day due to an injury he sustained back in December. Brown will not be able to showcase his talents in drills, but he will be ready for training camp. Brown could be a superstar wide receiver and would be a great pickup for the Titans who are lacking a deep threat wide receiver for Marcus Mariota to throw to. Adding a deep threat wide receiver should help Mariota play better.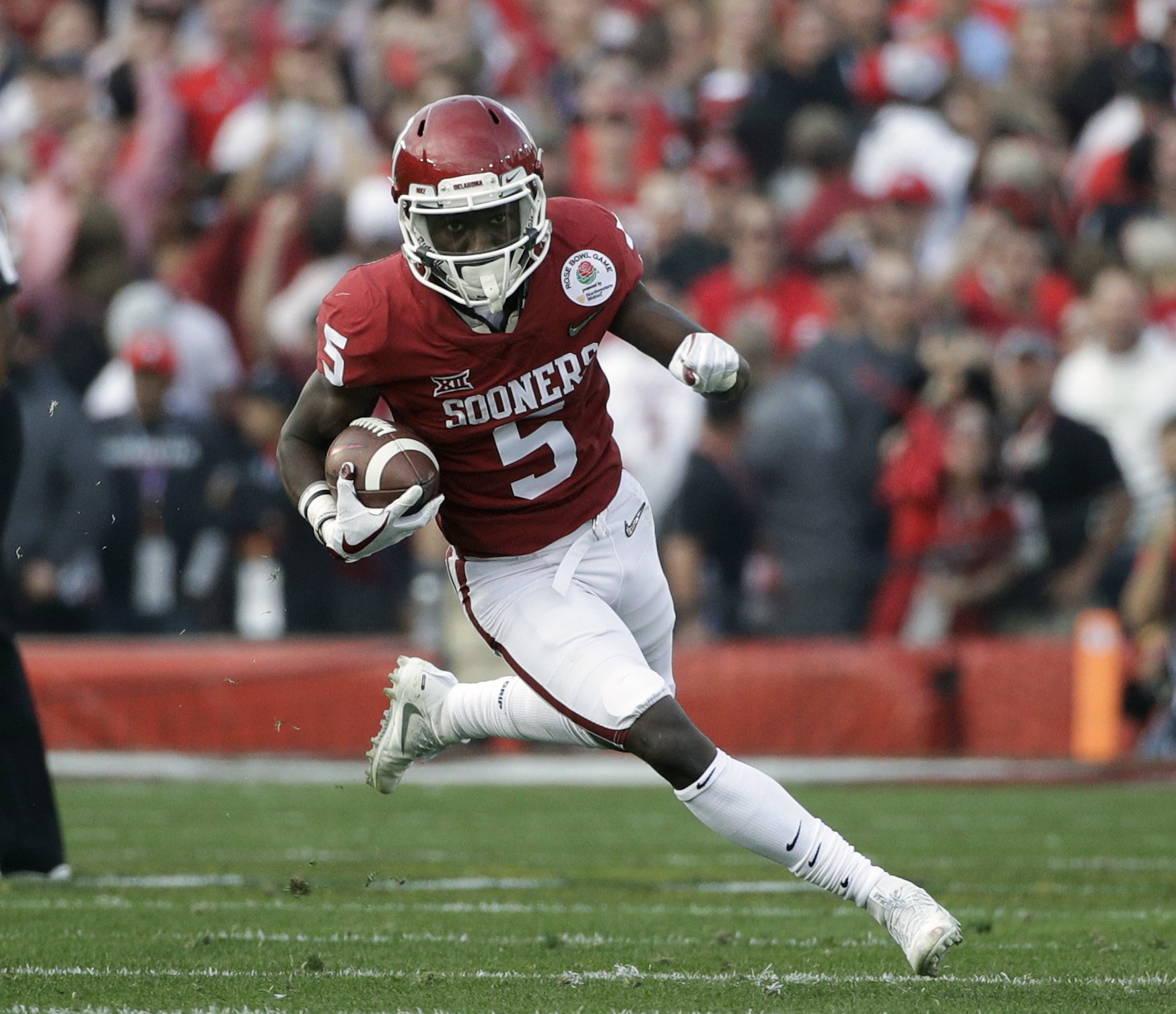 20. Pittsburgh Steelers: Byron Murphy CB Washington
The Steelers' biggest hole that they need to address is the cornerback position. They lack depth in that area, so Byron Murphy would be a great addition. JuJu Smith-Schuster should be able to step up and replace Antonio Brown, so WR is not an immediate concern. Byron Murphy could start the season as the #2 corner for Pittsburgh and should eventually develop into the #1 guy.
21. Seattle Seahawks: Deionte Thompson S Alabama
The biggest need for Seattle is the safety position with Kam Chancellor's career most likely finished and with Earl Thomas departing in free agency. The Legion of Boom is finished in Seattle and they need to start regrouping. Seattle did make the playoffs last season, so they still have a chance at winning this upcoming season. Deionte Thompson will be a great addition to the secondary and should lock down the safety position for years to come.
22. Baltimore Ravens: D.K. Metcalf WR Ole Miss
Baltimore just recently released WR Michael Crabtree, so they need to add to their receiving corps. Metcalf impressed with his freakish athleticism at the combine and while his route running and catching may be in question, he could still be a force for the Ravens. Lamar Jackson needs a big body receiver to throw the ball to, and Metcalf can do just that. Metcalf will also help in the running game as his size and strength should help him run block extraordinarily well.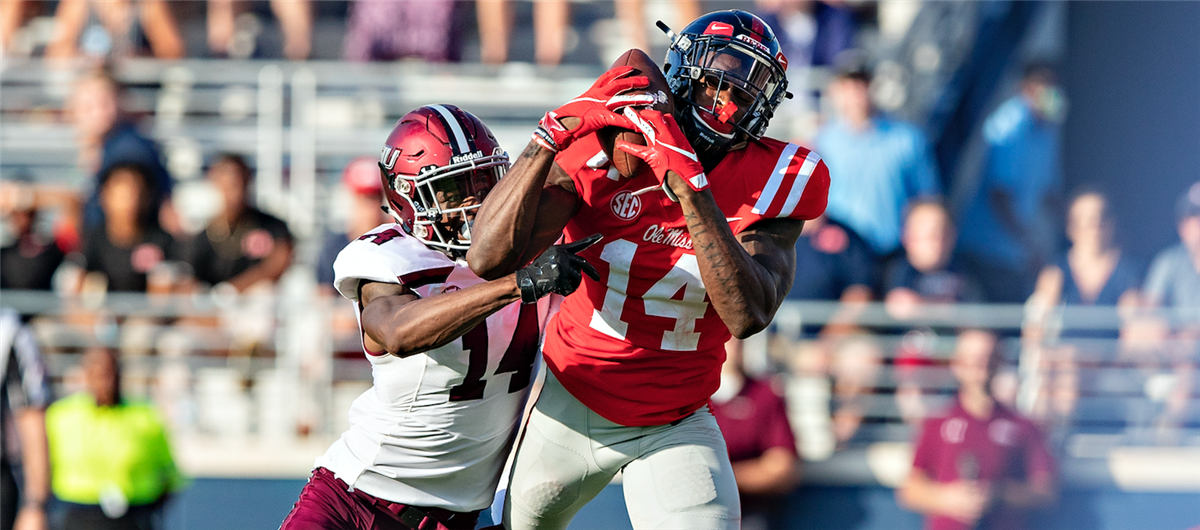 23. Houston Texans: Greg Little OL Ole Miss
The number one goal for the Texans should be to keep Deshaun Watson healthy. Greg Little will strengthen the offensive line and keep Watson on the field. Watson is also a guy who can create magic with his legs, so if you add another guy that can buy Deshaun Watson time in the pocket, you could see an offensive explosion from the young QB.
24. Oakland Raiders (vis Chicago Bears): Devin Bush LB Michigan
Like I said before, the Raiders have a lot of holes to fill. Linebacker may not be their most pressing need, but you cannot pass on a guy like Devin Bush. He looked great at Michigan and at the Combine and would be a great addition to the Raiders. The Raiders are an old team, so they need to add youth anywhere they can. Devin Bush is a phenomenal player who could play great for Jon Gruden.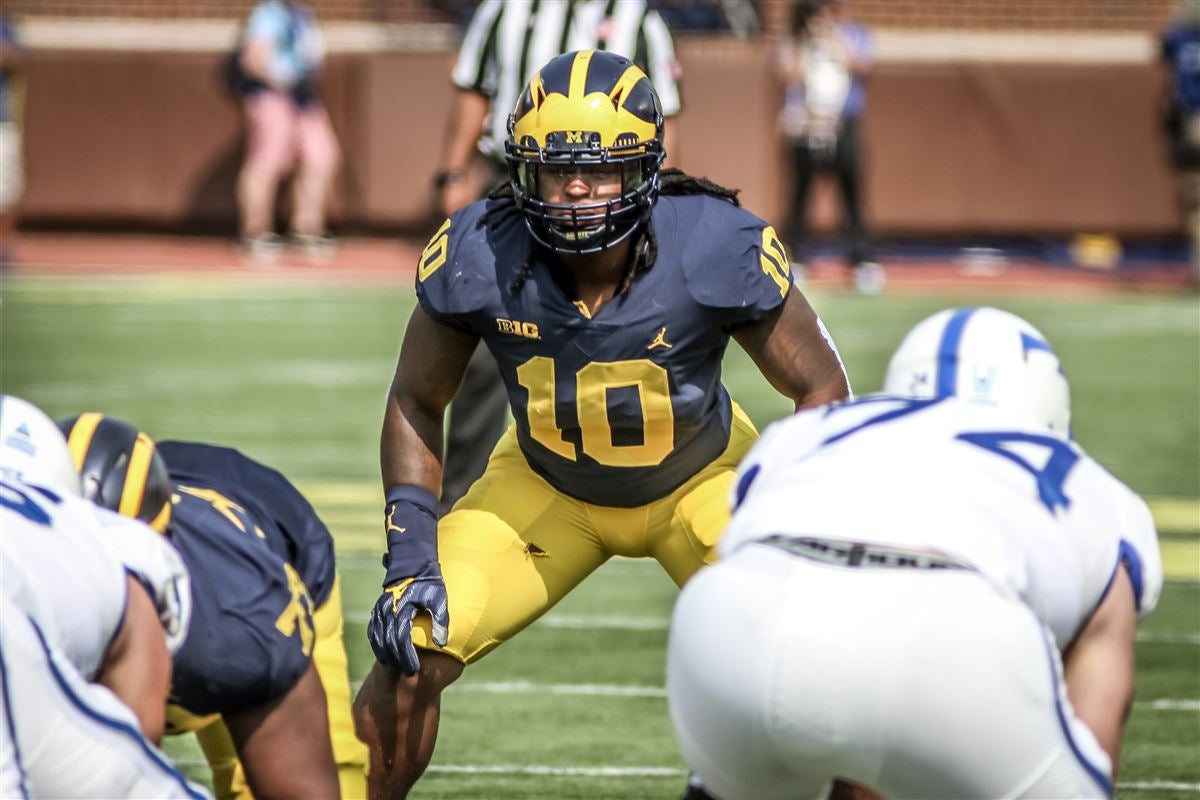 25. Philadelphia Eagles: Dexter Lawrence DL Clemson
The running back position is a big hole for the Eagles, but they will most likely fill that void in free agency and in the middle rounds of the draft. The Eagles let Timmy Jernigan hit free agency and now could use another defensive lineman. Lawrence could play great alongside Fletcher Cox and be a great interior defender.
26. Indianapolis Colts: Jeffery Simmons EDGE
The Colts could use a defensive end and Jeffery Simmons would be a great fit for them. He could player great with Darius Leonard and add to the Colts' pass rush. Indianapolis is a well-rounded team but could achieve greater heights by solidifying the defensive line.
27. Oakland Raiders (via Dallas Cowboys): Josh Jacobs RB Alabama
This is the third and final first round selection for the Raiders in the 2019 Draft. RB Marshawn Lynch is a free agent this offseason and may not return to Oakland. Even if they locked down Lynch to a deal, the RB position is something they have to address. Josh Jacobs could be a great player for them and fill another hole on the team. The Raiders still need to find a receiver to replace Amari Cooper, but if they can establish the run game, which Jacobs will be able to do, they can set up the passing game.
28. Los Angeles Chargers: Andre Dillard OL Washington State
The Chargers have a very good team as evident by their 12-4 regular season record. There are not too many areas where they need to improve, but they could use some help on the offensive line. Dillard could be a starter week one and help create a clean pocket for 37-year old Phillip Rivers.
29. Kansas City Chiefs: Nasir Adderley S Delaware
The biggest weakness of the Chiefs this season was their secondary. They need to improve in that area and Nasir Adderley is the best guy available at 29. Eric Berry is 30 now and has been dealing with injuries over the last couple of seasons. Adderley could play behind Berry and eventually become a starter for them in the future. The Chiefs struggled to stop the pass last season, so Adderley could potentially help in that regard.
30. Green Bay Packers (via New Orleans Saints) A.J. Brown WR Ole Miss
Injuries struck the Packers last season and it showed that they do not have enough depth at the wide receiver position. The Packers will most likely lose Randall Cobb to free agency, so they will be looking for a replacement. Brown could fill that hole left by Cobb and Brown will also not carry a heavy cap hit with him, so that is also a plus for the Packers as they need good and cheap talent.
31. Los Angeles Rams Dre'Mont Jones DL Ohio State
The Rams have a lot of guys up for free agency with two of them being Ndamukong Suh and Dante Fowler Jr. They will have to bolster that front seven with new players and Dre'Mont Jones will do just that. Jones could be the week one starter for the Rams at DT if he impresses in training camp. He should form a great trio with Aaron Donald and Michael Brockers.
32. New England Patriots: Noah Fant TE Iowa
The Patriots hold the last pick of the first round in the 2019 NFL Draft and they do have one glaring issue. Superstar TE Rob Gronkowski has not announced that he will return for the 2019 season. The Patriots need to find a TE to replace Gronk. Even if Gronk does return, it would be a good idea to have a solid backup who could also come in in two tight end sets. Fant impressed everyone at the combine and could be the tight end of the future for New England.
Photos courtesy of the following: Sporting News, CBS Sports, Saturday Down South, Mississippi Sweat, Sports Illustrated, Detroit News, WRUF.com & USA Today.