Eight NFL head coaches were fired this year, with six of them receiving the news shortly after their week 17 contests. As teams begin to interview candidates and decisions get made by front offices across the league, lets take a look at each head coaching vacancy and what events lead to their openings.


Arizona Cardinals | Steve Wilks
It is highly unusual for a head coach to be fired after one season. The Cardinals went 8-8 in 2017, so ownership might have expected more than 3-13 in 2018 and they may not have liked the direction the team was going in with Wilks as the head coach. It still seems premature to fire Wilks after one season. He should have been given a second season to try and build a contender.
There were some big differences between the 2017 Cardinal team and this 2018 team. For one, the Cardinals lost three out of their four leading tacklers from 2017. LB Karlos Dansby (leading tackler), S Tyrann Mathieu (3rd), and Tyvon Branch (4th) were all not on the 2018 roster. DE Chandler Jones had a good 2018 season, but he did not have another monstrous season like he had in 2017, which earned him All-Pro honors. The Cardinals defense did take a step back in 2018, but that was because of a couple of subtractions to the team.
The biggest strike on Wilks was that the Cardinals offense played so poorly. They were last in the league in total yards and total points. Offensive Coordinator Mike McCoy was fired in the middle of the season and replaced with QB Coach Byron Leftwich. The change at OC did not make a difference in the offense and the Cardinals decided to part ways with Leftwich.
The Cardinals selected Josh Rosen with the 10th overall pick in the 2018 Draft, but also signed Sam Bradford to a one-year deal worth $20 million. It seems like the Cardinals' plan was to start Bradford for the year and have Rosen watch from the bench then give him the keys to the offense in the 2019 season. This was not the case as Bradford played poorly and was benched during week 3 in favor of Josh Rosen. Rosen's debut was rushed, and he was not ready to lead an offense. He was one of the worst QBs to play this season and there were not many redeeming qualities to his debut.
It seems like the blame should be placed on GM Steve Keim as he constructed a poorly assembled roster. Keim should have been fired and Wilks should have been given a second season with a new OC. Wilks is a defensive-minded coach and could have done better if he had a better OC calling the plays. Ownership decided to make Wilks the scapegoat for the last place season.
Since the Cardinals were last in the league in total offense, they should bring in an offensive coach to lead the team. One possible candidate is Eric Bieniemy the OC for the Kansas City Chiefs. The Chiefs have had one of the best offenses in the league this season. Matt Nagy was the Chiefs OC in 2017 and he has done a fantastic job as the Bears head coach. Bieniemy should be able to construct an offense that would maximize Josh Rosen's strengths just like Nagy did with Mitchell Trubisky. Colts OC Nick Sirianni could be an under the radar candidate for the Cardinals. He has done a great job of turning around the Colts offense with Andrew Luck at QB and could be great with a running back like David Johnson and also transform Rosen as a QB.


Cleveland Browns | Hue Jackson
This firing was long overdue. Hue Jackson went 3-36-1 as head coach of the Browns and should have been fired following an 0-16 season in 2017. The Browns went 1-15 under Hue Jackson in 2016 and had three first round picks in the 2017 Draft including the 1st overall selection. Hue Jackson going 0-16, while having three first round picks at his disposal should have been indication that he was not fit for the job. Hue Jackson was fired after a week 8 loss to the Pittsburgh Steelers, and the Browns thrived from that point on finishing the season 5-3. The Browns could have made a playoff run this year if they canned Hue Jackson at the end of the 2017 season.
The team took a turn for the better when Gregg Williams took over as the head coach and Freddie Kitchens became the OC. The #1 candidate for the Browns head coaching job should be Freddie Kitchens. He has shown that he has a good repertoire with QB Baker Mayfield, which is crucial considering Baker is supposed to be the franchise QB. Kitchens knows how to use Baker and could potentially lead the Browns to the playoffs next season.
The ultimate goal should be to keep Freddie Kitchens. If the Browns can retain him as an OC, then they do not have to promote him right to the head coaching position. In the event that they keep Kitchens as the OC, Colts DC Matt Eberflus would be a great fit as the head coach. He has done a great job with turning around the Colts defense. The Colts have a fairly young defense, so Eberflus would be dealing with a similar situation if he took the job in Cleveland.  Eberflus could do a great job as the Browns head coach.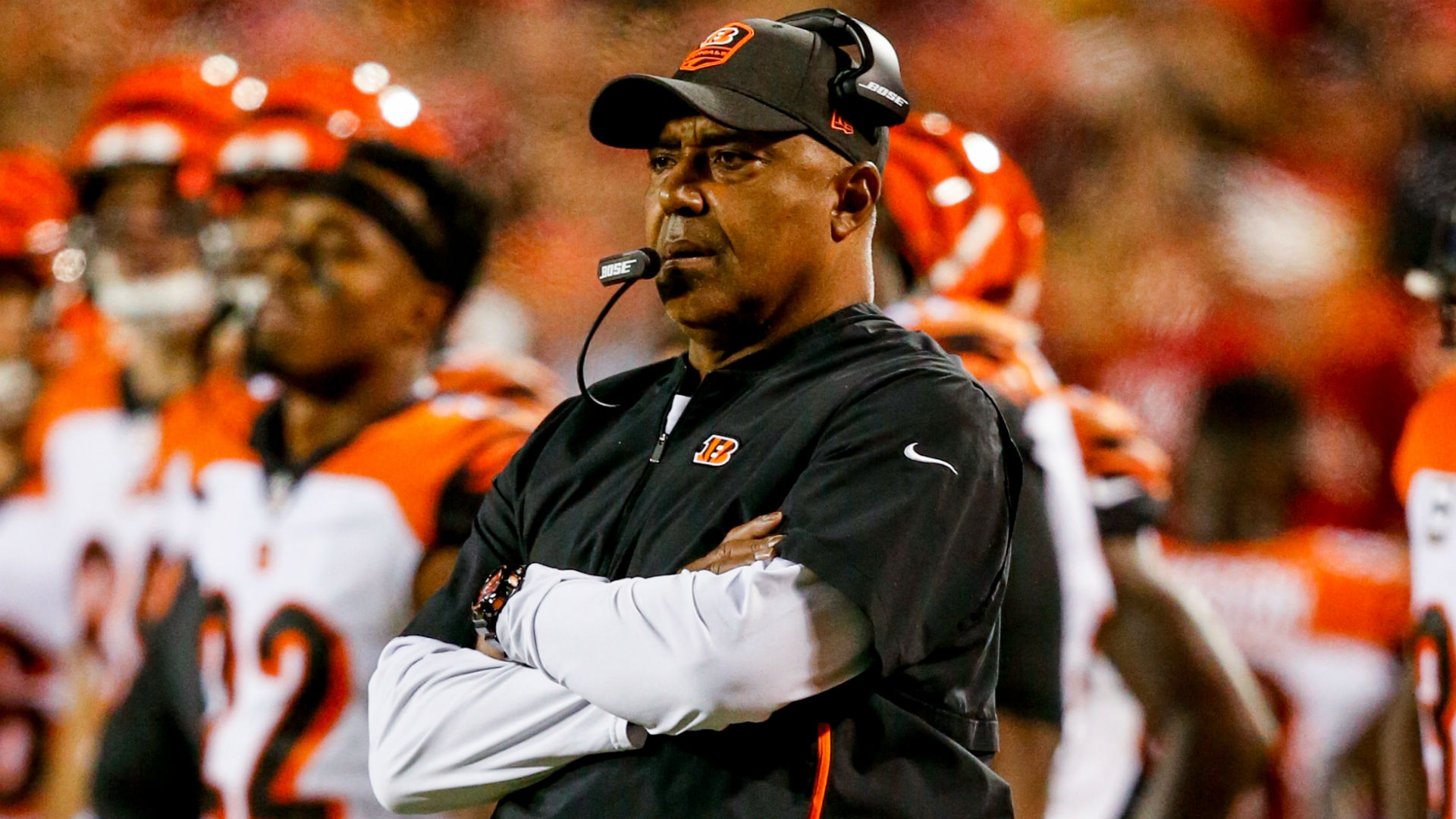 Cincinatti Bengals | Marvin Lewis
Marvin Lewis spent 16 seasons as the Cincinnati Bengals head coach accumulating a 131-122-3 record. He was the second longest tenured head coach in the NFL behind Bill Belichick. Lewis' main problem is that he did not win a single playoff game in 16 years. He went 0-7 in his postseason career as the head coach of the Bengals.
It does not matter how great you are in the regular season. If you cannot win in the playoffs, you are not fit for the job. Not winning a single playoff game in 16 years is inexcusable. Lewis should have been let go following the 2015 season where the Bengals were eliminated in the Wild Card round for the 7th time under Lewis. If not then, he should have been let go after the 2016 season where the Bengals regressed to 6-9-1 after going 12-4 in the previous year. He was given far too many chances and now the Bengals have to dig themselves out of a hole.
Eric Bieniemy is going to be one of the most sought-after coaches and rightfully so because he has done a great job as the Chiefs' OC. He is a guy that could be a great coach for the Bengals. He could get the most out of QB Andy Dalton and might find interesting ways to utilize speedster WR John Ross.
Vance Joseph is another guy to look at for the Bengals. He might not have great head coaching value right now, but he could be a good defensive coordinator for the Bengals while he gains some steam in the NFL coaching circles once again.
Matt Nagy and Frank Reich were the standout new head coach hires as they took their teams to the playoffs. A couple other coaches are undergoing rebuilds, so time will tell on whether they will be a fit for the team. Going into the 2019 offseason, there are eight head coach openings with some premium positions like Green Bay and Cleveland. There are a couple of frontrunners for the job such as Chiefs' OC Eric Bieniemy. The person that takes over the Arizona job will have some great draft capital, so that may be an attractive job to some coaches. Just about every opening has an established starting QB, so it will be interesting if some of these QBs will be able to turn their careers around with a change at the head coaching position.

Denver Broncos | Vance Joseph
This firing also did not make much sense. Vance Joseph when 11-21 in two seasons in Denver. Joseph inherited a Super Bowl caliber defense, but it is hard to when you do not have a quarterback. Joseph had to try and win games with Trevor Siemian, Paxton Lynch, Brock Osweiler, and Case Keenum. These are not great options and it would be hard for any coach to build a successful offense around these QBs.
The Broncos have built up a steady defense, but they have not addressed the offense. The Broncos front office handcuffed Joseph in what he could do offensively. Joseph should have been given at least one more year to figure the team out. The Broncos hold the 10th pick in the draft and Joseph could have hand selected an offensive weapon to boost their performance, but Joseph was let go before getting a real chance to turn the Broncos around.
A good candidate for this job is Jim Caldwell. He has experience as a head coach and also has the seal of approval from Peyton Manning. Keenum has one more year left on his deal and Caldwell could maximize Keenum's potential. If the Broncos are looking for an experience coach, Caldwell could be their guy.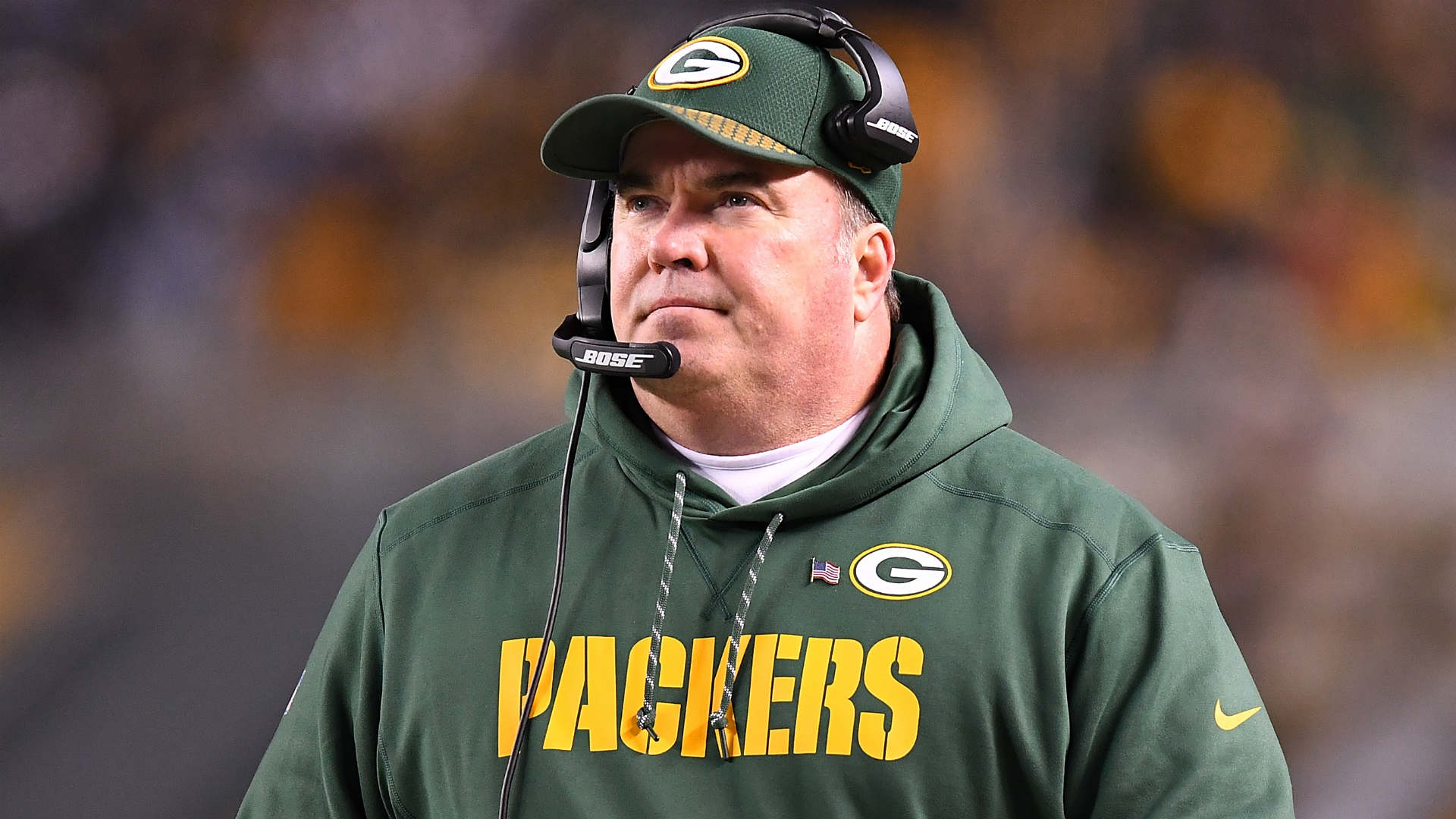 Green Bay Packers | Mike McCarthy
Mike McCarthy was fired after a week 13 loss to the Arizona Cardinals. In 13 seasons in Green Bay, McCarthy went 125-77-2 including a Super Bowl Championship in 2010. He had a 10-8 record in nine trips to the playoffs. McCarthy had a very good career in Green Bay, but that team has high expectations because they have one of the best QBs to ever play the game on their team. With Aaron Rodgers healthy and leading the offense, the Packers have made the playoffs every year since 2009. Someone was going to take the blame for a 4-7-1 and it was not going to be the man who signed a 4yr/$134 million deal.
McCarthy might have run his course in Green Bay, but Aaron Rodgers' contract is why this team failed in 2018. When one guy is making $134 million, there is not going to be enough cap space to add depth to the roster. The Packers were plagued by injury and they did not have any suitable players who could fill in. They had 37 guys on their roster who were making under $1 million. These are guys who are on rookie deals or who are coming off the practice squad. They can't be relied on to win games and that is what the Packers were forced to do. The Packers had $37 million sitting on injured reserve. Rodgers' contract came back to bite them because they could not afford to bring in any insurance.
The Packers own two first round picks in the 2019 Draft, so this should help them create some depth. Next season the Packers will have players like Mike Daniels and Kenny Clark back from injury, so they should be competitive again just under a new coach.
One possible head coach candidate is the Patriots OC Josh McDaniels. He did back out of the Colts job last season, but McDaniels has done an interview with the Packers, so it seems like he would be willing to take the job. McDaniels has been coaching Tom Brady for most of his career, so this experience could come in handy when coaching Aaron Rodgers. Rodgers and Brady are both high-caliber QBs and do not need the same type of coaching that a younger QB might. Rodgers will be able to make just about any offense work.
Another possible candidate is the Saints OC Pete Carmichael Jr. Like McDaniels, he has been around the NFL for over 15 years, but this would be Carmichael's first time as a head coach. He has experience working with Drew Brees who is also similar to Rodgers. Carmichael should be able to build a good relationship with Rodgers and will know how to use him. The Saints are having an offensive explosion right now, and Carmichael could add a few wrinkles to the Packers offense to set them apart.


Miami Dolphins | Adam Gase
This is one firing that seemed undeserved. Gase went 23-25 in three seasons with one playoff appearance, but the record does not tell the full story. The Dolphins went 10-6 in their first year under Gase and were poised to make a run in the playoffs until starting QB Ryan Tannehill went down with injury forcing Matt Moore to start a playoff game. Moore did move the ball, but he had three turnovers and the Dolphins lost 30-12, so his stats were inflated with garbage time.
Ryan Tannehill then missed the entirety of the 2017 season, which caused Jay Cutler to be brought in. Cutler never bought into Gase's system and just went through the motions. Tannehill was healthy by the 2018 season, but by that point RB Jay Ajayi and star WR Jarvis Landry were traded away hindering the Dolphins' offense. Gase showed that he could take the Dolphins to the playoffs, but he was never given a chance to make a run with the full roster.
Gase's biggest struggle in Miami came with the defense. He could never field a top tier or competitive defense. The Dolphins invested $21 million in defensive ends Robert Quinn and Andre Branch and both these men only had a combined 8 sacks in 2018. That number is not great considering how much money they were making. There were some bright spots in the Dolphins' defense that like CB and Pro Bowler Xavien Howard as well as rookie S Minkah Fitzpatrick. It seems like the Miami front office invested in the wrong players and Gase ended up taking the blame for it.
The Dolphins' offense took a giant step back in 2018, but the main problem seems to be on defense. The best way to fix the offense would be to acquire some new talent, while the defense has talent that needs to be properly utilized. Saints DC Dennis Allen would be a great fit in Miami. The Dolphins have some talent on their defense that Dennis Allen could do wonders with. He has previous head coaching experience in Oakland, and while it did not go great, he has had a couple of years coaching under Sean Payton, which may have helped Allen's coaching ability.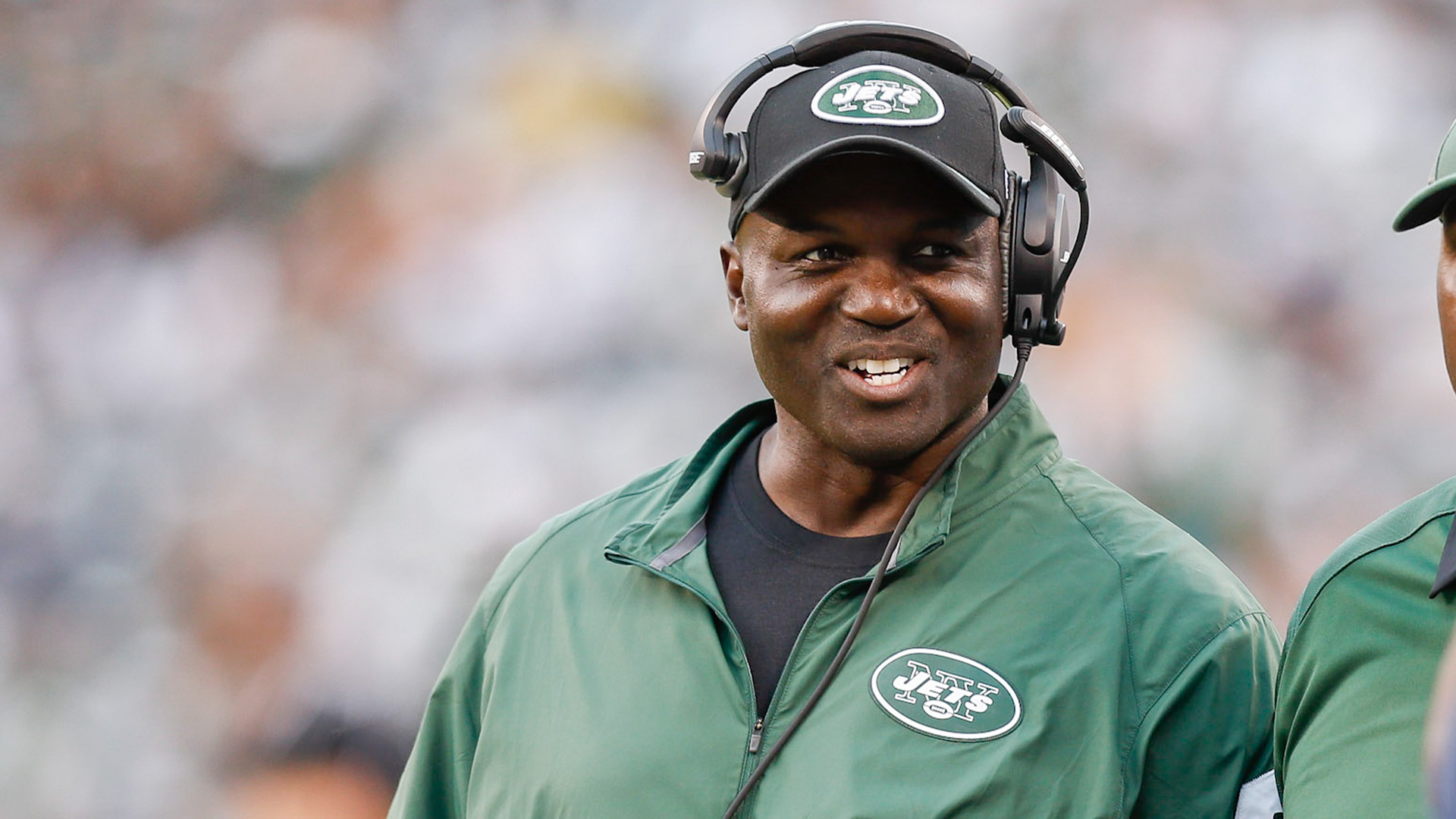 New York Jets | Todd Bowles
Todd Bowles' firing has been predicted for two years now. He led the Jets to a 10-6 season in his first year as Jets head coach with Ryan Fitzpatrick running the offense, but the magic ran out and the Jets regressed back to the bottom of the cellar. Entering the 2017 season, the Jets cut a couple of key players and it seemed like the tank was on. The Jets were trying to secure a high draft pick, so they could select their QB of the future. It seemed like Bowles would be let go at the end of the season and the Jets would start 2018 with a new QB and head coach, but Bowles worked a bit of magic and took a Jets team that was supposed to lose to a 5-11 season.
This 2017 team featured Josh McCown at QB with a lot of young players to fill in the rest. Bowles got the most out of those players and while 5-11 might not seem like an impressive record, this team was projected to hold the #1 pick in the draft. Bowles earned himself another season and had newly drafted QB Sam Darnold to work with. The Jets regressed to a 4-12 record in 2018 and that signaled the end for Bowles.
Bowles did not seem like the man to lead the Jets. He did not have what it took to take this team to the next level. Sam Darnold struggled mightily and could use a change at the head coach position to steer him in the right direction. A great candidate for the job would be Freddie Kitchens. If the Browns do not commit to bring him back as the head coach, the Jets could swoop in and take him away. Kitchens did great with Baker Mayfield, the #1 pick in the 2018 NFL Draft, and could do wonders with Sam Darnold, the #3 pick in the 2018 Draft.


Tampa Bay Buccaneers | Dirk Koetter
Dirk Koetter went 19-29 in three seasons with the Buccaneers. He could never get the team moving in the right direction, and he finished with a 5-11 record in back-to-back seasons. The biggest knock on Koetter is that he could never utilize all of Jameis Winston's potential. The Buccaneers are committed to Winston and do not plan on moving on from him just yet. The Bucs had a good offense in 2018, but Jameis is expected to play better as he was the #1 pick in the 2015 Draft.
Koetter has also not been able to produce a competitive defense even though the Bucs have talented players on the defensive side. The defense has been ranked near the bottom of the league in total yards and points allowed even with players like Brent Grimes, Gerald McCoy, Kwon Alexander, and Lavonte David leading the defense. The Buccaneers even brought in Jason Pierre-Paul, but they still ranked 31st in total points allowed.
The best fit for Tampa Bay is Bruce Arians. Arians took a year off from coaching after five seasons in Arizona where he went 49-30-1. He has a connection with Jameis Winston, so Arians could figure out how to properly utilize Winston's skillset. The Buccaneers would much rather have Winston be their full-time starter next year instead of flip flopping between QBs. A change of scenery might be what the doctor ordered for Tampa Bay.