TWN ranks the top-10 international players taking the Association by storm in 2018-2019. It's a mix of young players and veterans, contenders and lottery picks, and guards, forwards and centers. Continue following The Wrightway Network as we give you the top stories in the '18-'19 NBA season. This list was written by Tate Pierotti and compiled/edited by Austin Meo.


Honorable Mention: Luka Doncic, Slovenia, Mavericks, SF
Perhaps the most touted international prospect ever, Mavs rookie Luka Doncic nearly cracks the top ten without having played a single NBA game. After leading Slovenia to their first ever Eurobasket championship in 2017, he scored a Euroleague title and MVP trophy with Real Madrid, becoming the youngest ever to accomplish the latter feat. His rare combination of size, passing, and scoring instincts make him a special prospect, and ESPN's Tim MacMahon spoke to sources in the Mavericks organization who said "Doncic has often been the best player on the court in pickup games at the Mavs' facility despite not being in great shape by NBA standards." Don't be surprised if the current favorite for rookie of the year makes a push up this list during the season.


10: Marc Gasol, Spain, Grizzlies, C
Marc Gasol experienced a slight dip in production last season playing for an uninspired Memphis Grizzlies squad. The former DPOY is still one of the best all-around bigs in the game, with superb vision for a big and three-level scoring ability. A change of scenery may be needed for Gasol to capitalize on the back end of his career, because things won't be getting easier anytime soon for the 33-year old Spaniard in Memphis.


9: Ricky Rubio, Spain, Jazz, PG
The only guard on this list, Rubio enjoyed a career year with the Jazz last season, netting a career high 13.1 PPG and shooting 35.2% from downtown. His newfound shooting ability has forced defenses to guard him tighter on the perimeter, giving him room to penetrate and toss lobs to Gobert and skip passes to three-point shooters. It seems like we've been watching Rubio play forever, but he's only 27 years old with room still to grow. The Spanish floor general is one of three point guards to average 7.9 assists and 2 steals for his career, the others being Chris Paul and John Stockton.


8: Steven Adams, New Zealand, Thunder, C
Steven Adams recorded career highs of 13.9 PPG and 9 RPG last year and became just the tenth player of all time to snatch at least 5 ORPG. His ability to set screens, finish around the basket (4th last season in effective field goal percentage), and play selfless basketball has generated admiration for the big Kiwi around the league. Teammate Paul George called him "the best rebounder in our game," while 76ers coach Brett Brown said he is "one of the elite players in the NBA." The box score only demonstrates half of how valuable Adams is to the Thunder.


7: Clint Capela, Switzerland, Rockets, C
Clint Capela is the prototypical modern NBA center. An outstanding defender who can switch with guards on the perimeter and protect the rim, Capela is the centerpiece of the Rockets defense. His simple offensive game suits them well, as he caught and finished 115 out of the 143 lobs tossed his way, displaying elite volume and efficiency. Capela also led the league in field goal percentage and proved he can be effective without a jump shot.


6: Ben Simmons, Australia, 76ers, SF
Last season, Simmons became one of two rookies all-time to notch 15 PPG, 8 RPG and 8 APG, the other being Oscar Robertson. His rare combination of size, court vision, and defensive versatility make him a challenge for opposing defenses every night. If he ever finds a jump shot, he could really become an all-time great.


5: Kristaps Porzingis, Latvia, Knicks, PF
Though he finds himself at 5 on this list, the Unicorn is probably a top 5 talent in the entire league when healthy. The Knicks are being cautious with his ACL rehab, and team president said last week the Knicks are "not going to do anything that jeopardizes the future of this franchise," per Steve Popper of newsday.com. If he gets back to the court this year, his main focus will be making his teammates better (career 1.3 APG).

4: Rudy Gobert, France, Jazz, C
Dubbed the Stifle Tower for his formidable presence in the paint, 7'1 Frenchman Rudy Gobert has single-handedly transformed the Jazz into one of the league's best defenses. Last season, the Jazz allowed 105.3 points per 100 possessions without Gobert on the floor, compared to 97.9 with him manning the key. Fresh off a DPOY trophy, Gobert should pick up right where he left off this year alongside Donovan Mitchell.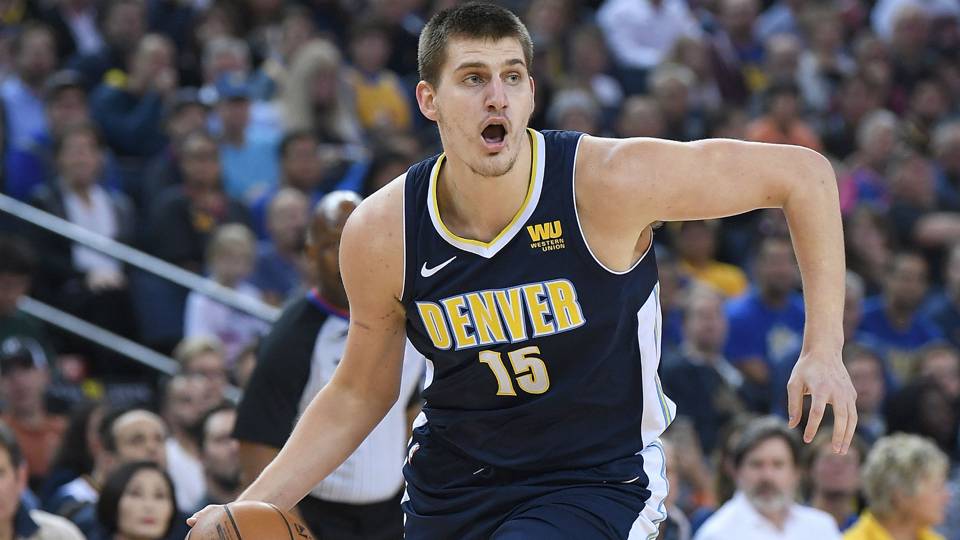 3: Nikola Jokic, Serbia, Nuggets, C
With unprecedented passing ability for a big and superb shooting touch, Jokic's game contrasts sharply with most of the centers on this list before him. The 23-year old's averages of 18.5 points, 10.7 rebounds, and 6.1 assists last season have only been matched by Oscar Robertson, Kevin Garnett, Russell Westbrook, Wilt Chamberlain, and Larry Bird. While he'll never possess the length or athleticism to protect the rim like Capela or Gobert, Jokic may be the best offensive big in basketball.  


2: Joel Embiid, Cameroon, 76ers, C
Joel Embiid is simply too big and strong for defenders in the paint, and he can expose them from downtown with his jumper as well. Add in a second-team all defense nomination last year and he profiles as one of the best two-way player in the game. Embiid is a potential MVP candidate if he can remain healthy for the full year.


1: Giannis Antetokounmpo, Greece, Bucks, SF
The Greek Freak has come a long way since his rookie season, steadily increasing his PPG averages from 6.8, 12.7, 16.9, 22.9, to 26.9 in his first five years in the league. With impossible length, impressive ball handling skills, and the ability to guard five positions, the only thing stopping Antetokounmpo from becoming an all-time great is a jump shot.