Week three of the NFL season has recently concluded and we are seeing more about teams than we have before. Some teams are looking great, while others may need to make a drastic change if they still want to make the expanded playoffs. Here are a few of my takeaways from the action this past week.
Atlanta needs to clean house
Ever since their Super Bowl defeat at the hands of the New England Patriots, the Falcons have not looked the same. There is no confidence in this team and it shows, as they blew another double digit lead this season alone. A stat came out that the Falcons are the only team in NFL history to blow multiple 15+ point leads in the fourth quarter in back to back weeks.
The Falcons culture is one of blowing leads and it haunts them. They need to fire head coach Dan Quinn and try and rebuild their culture to get this team back on track. They are extremely talented, especially on the offensive side of the ball, but they severely lack confidence to finish games. 
The Bears are legit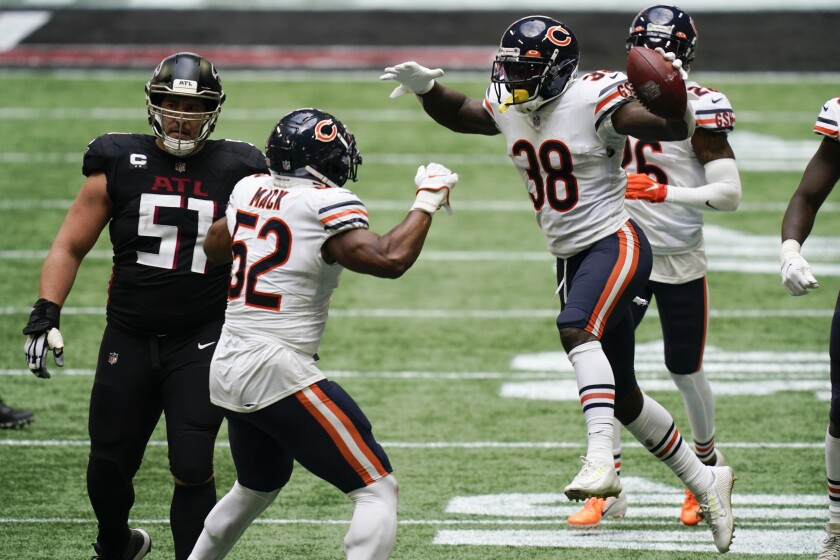 This may be a shock considering they have had to mount comebacks in two games and beat a hapless Giants team, but these three weeks convinced me. A win is a win in the NFL, and it does not matter how you do it. In fact, I am more impressed with wins like the Bears have than blowouts. Blowout wins are not indicative of how good a team is and blowout losses are not indicative of how bad a team is, those are extremes.
The Bears have been able to sneak out wins by any means necessary and that has impressed me. They have a good defense and if the offense continues to be above average, they are a playoff team. Chicago is not a Super Bowl contender, but they are 3-0 and are definitely playoff contenders. Let's stop downplaying their record, as they did what they had to do to be 3-0. 
New Orleans is in a bad spot
This New Orleans Saints team is just plain average. That is the worst place to be in the NFL, as they are not serious Super Bowl contenders and they are not bad enough to get a good draft pick. They are stuck in football's "no man's land." What makes the situation even worse is that quarterback Drew Brees looks pretty mediocre to put it nicely. Brees cannot throw the ball deep anymore and is stuck throwing underneath passes. Teams are going to start forcing him to throw it deep and shut down the underneath options, then what happens?
This Saints team are not serious contenders, and while their roster is constructed well, in the NFL you can only go as far as your quarterback takes you. At his age, Brees is not taking them that far. The best case for the Saints is that North Dakota State quarterback Trey Lance falls to them in the draft and they can go back to contending for Super Bowl titles soon. 
The Baltimore Ravens have a fatal flaw
On Monday night, we saw "playoff Lamar Jackson" show up again. Except we did not, as this has always been Jackson. When his team goes down two or more scores he cannot lead them back. While Jackson is one of the best up and coming quarterbacks in the league, his team does not trust him to throw the ball. The Ravens were down multiple scores in the second half on Monday night, and instead of trying to throw the ball to get back in the game to preserve the clock, they decided the best thing they could do is keep running the football. 
The Ravens are a ball possession team, and beat teams by keeping the football. It works extremely well until they go down and need to hurry up and come back. When this happens, the Ravens offense crumbles. There is now a strategy to beat the Ravens: score early. If teams can jump out to a lead on Baltimore, the Ravens have a tough time coming back.
Jackson passed for a measly 97 yards against the Chiefs, that is not good enough to win games in 2020. For the Ravens to be serious Super Bowl contenders their passing game needs to get much better.
The Chiefs are by far the best team in the NFL
Monday night's matchup versus the Baltimore Ravens was supposed to be a heavyweight fight between two of the AFC's best. Instead, Patrick Mahomes and the Kansas City Chiefs made it a laugher. The Chiefs thoroughly dominated Baltimore, shutting down their passing game completely to make them one dimensional.
In addition, no matter what the Ravens threw at Mahomes and the Chiefs defensively, Kansas City capitalized. When Balitmore sent a blitz, Mahomes hit them over the top with a homerun ball. When the Ravens sat in a zone, Mahomes found the openings and methodically marched his team up and down the field. The Kansas City Chiefs are virtually unstoppable, and unless a freak injury occurs, this team is Super Bowl bound.