Sports Media tends to have its certain scapegoats who can never escape the hate, and Derek Carr is one of them. Taking a quick glance at Carr's career will show you six full seasons as the Raiders starting QB, but only one winning record to show for it. This fact alone would lead any fan to believe that the Raiders are moving on from Carr, but this isn't the case.
The Raiders quarterback has been one of the league's most consistent performers despite being hindered by a lack of weapons, and a carousel in the Raiders coaching department. Derek Carr's success in 2020 will come as a huge surprise to the mainstream media, but we'll be expecting it.
Yes, Derek Carr was an MVP Candidate
Just three years ago, the former second round pick from Fresno State produced an MVP caliber season, and here's why it wasn't a fluke. The 2016 Raiders team was encompassed by two top receivers Michael Crabtree and Amari Cooper, a top three offensive line, and the 20th ranked defense.
The Raiders lowly defense forced Derek Carr into numerous do-or-die situations late in the 4th quarter, and boy did he respond well. Carr posted seven game winning drives in 2016, which was good for second most in NFL history in a single season.
Yes, Carr's supporting cast was a significant piece to their success, but he's received no where close to the credit he deserves. Derek Carr has produced the most 4th quarter comebacks through a QB's first five seasons in NFL history, and that alone speaks for itself.
It's common knowledge amongst NFL circles that Carr isn't an elite QB, but if the 2016 season proved anything, it's that he's capable of leading a top 10 offense when he's afforded a consistent and diverse supporting cast.
The Raiders Unique Offensive Weapons
Heading into 2020, the Raiders have surrounded Derek Carr with the best supporting cast in his career hands down. Derek Carr's performance with a lackluster supporting cast in 2019 flew completely under the radar, as he was 2nd in the league in completion % and 9th in yards per attempt.
The theme behind Las Vegas' new plethora of weapons seems to be versatility. Carr is now surrounded by reliable safety valves, deep threats to stretch the field, versatile running backs, and an incredible ground game.
This type of supporting cast is something the Raiders needed to help kickstart their offense because of the conservative nature of Jon Gruden's offense.
Hunter Renfrow, Darren Waller, and Bryan Edwards are a reliable trio who Derek Carr can rely on as his safety valves. The Raiders paired dominant 50/50 ball receiver Tyrell Williams with first round selection Henry Ruggs III, who is a rookie that will consistently threaten defenses with his electric speed.
The Raiders also employ versatile chess pieces Lynn Bowden and Jalen Richard who will contribute in unique ways out of the backfield. In addition to their new and improved receiving corps, their 6th ranked offensive line will empower Josh Jacobs to have a career year, and continue setting up Carr with excellent pass protection and play action fakes.
A Love Story: Derek Carr and Jon Gruden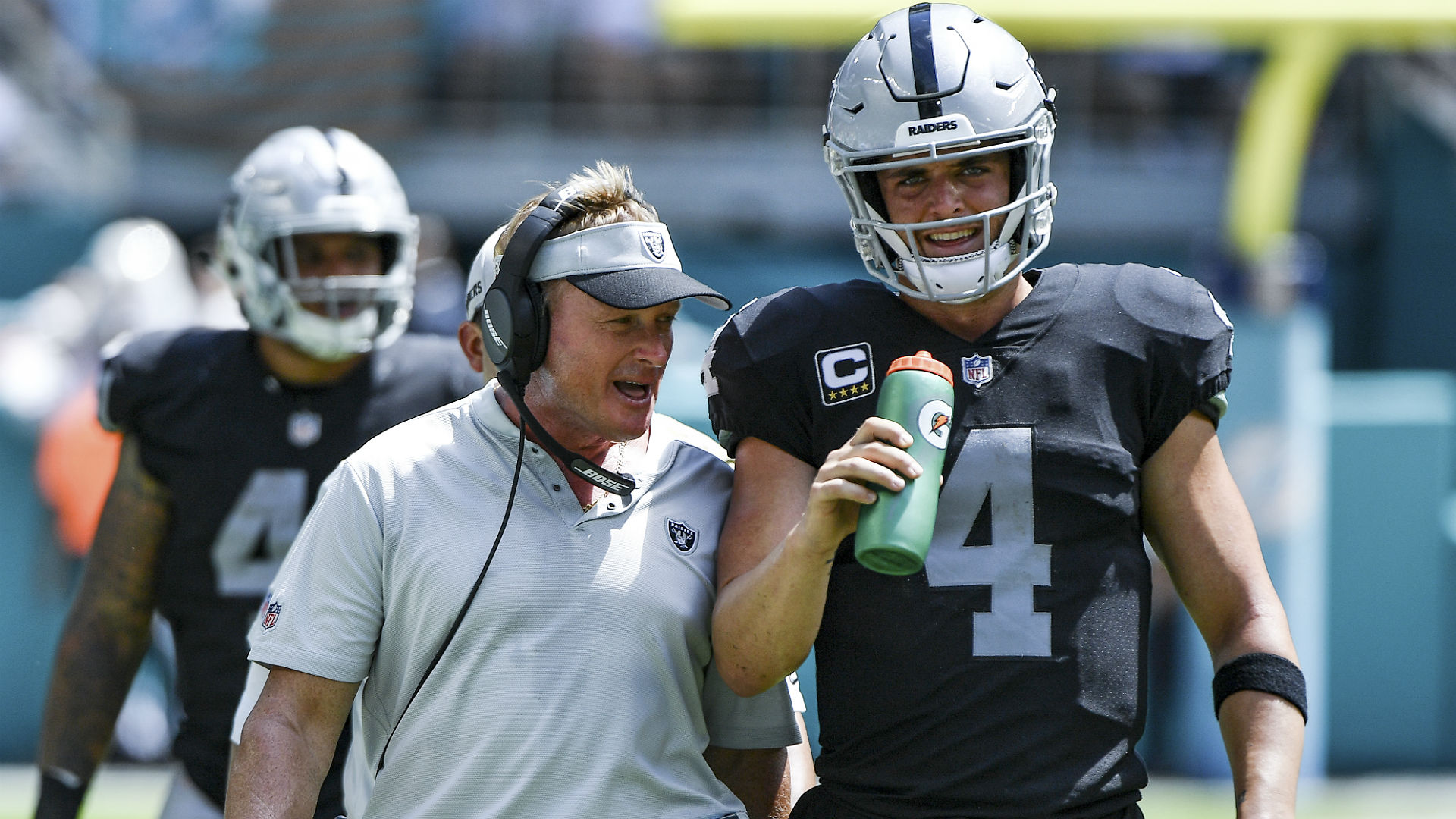 When you look purely at the stats, Derek Carr's career seems massively underwhelming, but the context in his situation is key. Over his 6 year NFL career, he's experienced major instability in the play calling department as he's gone through 4 different play callers.
In 2020, he'll be entering his third straight season with Jon Gruden calling plays, and this familiarity will provide a huge boost to the offense. Jon Gruden's offense, in a nutshell, features consistent dink and dunk throws while focusing on the inside run game.
This conservative playstyle has painted the narrative that Derek Carr is too conservative and unwilling to lead a top offense, which is completely false. This past season, with a diminished supporting cast, the Raiders managed to rank 11th in total yards and 9th in passing yards.
Derek Carr fits in Jon Gruden's system like a hand in a glove, as he's able to lead the offense with efficiency (completes 80% of his passes in the red zone) while making smart decisions (ie: utilizing checkdowns and throwaways), and not turning the ball over.
In addition to his on the field play, his passion and loyalty fits exactly with how Gruden wants to run the Las Vegas Raiders, "He's doing a lot of recognition at the line of scrimmage … he's even coaching players. He's coaching them on the sideline. He's coaching them in the huddle."
Even his teammates have consistently shown their love to their quarterback, "He is our leader. He has always been our leader. We put a C on his chest for a reason."
The fact that the Raiders signed free agent quarterback Marcus Mariota means nothing to Derek Carr's future. Jon Gruden and Mike Mayock have built this offense specifically to match the playstyle of Derek Carr, and switching Carr for Mariota is an implausible reality that won't happen.
Derek Carr's success in 2020 will not come as a surprise to me given the fact that past behavior is the best predictor of future success. The last time Carr was afforded a top offensive line and a plethora of receiving talent, he was an MVP Candidate.
Heading into 2020, Mike Mayock and the Raiders organization have put an emphasis on surrounding Derek Carr with the most diverse supporting cast that he's had thus far in his career.
The mainstream media will try to impose the narrative that the former MVP candidate is as good as finished, but do not be swayed. Instead, look at the facts that I just spoon-fed to you, and look forward to Derek Carr breaking out in a big way this season.
Feel free to reach out to me and check out my other content on Twitter @danielalameda11
---
Thank you for your support
We believe there is only one way to cover sports: The Wrightway. Please join us in bringing in the new era of sports coverage. Support The Wright Way Sports Network. ~Malik Wright-CEO