Three months have gone by since the conclusion of the 2020 NFL Draft, and it's now time to analyze the draft's implications. The biggest difficulty scouts have when evaluating a prospect is attempting to predict the situation the prospect will land in.
A player's situation can legitimately make or break their career because of the opportunities, or lack thereof, that they're afforded. In addition to making or breaking a players career, a situation can also make or break a fantasy football season, and this is obviously of much more importance. 
Two examples of this are quarterbacks Lamar Jackson and Sam Darnold from the 2018 NFL Draft Class. Both players have been in the league for two years, but Darnold has been surrounded with a lackluster supporting cast in New York, versus Lamar having an entire offense built around him in Baltimore. While I'm not debating the talent of Lamar and Darnold, I'm emphasizing the importance a player's situation has on their success.
In 2019, there were 8 rookies that ranked inside the top 40 in fantasy points at their respective position. Basically this is saying that there are numerous rookies that can help fantasy owners to major success in 2020. Without much further ado, here are five rookies that could potentially be league winning fantasy players. 
Buffalo Bills RB Zack Moss
Zack Moss is stepping into a situation where he will be receiving a bulk of the carries from day one, but fantasy experts aren't treating him as if he is. In 2019, the Buffalo Bills ran the ball the 7th most times in the NFL, and that number doesn't figure to be going down. Last year the Bills employed a two running back system with the punisher Frank Gore, and the scatback Devin Singletary. With Frank Gore no longer on the roster, Moss will immediately take over the Bills short yardage and goal line touches.
Yes, Moss has to compete with Devin Singletary for touches, but Singletary's strength is in the pass game as a change of pass back. Zack Moss' strength is between the tackles and forcing missed tackles (2nd most in the 2020 NFL Draft Class) which immediately makes him an effective weapon for Buffalo to use. Moss's current ADP (Average Draft Position) is the 47th running back, right behind Cowboys backup running back Tony Pollard. 
No disrespect to Pollard, but the opportunities that Moss will see in Buffalo's run-heavy scheme will completely blow expectations out of the water. Moss is currently being drafted in under 50% of leagues, so stash him on the end of your bench and watch him bloom into a consistent performer for your team. 
New York Jets WR Denzel Mims
Denzel Mims is stepping into a situation where he is the de facto number one receiver on his team. This offseason, the Jets former number one receiver, Robby Anderson, left for Carolina which leaves slot receiver Jamison Crowder and speedster Brashad Perriman as Mims' only competition. With very little competition in the receiving room, all Mims has to do is be effective with his opportunities.
As a receiver, Denzel Mims earns his money from his deep speed and his ultra large catch radius. Mims' skillset will allow him to be utilized in the red zone, the slant game, and the downfield passing game. His catch radius is his best asset as it allows for Darnold to be more inclined to throwing 50/50 balls his way.
As of right now, Mims is being rostered in less than 10% of leagues, so now is the perfect time to pounce on the opportunity. In addition to being the number one receiver, the New York Jets are primed to have another top 10 season in total passing attempts, which translates to more targets for Mims. The bottom line is, Denzel Mims is going to see a ton of opportunity as the Jets number one receiver, and he deserves to be rostered in every league. 
Minnesota Vikings WR Justin Jefferson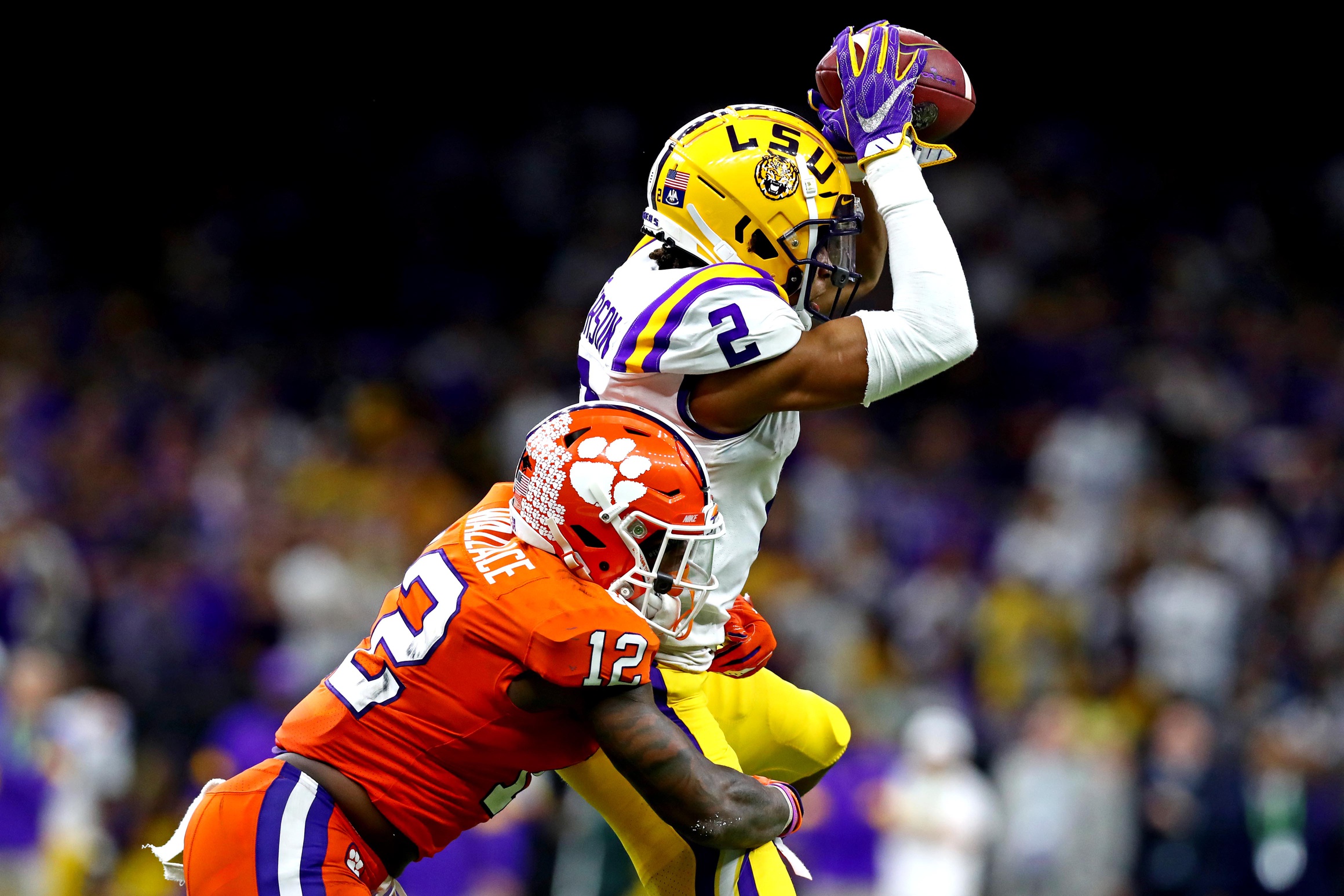 Justin Jefferson is the safest rookie receiver to bank on in 2020, hands down. Kirk Cousins was one of the most productive quarterbacks in 2019, who consistently made both Adam Theilan and Stefon Diggs top 25 receivers. With former Vikings receiver Stefon Diggs making his way to Buffalo, the Vikings first round pick will receive plenty of opportunities. 
The Vikings offense fits Jefferson's playstyle to a T, as they were one of the best in the league at play action passes and utilizing the short pass game. This offensive scheme will enable the former LSU receiver to exhibit his crisp route running and top end mits. Jefferson's bread and butter is exactly what fantasy owners want, consistent production. In 2019, Jefferson led all college receivers with 111 receptions and an 83% catch rate. 
The biggest knock on Jefferson is the lack of top end speed which does limit his big play potential, but playing in the slot 90% of the time will consistently give him 6+ receptions a game. So far, Jefferson is being drafted in just over 50% of leagues, but the loss of Stefon Diggs combined with Jefferson's consistency will slowly ensure that his fantasy owners are less stressed out on Sundays
Indianapolis Colts WR Michael Pittman Jr.
Michael Pittman Jr. is stepping into a situation where his skillset is a huge asset to his team. With the new signing of quarterback Phillip Rivers, there will be a lot more emphasis placed on the downfield passing attack, and that's where Pittman Jr. comes into play.
The former USC product has outstanding hands and exceptional jump ball skills that fit the mold of the type of receiver that excels with the former Chargers QB. Phillip Rivers has a tendency to rely on his receivers to win 50/50 balls, which is shown by him having the most passes of 20+ yards in 2019. 
In 2019, Rivers threw the third most interceptions in the NFL, but that exhibits his willingness to let his receivers win their one-on-one match-ups, something that the 6'4 receiver thrives on. While the critics will talk about T.Y. Hilton and Parris Campbell stealing targets, the harsh reality is that neither of them stands over 6'0 tall.
Pittman Jr. will be able to thrive in his role as the Colts' big body threat, and due to his sticky hands, Rivers will learn to trust Pittman as the season goes on. The Colts receiver is currently being rostered in less than 25% of fantasy leagues, but that number will be closer to 80% by the season's end.
San Francisco 49ers WR Brandon Aiyuk
The San Francisco 49ers have sustained major losses to their offense this offseason, but these open up opportunities for young players like Brandon Aiyuk. The 49ers never emphasized on their passing attack in 2019 because they had a dominant defense and rushing attack, but that figures to change in 2020.
The 49ers will end up losing both Matt Brieda and Raheem Mostert by the time the 2020 season rolls around, and the Super Bowl hangover will hit them due to natural regression. This isn't to say that the 49ers won't be a contender in the NFC, but it will result in the offense keying in on the passing attack more. 
When the 49ers selected Aiyuk in the 1st round of the 2020 NFL draft, it made perfect sense, because Kyle Shanahan loves to utilize athletic and versatile receivers in his offense. Aiyuk's strengths are being a true weapon with the ball in his hands, as shown from his kick returning abilities, and having exceptional yards after catch ability. With Kyle Shanahan as their offensive coordinator, he always finds ways to get his weapons the ball in space, hence Deebo Samuel being utilized in the run game.
While Aiyuk is still extremely raw as a receiver (average route running, not plucky hands) his situation makes him an intriguing addition to any fantasy roster. In addition to having Kyle Shanahan and an increasing volume of passes thrown, the 49ers number one receiver Deebo Samuel is out with an injury for the beginning of the season.
Once Deebo Samuel returns from injury, the only competition Aiyuk has is tight end George Kittle. All in all, the former Arizona State receiver will see plenty of opportunity in the 49ers offense that will warrant more attention than he's receiving right now (rostered in less than 15% of leagues).
These are the five rookies that you need to draft in fantasy football in 2020.
If you would like to check out my other content, feel free to follow me on Twitter @danielalameda11.
---
Thank you for your support
We believe there is only one way to cover sports: The Wrightway. Please join us in bringing in the new era of sports coverage. Support The Wright Way Sports Network. ~Malik Wright-CEO