#1 Jacksonville Jaguars – QB | Trevor Lawrence | Clemson
We have not seen a QB prospect like Trevor Lawrence in quite some time. The Jacksonville Jaguars also own the 25th pick in the draft as well as $77 million in cap space to help support the consensus #1 pick.
2. New York Jets – QB | Zach Wilson | BYU
As of right now, the Jets will likely move on from Sam Darnold and select a Quarterback with the second overall pick. We are still two months away from the draft so the Jets may change their mind. If they stick with Darnold, they could go with Offensive Lineman Penei Sewell to better protect the fourth year Quarterback.
3. Miami Dolphins (via Houston Texans) – WR | DeVonta Smith | Alabama
Tua Tagovailoa did not have a great rookie season, but additional and compatible offensive weapons may result in increased production. DeVante Parker saw his stats drop with Tua at Quarterback as the Alabama Quarterback may not fit with Parker's downfield playstyle. DeVonta Smith is an offensive weapon who excels in screens, bubbles, and short routes, and he will make plays if you get him into space. The reigning Heisman and 2020 5th overall pick are a perfect match for each other.
4. Atlanta Falcons – EDGE | Gregory Rousseau | Miami
The majority of draft analysts project the Falcons will take a Quarterback here, but I do not think that will happen. Matt Ryan still has two years left on his deal and he has only missed three games in his 13 year career, so he could play at a consistent level into his 40s. The Falcons have lots of holes on their team so spending the fourth overall pick on a QB would not help them in the slightest in 2021. Ryan can make the Falcons a competitive team if the defense improved. Atlanta did not have much of a pass rush in 2020, so Gregory Rousseau would be a gigantic improvement.
5. Cincinnati Bengals – OL | Penei Sewell | Oregon
With 2020 #1 overall pick Joe Burrow returning from injury, the Bengals need to improve the offensive line. Penei Sewell is a generational prospect and will protect Burrow's blindside for a long time.
6. Philadelphia Eagles – WR | Ja'Marr Chase | LSU
Philadelphia has very little depth at the Wide Receiver position and Ja'Marr Chase could step in as the #1 receiver on day one. The Eagles have a giant question mark at Quarterback for 2021, but Chase will significantly help whoever starts next season.
7. Detroit Lions – QB | Trey Lance | North Dakota State
Just two weeks ago the Lions sent long time Quarterback Matthew Stafford to the Rams for Jared Goff and two future first round picks. Many people believe the Lions are set at Quarterback with Jared Goff but that is not the case. Goff has two years left on his contract and it seems like Detroit took him in the deal in order to acquire an extra first round pick. Trey Lance cannot start on day one, so he would sit behind Goff for his rookie season and take over the reigns in year two. The Lions will not compete for a playoff spot in 2021 with many key free agents and limited cap space, so they cannot pass up on selecting a Quarterback with lots of potential.
8. Carolina Panthers – QB | Justin Fields | Ohio State
Last offseason the Panthers signed Teddy Bridgewater to a 3 yr/$63 million deal, but it seems Carolina wants to move on. They supposedly offered him to the Lions for Matthew Stafford, so they are making it known to other teams that he is available for trade. Justin Fields seems like a great fit for a Matt Rhule and Joe Brady led offense and he might be able to better utilize the weapons that the Panthers have in place.
9. Denver Broncos – LB | Micah Parsons | Penn State
The Broncos have made great strides at improving their offense, but now their defense needs work. They could use help at Cornerback, but Denver cannot pass up on a premium talent like Micah Parsons. Denver needs help at linebacker, so they'll improve significantly with this selection.
10. Dallas Cowboys – OL | Rashawn Slater | Northwestern
We saw in the Super Bowl that an offensive line can make or break a team when competing for championships. Dallas' offensive line has deteriorated over the past couple of years so bringing it back to its previous state should be a priority. The Cowboys will return to the playoffs by protecting the Quarterback and creating running lanes for Ezekiel Elliott.
11. New York Giants – WR | Jaylen Waddle | Alabama
The Giants have not received much production from the Wide Receiver position after trading away Odell Beckham Jr. This has likely stunted Daniel Jones' growth, so acquiring a #1 receiver would go a long way in helping the Duke alum reach his full potential.
12. San Francisco 49ers – CB | Patrick Surtain II | Alabama
San Francisco's top two Cornerbacks in Richard Sherman and Jason Verrett are set to become free agents, so they will need to make additions to that position group if they want to succeed in 2021. This selection also adds youth to the secondary that will pair well with their young defensive line.
13. Los Angeles Chargers – OL | Christian Darrisaw | Virginia Tech
The Chargers have a playoff caliber team in place already, but their inability to close out games kept them out of the playoffs in 2020. A change at the head coach position will hopefully change that for them. With center Mike Pouncey announcing his retirement and a lack of depth at offensive line, the Chargers must address the trenches. Darrisaw could step in as Justin Herbert's blindside protector, while they could address the center position in free agency.
14. Minnesota Vikings – DL | Kwity Paye | Michigan
Minnesota struggled at stopping the run in 2020 as they allowed 134.4 rushing yards per game last year. Kwity Paye would add an intimidating presence to the line and would contribute greatly in the pass rush and run defense.
15. New England Patriots – QB | Mac Jones | Alabama
The Patriots need to address the offense with this selection. Tight End Kyle Pitts as well as a couple of other receivers are still available, but New England currently has no answer at Quarterback. Cam Newton will most likely not return and Jarrett Stidham does not look like the next franchise leader. After Mac Jones, the Quarterback positions drops off significantly, so the Pats should jump on him.
16. Arizona Cardinals – CB | Caleb Farley | Virginia Tech
Patrick Peterson's play has declined and both him and Dre Kirkpatrick are impending free agents. The Cardinals need to add talent, but more specifically, they need young talent that will add to the core of players that are already in place.
17. Las Vegas Raiders – DL | Christian Barmore | Alabama
Jon Gruden and Mike Mayock love drafting Alabama players and they will get the opportunity to draft another one with this selection. The addition of Barmore will improve Las Vegas' pass rush as well as their ability to stop the run.
18. Miami Dolphins – RB | Travis Etienne | Clemson
I said earlier that the Dolphins need to add dynamic playmakers around Tua Tagovailoa and drafting Travis Etienne will do just that. Just like DeVonta Smith, Etienne excels when he gets into space. Etienne, as well as Smith, will help Tua's development and would also play a major role in leading the Dolphins to the playoffs.
19. Washington Football Team – TE | Kyle Pitts | Florida
Kyle Pitts could go in the top 10, but he could also fall to Washington at the 19th selection. Pitts is easily the best Tight End prospect in the draft, but teams may prioritize other areas before addressing the Tight End position. Washington already has a championship caliber defense and would jump at the chance to draft Pitts in the middle of the first round.
20. Chicago Bears – WR | Rashod Bateman | Minnesota
The Bears offense could change quite a bit by the time the NFL Draft kicks off. Mitchell Trubisky will hit free agency and Chicago may package Nick Foles and draft capital for an established Quarterback. The Bears will likely trade this pick away, but if they hang onto it, they will likely prioritize the wide receiver position with Allen Robinson set to depart in free agency.
21. Indianapolis Colts – WR | Terrace Marshall Jr. | LSU
The Colts are another team with a star Wide Receiver set to become a free agent. T.Y. Hilton could leave in free agency, which would open up an obvious hole at the position.
22. Tennessee Titans – EDGE | Jaelan Phillips | Miami
Tennessee finished third to last in the NFL last year with only 19 sacks on the season. The Titans will prioritize pass rushers in free agency and the draft, which means Tennessee will jump at the chance to draft a premium talent like Jaelan Phillips.
23. New York Jets (via Seattle Seahawks) – RB | Najee Harris | Alabama
There are a plethora of ways that the Jets could use this pick. The defense could certainly use more help, but Najee Harris may be too much to pass up on. Frank Gore led the team in rushing last year, but the soon to be 38-year old may retire after a season ending injury. La'Mical Perine has potential, but Najee Harris would add a lot of firepower to this offense.
24. Pittsburgh Steelers – OL | Alijah Vera-Tucker | USC
The Steelers need to upgrade the offensive line due to Maurkice Pouncey retiring and with the rest of the line starting to age. Alijah Vera-Tucker could play Left Guard for the Steelers and better protect whoever will start at Quarterback next season.
25. Jacksonville Jaguars (via Los Angeles Rams) – OL | Alex Leatherwood | Alabama
With $70 million in cap space the Jaguars may choose to upgrade their defense in free agency. This would allow them to use their second first round pick on Trevor Lawrence's blindside protector. The offensive line certainly needs some work and should be a priority considering they will spend the #1 overall pick on a franchise Quarterback. Cornerback Jaycee Horn would also be a great fit here, but he may be available when the Jags pick again at the start of the second round.
26. Cleveland Browns – LB | Jeremiah Owusu-Koramoah | Notre Dame
Cleveland's offense seems set for a playoff run, but the defense could use some work. The linebacking position has very little depth, so addressing that with Owusu-Koramoah would pay dividends for the Browns.
27. Baltimore Ravens – OL | Wyatt Davis | Ohio State
The Ravens need to run the ball to win games but that will not happen without a dependable offensive line. All-Pro Offensive Guard Marshall Yanda announced his retirement a year ago and the Ravens dearly missed him last season. Wyatt Davis could fill the hole left by Yanda's retirement.
28. New Orleans Saints – LB | Zaven Collins | Tulsa
New Orleans brought in Kwon Alexander to help solidify their linebacking position, but they will likely cut him due to the team having negative cap space. Drafting a linebacker will add quality talent for relatively cheap. Collins is a multi-talented linebacker that would be a great addition to the Saints.
29. Green Bay Packers – WR | Kadarius Toney | Florida
The Packers have to finally use a first round pick on an offensive skilled position player to capitalize on Aaron Rodgers' MVP level play. Kadarius Toney is an offensive weapon that would pair up nicely out of the slot with Davante Adams.
30. Buffalo Bills – LB | Nick Bolton | Missouri
Matt Milano had a fantastic season in Buffalo last year, but the Bills may lose him in free agency this offseason. If that is the case, Nick Bolton would be a fantastic replacement.
31. Kansas City Chiefs – OL | Jalen Mayfield | Michigan
The Super Bowl showed that the Chiefs have a lack of depth on the offensive line. Patrick Mahomes had to run for his life against a tough Buccaneers pass rush. Kansas City does have a couple free agents on the O-Line, so Mayfield could step in to replace anyone of them. The Chiefs could also look to improve the Wide Receiver position by selecting Rondale Moore, but the Purdue wideout could fall out of the first round due to injury concerns.
32. Tampa Bay Buccaneers – EDGE | Joseph Ossai | Texas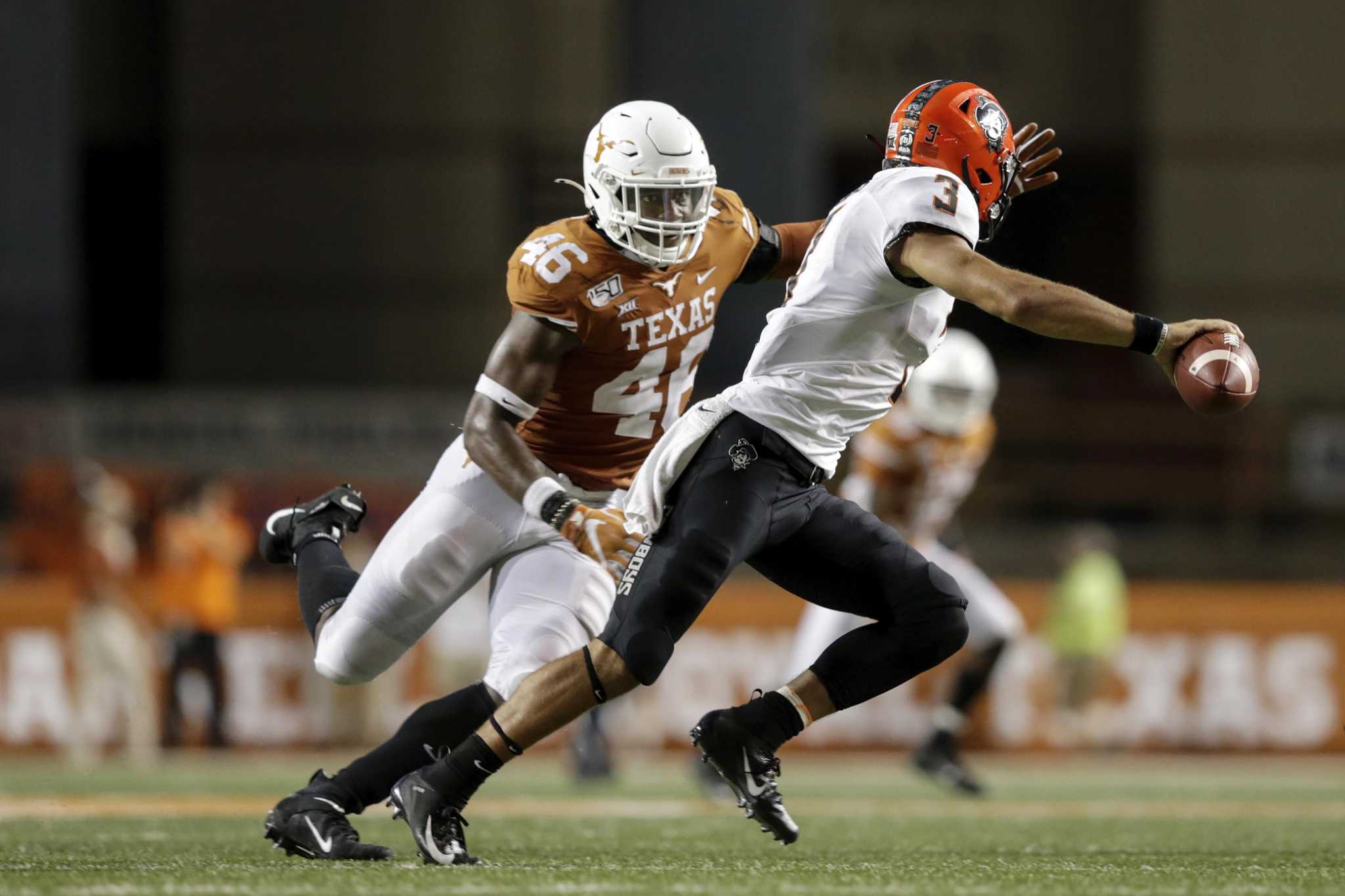 Tom Brady elevated the Bucs to the next level, but the defense played a major part in winning the Super Bowl. Shaq Barrett will likely hit free agency as Tampa Bay will not franchise tag him again. The Bucs could turn to free agency to replace him or they could use their first round pick on Joseph Ossai who had 30 TFLs and 11.5 sacks in 29 games during his three years at Texas. It would not be surprising if the Bucs trade this pick away in order to acquire a star player to help Tampa repeat as Super Bowl champs, however.