In tonight's NBA Playoff action, we saw the start of the second round series between the Miami Heat and the Milwaukee Bucks and we saw a pivotal game six between the Houston Rockets and the Oklahoma City Thunder.
Before I get into the takeaways from each game here is some background context: Milwaukee and Miami are kicking off their second round series. Milwaukee is the favorite to win the series and is the higher seed. OKC was facing elimination being down 3-2 to Houston prior to this game.
Heat vs Bucks
Jimmy Butler is proving on a year-in, year-out basis that he is one of the top playoff performers in the NBA. He comes through against tough opponent especially when his team needs him the most. Tonight he scored a playoff career high of 40 points on an extremely efficient 77.8% true-shooting. He was phenomenal on the defensive end as well, putting pressure on the Bucks's arsenal of shooters, closing in on Giannis in the driving lanes, and tallying two steals and one block.
Goran Dragic has continued his fantastic play and is really solidifying himself among the top offensive role players in the league. He contributed with 27 points on 74.7% true-shooting and dished out 5 assists and grabbed six boards.
The main takeaways from this game come from the Milwaukee Bucks, and primarily their superstar Giannis Antetokounmpo. In the past, the consistent trend has been that Giannis has produced better in high leverage situations than his supporting cast while the support fails to provide what is required of them. Tonight, they had a complete role reversal.
Khris Middleton and Brook Lopez came out to play. As the second and third best players on the roster, they combined for 52 points on efficient shooting while playing good defense. They did their job. Now it comes down to the reigning MVP to do his.
Giannis put up a statline of 18 points, 10 rebounds and 9 assists on 6/12 shooting from the field. For an average player, that would be a great statline. This is Giannis Antetokounmpo we are talking about and we have to hold him to a higher standard because he is that great of a player.
He shot 4/12 from the free throw line. Inexcusable. Nothing else really to say about that. He was also neutralized in the half court down the stretch and had a costly turnover that eventually led to the Bucks losing this game. These are the games the Bucks must win. When the support players are playing well. But quite frankly, it was the MVP and DPOY that didn't show up and bring his A game tonight.
Thunder vs Rockets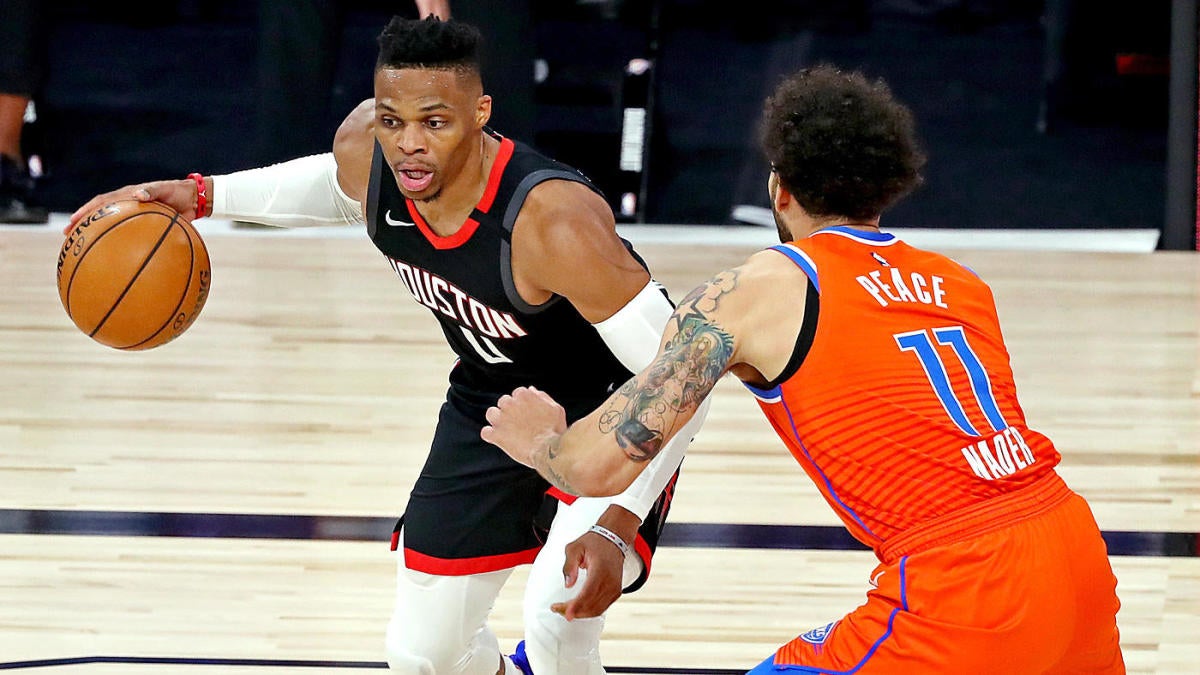 This game and series is coming down to the wire. Oklahoma City ultimately snuck past Houston in this game by four points thanks to the sensational play of Chris Paul and Russell Westbrook simply choking the game down the stretch. Let us start with the positives.
Chris Paul was just great all around. Absolutely flawless performance from him tonight. Paul had 28 points, 7 rebounds, and 3 assists on 63.1% true-shooting and was an absolute pest defensively recording 3 steals and forcing multiple turnovers. He also hit multiple fourth-quarter threes including a memorable one on Robert Covington (who was playing excellent defense on the possession), which ultimately allowed the Thunder to pull away with this must-win game and force a game 7.
Danilo Gallinari was also great for OKC offensively scoring 25 points on 9/17 shooting from the field as well as hitting 4 three-pointers. Now, Houston we have a problem. The problem has one name: Russell Westbrook.
I don't mean to sound like I'm discrediting Westbrook but we've seen for consecutive years, Russ has failed to show up in the playoffs and has established a reputation for being one of the worst playoff performers among the league's stars. Last game he shot 3/13 from the field and for that, I gave him a pass. I understood that coming back from injury, his shot would be rusty. Tonight, I am not holding back from criticism.
He was absolutely horrendous. Scoring wise he was pretty mediocre, scoring only 17 points. This is someone who averages around 28 points on the season. From an efficiency standpoint, he was average by hitting over half of his shots but failing to hit any of his free throws. The part where I had a real problem with Russ's game tonight was his passing and late game decision making.
Westbrook had 7 turnovers and consistently made the wrong reads on several possessions. In the final minute, he airballed a mid range shot and in the Rockets's last chance at potentially winning this game, instead of letting James Harden control the offensive tempo, Russ rushed the play. He drove to the basket, and seeing he had no open shot, he made an off-balance pass to Robert Covington that went out of bounds with four seconds left. 
This one play cost the Rockets a chance at advancing to the second round today. Harden had a good game but he wasn't able to cap it off with a win because Westbrook was handling the ball in the clutch. If this team doesn't make the second round, this will be a huge stain on Westbrook's career as he would be the key contributor to their downfall.
As my co-host on the On The Ball podcast, Thomas Stapleton, stated, "The Rockets might actually be a better team without Russell Westbrook." Maybe that wild take is coming into fruition. If Westbrook continues this horrid play, the Lakers will face OKC instead of Houston in the second round.
For any follow up thoughts and questions, make sure to follow me on instagram @sportsworlddebates, and on twitter @SWDTweets1 and message me. I love to talk sports with anyone.