Following the 2016/17 NBA season, the Cleveland Cavaliers were still the team to beat in the East as they were coming off their third consecutive finals appearance. This was in large part due to the return of LeBron James in 2014, along with the help of All-Stars Kyrie Irving and Kevin Love.
Unfortunately for them, their competition was the Golden State Warriors, who they had split finals wins with in 2015 and 2016, but with the addition of former MVP Kevin Durant during the previous off-season, they dominated Cleveland in 2017. The Cavaliers needed to reload their roster if they wanted to compete with this stacked super team in 2018, and they had a plan in place to try and match the Warriors.
On the night of the 2017 NBA Draft, the Cavaliers were reportedly working out a three-team trade involving the Indiana Pacers and Denver Nuggets. The proposed deal would have sent one of best two-way players in the game in Paul George to Cleveland, Kevin Love to Denver, and Gary Harris along with a first-round pick to Indiana.
There is no way to accurately predict how certain situations would play out; however, with the magnitude of these players and their involvement with teams all over the league, there is no denying the entire layout the NBA would look different today if this deal went through. The headline player to this deal would have been Paul George, and if he ended up on Cleveland, numerous teams would have been affected.
First off, Cleveland would have entered that off-season with some drastic changes. In July of 2017, Kyrie Irving had requested a trade from Cleveland, as he wanted to become the first option on his own team. In August, Irving was dealt to Boston for then All-Star Isaiah Thomas, Jae Crowder, Ante Zizic, and Brooklyn's unprotected 2018 first round pick.
This deal completely changed the landscape of both franchises as Cleveland had to adjust to a team without a star point guard and Boston experienced a complete roster turnover. Had George been on the Cavaliers, the likelihood that Irving would have requested a trade would have been much slimmer considering their championship odds would have increased immensely. And even if Irving still had requested a trade, Cleveland could have just ignored him as they would have possessed more leverage with a better team.
They would have been much improved, and it would be highly unlikely that Irving would refuse to play for a team that could carry its own weight without him. Therefore, with a big three of James, George, and Irving, there would definitely be a possibility that this team could dethrone the Warriors.
However, more important than potentially stopping the dynasty that is Golden State, the George trade could have triggered James to stay in Cleveland rather than venture west to the Los Angeles Lakers. If this team stays together for multiple seasons, then it is highly unlikely the Toronto Raptors are able to earn their first championship in 2019, as they were never able to get past the Cavaliers with LeBron on the team.
James not going to the Lakers also means that they would not have traded for Anthony Davis. After Davis requested a trade from the Pelicans during the 2018/19 season, many speculated that teams like the Boston Celtics or the New York Knicks were the best candidates to land him. At the time, Boston had many assets and draft picks to their disposal and George in Cleveland could have definitely resulted in Davis getting traded to an Eastern Conference team.
Another major aspect to this deal would have been the Celtics roster makeup. They would have not changed their team to the extreme degree that they did with the Irving deal. In 2020, Isaiah Thomas is not even on an NBA roster despite being an All-Star just three seasons ago. His downfall started when he was traded to Cleveland and got a reduced role. Even since Thomas left Boston, he has either not gotten the opportunity to play or had injuries hold him back.
Considering the fact that Thomas averaged the most points per game in the Eastern Conference in his final year in Boston, it is safe to say that he would have received the playing time. And despite the fact that most injuries are unpredictable, players do tend to rush back into action if they are fighting for a spot on the team, which is a major reason why Thomas has had an increased injury history over the past few seasons.
Boston would still have Jason Tatum, but with Thomas at point, along with a very different roster, the direction of their franchise would be very different compared to how it looks today. There are so many possibilities that could have played out differently.
Instead of trading George to Cleveland, Indiana traded him to the Oklahoma City Thunder, where they got Victor Oladipo and Domantas Sabonis. This trade undoubtedly benefited the careers of these two players the most. Oladipo shocked the league in his first year in Indiana by becoming an All-Star, winning the Most Improved Player award, and even helping the team go toe to toe with Cleveland in a grueling seven-game first round series loss.
He established himself as one of the premier players in the East and was once again named an All-Star in 2019 before rupturing his quad tendon in his right knee to end his season.
Sabonis finally got significant playing time on the Pacers after a mediocre rookie season and eventually he blossomed into an All-Star in 2020. There is no telling how these two careers could have transpired if they had not ended up in Indiana, but it is hard to say they could have become any better.
Paul George was instrumental in helping form the Thunder's idea of a big three with Russell Westbrook, Carmelo Anthony, and George himself. Anthony, who was coming off an All-Star season, might have been dealt elsewhere and could have fared better with a different organization. He had struggled to adjust to the team's offensive system, as he was not used to being the third option and was mainly subjected to just being a spot-up shooter.
Westbrook was coming off a historic MVP season, and if he received no major help for another season, he could have repeated his historic numbers. He still averaged a triple double that season, so the skies the limit for the explosive guard with no other stars to share the ball with.
Aside from Oklahoma City, one of the biggest moves from this past off-season was Kawhi Leonard and Paul George teaming in Los Angeles with the Clippers. However, Leonard only agreed to sign with the Clippers if they could acquire another star to play alongside him. With George out of the picture, it seems very unlikely that Leonard would have chosen the Clippers.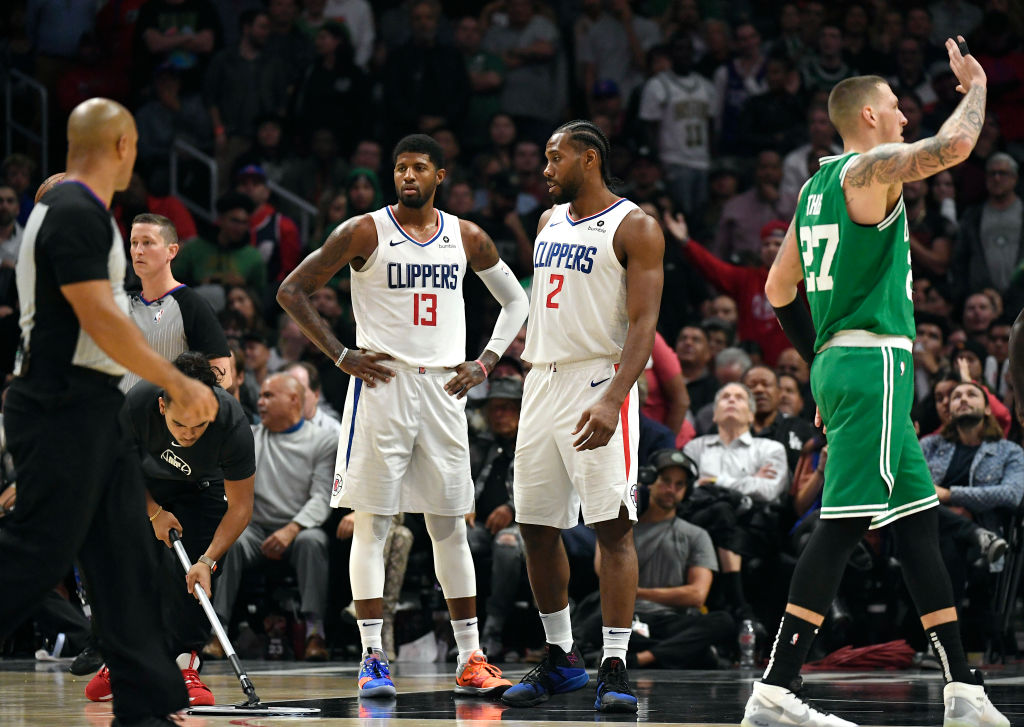 That leaves the rest of the league for his choosing, and with his top-tier status, who knows what could have happened. If he did still get traded to Toronto the previous season, he could have stayed, or he could have joined a dark horse team that no one would have expected. With a player like Leonard, you can expect the unexpected.
The repercussions of George going to Cleveland reaches way past just him as Kevin Love, who was an All-Star at this time, still held lots of value. Love on the Nuggets could have definitely bolstered their roster with his fantastic scoring and rebounding abilities; however, since 2018/19 season, Denver has been one of the best regular season teams finishing second in the West last season, and currently sitting third.
With another player in the Denver frontcourt, the development of future All-Star Nikola Jokić could have been stunted. Because of this, it is highly unlikely that Love would have received the contract extension that he got with Cleveland in 2018 and could have ended up with a team that needed him like Portland or Houston. This would not only help the team he joins, but would have helped put Love back in the spotlight, as he has taken a backseat in recent years with Cleveland.
The final aspect of the proposed trade was Gary Harris and more importantly the No. 13 pick in the 2017 draft going to the Pacers. That draft pick ended up being Donovan Mitchell who is arguably one of the best players from his draft class. Mitchell is the player that helped rejuvenate the Jazz franchise after losing their long-time veteran forward in Gordon Hayward.
The dynamic guard helped the team reach the postseason and even win a playoff series. His accomplishments are very impressive for his limited time in the league as he has already won a Slam Dunk contest, became an All-Star, and was robbed of the Rookie of the Year Award to Ben Simmons in 2018.
Without Mitchell being drafted by the Nuggets and getting traded to the Jazz on draft night, then the Utah franchise most likely falls to the doldrums of the Western Conference.
Had the Pacers not backed out of this deal last minute, there would have been a plethora of careers and franchises that would have changed directions completely. This trade that never happened would have altered NBA history as we know it, and the current layout of the league that would not be the same.
Not every transaction in the NBA causes a chain reaction, but a trade to this high a degree would cause substantial differences. There is no exact science in predicting how things turn out, but the consequences of this potential Paul George trade would have changed everything as we know it today.
---
Thank you for your support