The NBA's return is just around the corner and playoff basketball is going to be here before you know it. In the NBA, there are certain players like Kawhi Leonard, LeBron James, and Stephen Curry that have proved themselves as guys who can lead a team to an NBA championship. However, there are still several players that have to prove themselves to fans as guys that can be a number one or even a number two guy on a championship roster. Here are five guys who need to do such thing.
Paul George
After two straight first round exits with the Oklahoma City Thunder, Paul George was shipped off to the Los Angeles Clippers to be paired with the reigning Finals MVP Leonard. George had just come off a year where he was third in MVP voting and averaged 28 PPG. However, George has received the "playoff choker" label by many.
Now, these labels may be a bit unfair because George has been very solid in the playoffs, but he's had some pretty awful performances such as Game 6 of the 2018 NBA playoffs where he scored five points on 2-16 shooting. However, George's role with the Clippers is defined. He is the Robin to Kawhi's Batman, and we've never truly seen him in a role like that.
With less pressure thrust upon him, we could see a new Paul George. Some people such as Kyrie Irving and Anthony Davis are better suited as a tertiary option, and George could very well be in this category too. 
Jayson Tatum
The hype for Jayson Tatum recently has only gotten bigger and more absurd as the season goes on. After a February explosion by the young star, fans were quick to notice and several media members have expressed their high praise for Tatum. However, lots of hype also means lots of (high) expectations, and Tatum is going to have a tall task in the NBA playoffs this year.
The East is incredibly top heavy at the moment, as the Bucks are the best team in basketball record-wise, the Raptors are defending champions with a terrific roster, the Heat are a young and talented team led by Jimmy Butler, and even the Pacers could shock a lot of people if Victor Oladipo decides to play.
Tatum is expected to lead this young Celtics squad far in the playoffs. He's got a lot of pressure on him right now. If he wants to prove himself as an NBA superstar or as a true number one guy on a contender, now is the time to do it. 
Joel Embiid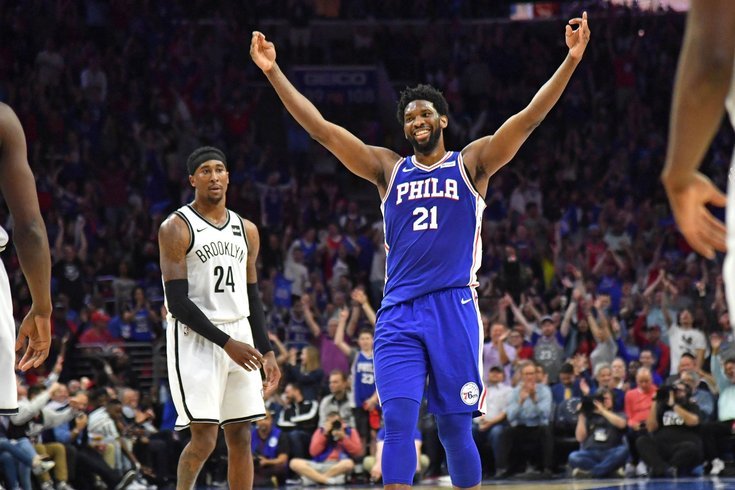 Joel Embiid is one of the most interesting ones on this list, but I feel as though he's appropriate for this list. Last year, he got shut down by Marc Gasol and the Toronto Raptors and left Game 7 of that series crying infamously. The 76ers came into this year with high expectations due to their new additions.
However, they came up short and were only the sixth seed. The team, while talented, has come up short due to a lack of perimeter shooting and roster fit. Embiid and Ben Simmons are talented, however, the concern for them is how they fit together. The 76ers have relatively low expectations for these upcoming playoffs, but they're also on the clock.
Embiid was less than stellar in last year's playoff run and now he's without Jimmy Butler who really shouldered the offensive load. Embiid is going to have to prove that he can put up big numbers in the playoffs. If he doesn't, I believe there is a shot he gets traded.
The 76ers roster just doesn't fit at the moment and they may potentially decide to build around Simmons. Embiid is the key to the 76ers success. He needs to consistently dominate night in and night out if Philly wants any chance of competing against the top tier teams in the East. 
James Harden/Russell Westbrook
Russell Westbrook and James Harden may be the only ones on this list that have "one last chance". Embiid and Tatum are still young, and George will likely have next year to prove himself if this year doesn't pan out. What would be next for the Houston Rockets if they don't win it all this year?
Harden is the best teammate Westbrook has had since Kevin Durant and vice versa. The roster is constructed perfectly around them. The problem is that if the combination of Westbrook and Harden doesn't work this year, I don't think it ever will. Neither players' playstyle is going to win a championship individually and together it might be just as ineffective come playoff time.
Harden and Russ are phenomenal players. They're fun to watch, they put up great numbers, and they both worked extremely hard to get where they're at and deserve a ton of credit. However, if they don't win a championship this year, I don't think they ever will, and they'll always be held back on all-time rankings because of it. 
Giannis Antetokounmpo
This is a huge year for Giannis Antetokounmpo and the Milwaukee Bucks. After a regular season where he put up numbers that will likely win him both MVP and DPOY, Giannis heads into the NBA bubble with expectations that he lead the Bucks to a Finals appearance. However, we saw last year that teams can gameplan for Antetokounmpo's style of play.
The Toronto Raptors neutralized him last year and managed to beat his squad. Some people think that Giannis may never win a championship until he develops a true half court skillset, and I agree. Come playoff time, where games slow down and buckets are harder to come by, you want someone who can get buckets from anywhere and Giannis doesn't have that ability yet.
If Giannis were to miss the Finals again, people are going to seriously question his ability to effectively lead a team. Giannis Antetokounmpo needs to prove himself as a leader and as a playoff performer by leading his team to the NBA Finals this summer.
---
Thank you for your support
We believe there is only one way to cover sports: The Wrightway. Please join us in bringing in the new era of sports coverage. Support The Wright Way Sports Network. ~Malik Wright-CEO