As the PGA Tour season gets underway, it's time for TWN's Major Preview, where we ask our golf writers who they think will take home The Masters, PGA Championship, US Open and Open Championship trophies. We'd like to thank the statisticians at SportsBettingDime.com for providing up to the minute odds on all of golf's major championships.
The Masters | Augusta National Golf Club | Augusta, Georgia, USA
| | |
| --- | --- |
| Tiger Woods | +1000 |
| Jordan Spieth | +1000 |
| Rory McIlroy | +1100 |
| Dustin Johnson | +1100 |
| Justin Thomas | +1200 |
| Justin Rose | +1400 |
| Rickie Fowler | +1600 |
| Brooks Koepka | +1600 |
| Jon Rahm | +2000 |
| Jason Day | +2200 |
Austin Meo – Tony Finau
Finau had a career year in 2018 across the board. He went 25/28 on cuts made and has missed just 1 in the last 10 months. At his first start at Augusta last season, he finished tied for 10th playing on a sprained ankle (which occurred after he made a hole-in-one at the Wednesday Par-3 contest- injury link). 2018 also saw him post a solo 5th at the US Open and a T9 finish at The Open Championship (both career bests). He absolutely tore it up in the playoffs leading up to the Tour Championship at East Lake. At the Northern Trust Open, he shot -14 and finished solo 2nd behind Bryson DeChambeau. A week later at TPC Boston he shot -12 and landed in a tie for 4th, followed by a T8 finish at Aronimink Golf Club at the BMW Championship. Last season Finau led the PGA Tour in made cuts and finished 4th in average driving + 10th in scoring average. Augusta is a tough course and often takes a few years to get used to, but perhaps recent success stories like Jordan Spieth and Patrick Reed suggest that younger players can still contend.
Jack Gaydos – Justin Rose
Justin Rose has been playing lights out so far in 2019. He is 8th in driving and a solid putter. He finished second a few years ago at the Masters behind Sergio Garcia. I am predicting that 2019 is his year at Augusta.
Jake Rona – Tiger Woods
This year's field is one of the most talented in history. One guy who sticks out for me right away is Tiger Woods. I think Tiger has a chance to win the Masters, and at the very least one more major before he hangs up the bag. Tiger's grit coming back from back surgery has shown me his ability to persevere against all odds. Woods has made one of the best comebacks in all of professional sports. I think the icing on this comeback cake is for Tiger to put on that green jacket one last time. Not to discredit the likes of Justin Thomas and Tommy Fleetwood, who I think will give Tiger the most trouble throughout the year. Not to mention players like Jason Day and Rory McIlroy who will compete for this title year in and year out. Tiger Woods is getting older, and closer to the end of his career. However, I see at least one more green jacket in Tiger's future, before he puts the clubs away.
PGA Championship | Bethpage Black Course | Farmingdale, New York, USA
| | |
| --- | --- |
| Dustin Johnson | +1000 |
| Tiger Woods | +1000 |
| Rory McIlroy | +1200 |
| Justin Thomas | +1200 |
| Jordan Spieth | +1400 |
| Brooks Koepka | +1600 |
| Rickie Fowler | +1800 |
| Jason Day | +1800 |
| Justin Rose | +2000 |
| Jon Rahm | +2000 |
Austin Meo – Phil Mickelson / Jason Day
Phil and New York go about as well together as pastrami and rye bread, and he loves Bethpage Black like a true New Yorker. Phil won the PGA back in 2005 at nearby Baltusrol in Springfield, NJ and has since won 3 more majors. In total, 4 PGA tournaments have been played at Bethpage in the 21st century- the '02 and '09 US Opens and the 2014 and 2016 Barclays. In both US Opens, Lefty finished in second place (he's done that a total of 6 times at the US Open). He had a Saturday MDF at the '14 Barclays but rebounded well in 2016 finishing in a tie for 13th. Phil looks in better shape this year and is coming in with some momentum after winning "The Match" against Tiger and shooting an opening year 60 at the Desert Classic. Plus, I think he has the embarrassment of Shinnecock last year still fresh in his mind and would like some redemption. Day meanwhile has come into 2019 guns blazing making all 5 cuts on Tour and never finishing outside the top-16. He'll likely flirt with the distinction of being the PGA's top putter on Tour once again this season, and so far has been hitting GIRs at an excellent rate. While Day didn't play in the US Opens at Bethpage, he did finish strong at both Barclays tournaments- finishing as a co-runner-up in 2014 and a T4 in 2016 (in between those 2 tournaments he won the 2015 Barclays at nearby Plainfield Country Club in Edison, NJ).
Jack Gaydos – Brooks Koepka
Brooks Koepka is coming off of his best year yet of his career. He dominated the majors last season and I do not see him slowing down. He is one of the most underrated players on tour with one of the best drivers. I think he is the most prepared to navigate Bethpage Black, and I see him repeating at the PGA.
Jake Rona – Phil Mickelson
Bethpage Black, one of the most renowned golf courses in the country. This tournament, in my opinion, is going to be the best of the year. First off, I think this tournament belongs to Phil Mickelson. Mickelson has shown us time and time again, that he owns the Northeast. He loves the grass, and he loves the people. In my interview with Phil at last year's Northern Trust, he told me that the fans give him a special spark when he is up North. The tri-state-area has been Mickelson's sweet spot. I think Tiger Woods, who knows this course well, will give Phil a run for his money. Another guy to keep your eyes on should be Tony Finau. Finau is a big hitter who I think could contest with some of the more experienced guys in the field.
US Open | Pebble Beach Golf Links | Pebble Beach, California, USA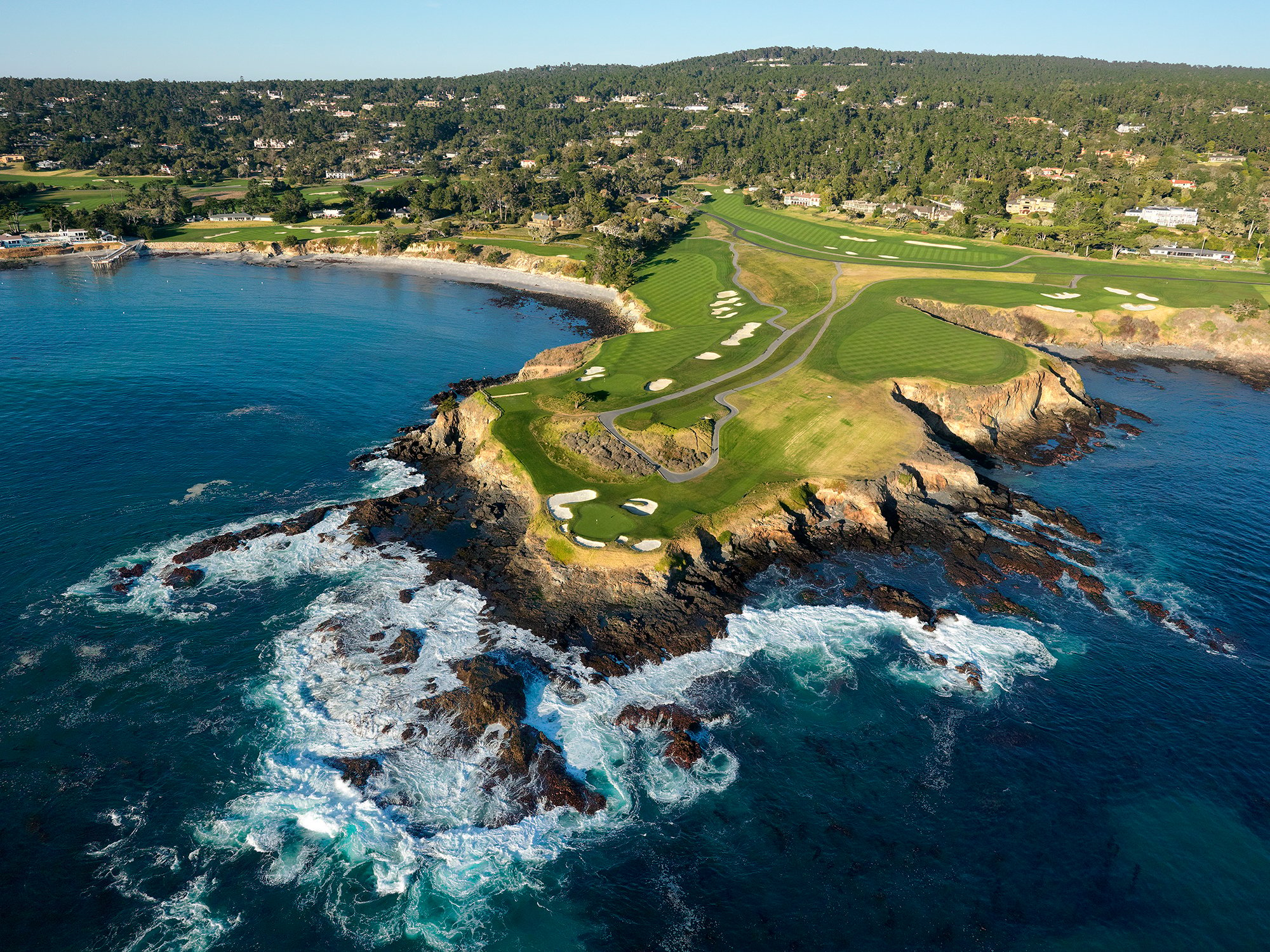 | | |
| --- | --- |
| Dustin Johnson | +1000 |
| Tiger Woods | +1000 |
| Jordan Spieth | +1400 |
| Rory McIlroy | +1600 |
| Justin Thomas | +1600 |
| Brooks Koepka | +1400 |
| Justin Rose | +1800 |
| Jason Day | +1800 |
| Rickie Fowler | +2200 |
| Jon Rahm | +2500 |
Austin Meo – Tiger Woods / Rickie Fowler
Tiger played arguably the greatest major tournament at Pebble Beach back in 2000, shooting 12-under and winning the tournament by 15 strokes. In 2010 when the championship returned, he tied for 4th with Phil at +3 (286), just 3 shots back of winner Graeme McDowell. Woods has finished in the top-20 in both tournaments he played in the'18-'19 season, and still has momentum coming off a great 2018 campaign where he won the Tour Championship at East Lake. Last season he made 16 of 18 cuts with 7 top-10s (including 2 at majors). He was in the mix late at both The Open Championship and the PGA Championship, and is just able to turn it on in the most high pressure situations. He loves this course and should be favored to make a run if he can get to Sunday near the top of the leaderboard. Rickie meanwhile has not played Pebble Beach and did not qualify for the 2010 US Open, though he did win Rookie of the Year over Rory McIlroy that season. The 30-year-old is still chasing his first major, despite having 3 runner up finishes and 8 top-5s in majors since 2011 (in 2014 he famously went T5-T2-T2-T3 and last year came in solo 2nd at Augusta). Like Phil, Rickie is a guy on Tour everyone is rooting for, and he hits greens and putts at an elite level. He closed out 2018 by going 12-8-7 at the PGA, BMW and Tour Championship. The Murrieta, CA native would love to get his 1st major in his home state, and I think he will this season- if not at Pebble than perhaps in Northern Ireland or even at Augusta National.
Jack Gaydos – Tiger Woods
Tiger Woods is back and Pebble Beach is a course that fits his style of play. He finished top 20 in his first tournament of 2019 at -10. His fans are craving a major win from Tiger and Pebble Beach would be the place for that.
Jake Rona – Dustin Johnson
I haven't mentioned the big hitter Dustin Johnson yet, but I think it's about time. Pebble beach has shown to be one of Johnson's favorite courses over the last decade. A course that requires a good driver, is an obviously red flag that Johnson is gonna be ahead of the field. Another guy that stands out here for me is Brooks Koepka. A long ball hitter himself, but I believe he has the extra short game that Dustin Johnson lacks. This leads me to believe that Koepka is the guy to win this years US Open. Koepka was the hot hand last year, and I think we will see much more of this in 2019.
The Open Championship | Dunluce Course at Royal Portrush Golf Club | Portrush, County Antrim, Northern Ireland, UK
| | |
| --- | --- |
| Rory McIlroy | +1200 |
| Tiger Woods | +1200 |
| Dustin Johnson | +1400 |
| Justin Rose | +1400 |
| Jordan Spieth | +1600 |
Austin Meo – Tommy Fleetwood
Obviously you want to root for Rory because this is his home track that he advocated for. But Fleetwood's game is fantastic and he plays in Europe more than Rory and thus I'm going with the Englishman. TWN got to talk to Fleetwood extensively at the Northern Trust and without a doubt he is one of the calmest and most respectful guys on Tour. His feel for the game coupled with a level-headed demeanor should make him a pick in any high pressure major event. Though he is 28, Fleetwood has only really become elite on Tour in the past 2 seasons, where he notably finished solo 4th and solo 2nd at the '17 and '18 US Opens, respectively. This past season on Tour he missed just 1 of 19 cuts and had 6 top-10s. He also won the Abu Dhabi HSBC Championship, came in 4th at the BMW International Open, and finished 6th at the Omega Dubai Desert Classic on the European Tour. Obviously you like to see European players at the Open, but recently there has been a wave of non-European Tour players hoisting the Claret Jug (Americans Jordan Spieth, Zach Johnson and Phil Mickelson all in the last 6 years). This is a new course for nearly every golfer (it only hosted a tournament once- the 1951 Open) so this major's pick is definitely a toss-up, but I like Fleetwood to get his 1st career major at Royal Portrush.
Jack Gaydos – Tommy Fleetwood
This is the tournament Tommy will break through for his first major championship, and it will be in Northern Ireland, just across from his home in England. He is carrying momentum from the Ryder Cup and has the hearts of the European fans. They will be chanting "Tommy, Tommy, Tommy" as he walks down the 18th fairway on Sunday.
Jake Rona – Rory McIlroy / Tommy Fleetwood
This for me, is the most obvious of all my choices. This is a two horse race in my book, Fleetwood and McIlroy. Rory McIlroy has the obvious home field advantage, playing at Royal Portrush in his home country of Northern Ireland. That being said, I think that the young and explosive Tommy Fleetwood is going to get the job done here. I believe the winner here will be a European player, and I just think it's 100% Fleetwood's time to break through. That being said, I think a couple other guys that would be sleepers, could make a run here. I am specifically keeping my eye on Henrik Stenson, who isn't playing very well at the moment. I believe we could see him try and make a run at the open.